Ewing Named NACA Outstanding Advisor
Published
Friday, May 18, 2018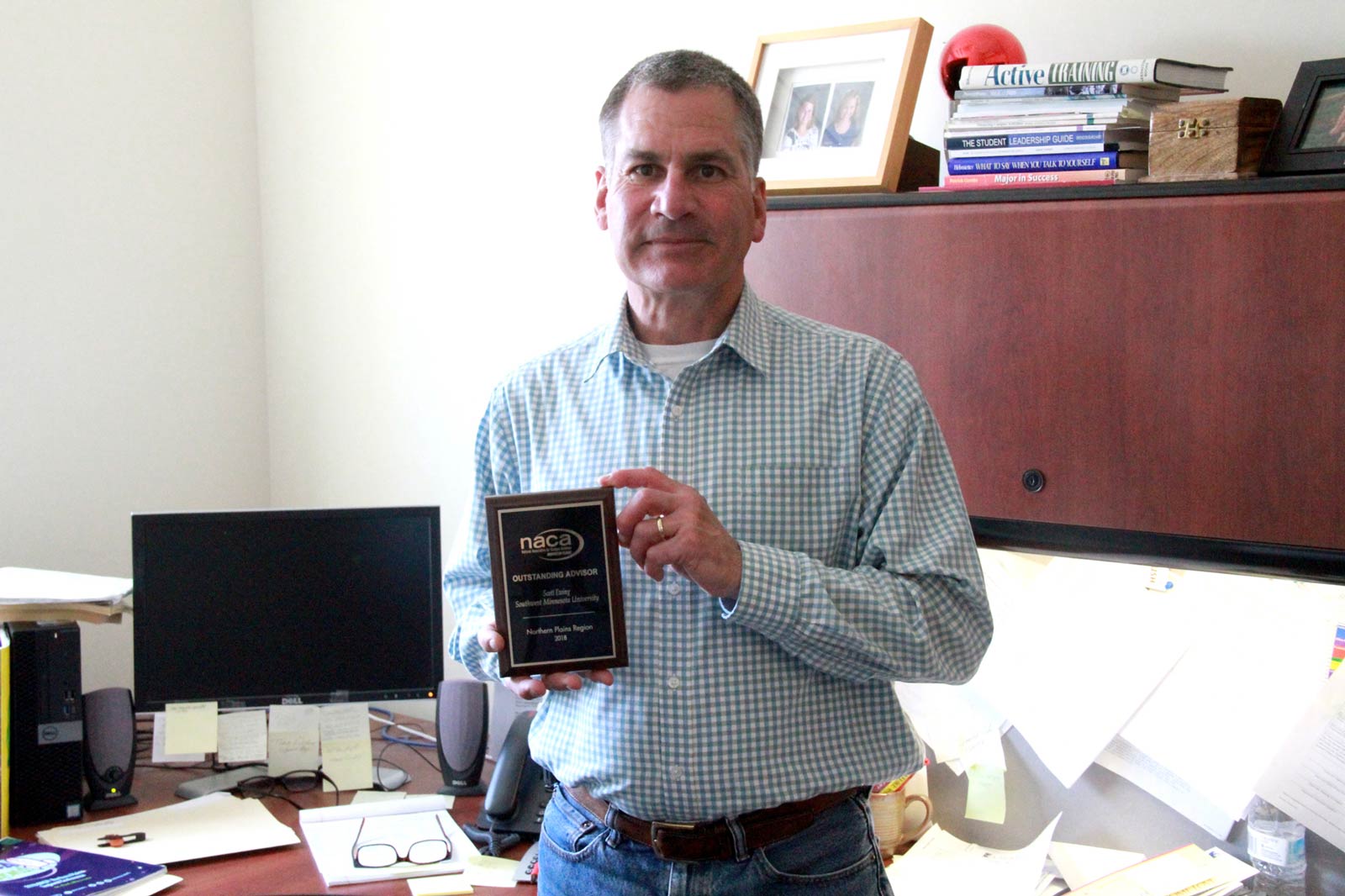 Scott Ewing, Assistant Director of Student Activities at SMSU, was recently named the Outstanding Advisor for the National Association for Campus Activities (NACA), Northern Plains Region (NPR) at its annual conference in St. Paul, Minn.
Ewing has many job duties at the University, including advising the Student Activity Committee (SAC), SAFAC advising, student leadership training for all clubs on campus, advising National Society of Leadership and Success, organizing homecoming activities and being a part of various committees on campus.
There are seven NACA regions in the country. Northern Plains consists of Montana, Wyoming, Wisconsin, the Upper Peninsula of Michigan, Nebraska, Iowa, Minnesota, North Dakota, South Dakota, and the Canadian provinces of Alberta, Saskatchewan, Manitoba and western Ontario.
The awards were presented on the day before an April blizzard. Ewing accompanied SAC members, who nominated Ewing for the award. SAC won the Outstanding Delegation at the same conference in 2017.
 "The SAC students insisted we stay for the banquet. I was blindsided and really wanted to skip the banquet and hit the road before the impending blizzard that blew in Sunday morning," said Ewing.
 "Being awarded the Outstanding Advisor for our region was a humbling moment. You always wonder who might win this award; you sure don't try to receive it," he said.
Ewing first got involved with NACA in 1978-1979 as a student. "By my senior year I was president of our Student Union Board (SUB) at Pittsburg State University, and was co-coordinator of the Kansas Unit with a mentor, I.B. Dent, the Director at Fort Hays State. Next thing I knew, I was at grad school at Emporia State University helping to plan and organize the 'Heart of America Region,' and the National Convention."