Jennings' Team Keeps Campus Looking Beautiful
Published Tuesday, May 29, 2018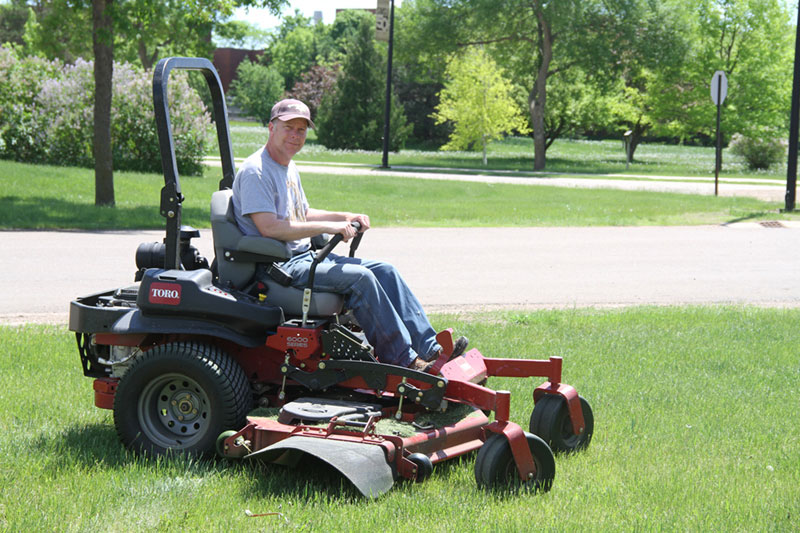 Jeff Jennings
Jeff Jennings, Grounds and Roads Maintenance Supervisor at SMSU, leads a team of  three employees who make the University one of the most attractive within the Minnesota State system.
Jennings works in the Physical Plant, which is in charge of all facilities: grounds, electrical, cleaning, maintenance, event set-up/tear-down and more. Jennings is in charge of the grounds, which includes mowing, trimming trees, painting lines for athletic facilities, snow removal and event set-up/tear-down for events like Smokefest and track meets.
"It takes time, fuel and effort to keep this place looking nice this time of year," he said.
Jennings said it is difficult  to keep up when the grass grows so fast early in the spring. His crew maintains 215 acres of campus, which includes 40 acres in the Wildlife Area, which requires less attention. Jennings said there are about 100 acres of grass that needs to be regularly mowed.
Mowing takes most of his time in May and June when the ground is moist, "perfect conditions for growing grass," he said. There's more to do than mow, however, and Jennings sometimes gets pulled aside to plant trees, deliver freight, trim trees, paint lines and curbs in parking lots, maintain irrigation systems and weed the landscaping.
"It takes a week to complete a full mow, including trimming around buildings and trees," he said.
He also finds it hard to tame the dandelions, especially this year.
"They only have a two-year life span, but you need to stay on top of them," he said. Days that are good for spraying are few and far between, he said. "If it is too hot outside the spray vaporizes and drifts. You cannot spray when it is too windy, either," said Jennings.  
Jennings will celebrate his 16th anniversary at SMSU this fall since coming to SMSU from Drake University in Des Moines, Iowa. He was looking for a position closer to his family in South Dakota, and said SMSU has been a perfect fit.
 "The most rewarding part of my job is making campus look good. I love hearing compliments about how campus looks."     
Related Articles