Exercise Science Alumni Pursue Their Dreams
Published Friday, June 01, 2018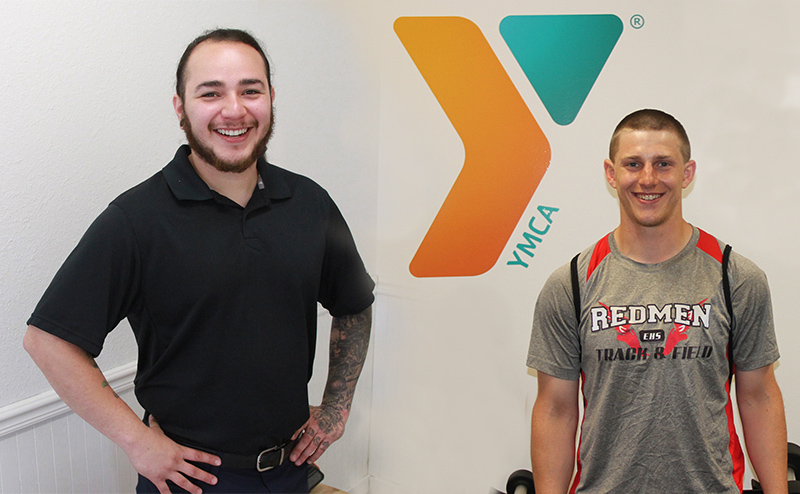 William Sturgeon, left, and Matt Konrad
Exercise Science is a growing major at Southwest Minnesota State University. Graduates from the program have many professional options from which to choose. We highlight two recent graduates, William Sturgeon and Matt Konrad:
William Sturgeon graduated in 2018 with an Exercise Science degree. His hometown is Granite Falls, Minn., but he says that "Marshall is a second home." He received an Associate's Degree in Health and Fitness from Alexandria Technical College in Alexandria, Minn., and transferred to SMSU to pursue an Exercise Science degree.
"The Exercise Science program at SMSU is a great program that adds an emphasis on professionalism. It stresses a full understanding of human anatomy and physiology. The program also does well at providing students with a foreshadowed view on their major. Today, Exercise Science can be considered a profession instead of just a hobby," he said.  
Sturgeon opened his own Marshall business, Restored Strength, in January of 2017. He became a master of time management as he juggled both the demands of his coursework with the demands of opening a new business.
His fitness gym, located at 900 West College Drive, features semi-private training in one-hour increments with a possibility of sharing the facility with two others. Clients are encouraged to set their own fitness goals, work with either Sturgeon or his employee Tyler Smith, who is pursuing his Exercise Science degree at SMSU. The facility specializes in personal training, athletic development, strength training, corrective exercises, pre- and post-surgery exercises and weight loss. The hours are 6 a.m.-6 p.m. Monday-Thursday, and 6 a.m.-3 p.m. on Fridays.
"I want to create equal opportunity for people as they pursue their fitness goals, and let people know that fitness isn't scary," he said.
Matt Konrad is the Director of Personal Wellness at the Marshall Area YMCA. He worked at the YMCA while attending SMSU, and helped create the full-time position he now holds.
His job duties include managing personal training facilities, maintaining the fitness center, organizing healthy living events such as the Shamrock Shuffle 5K and running the sports performance programs.
He enjoys the flexibility that comes along with his position.
"I am able to coach the Marshall High School track and field team and volunteer at other events around the community and be trusted that my work will get done," he said.
Konrad graduated from SMSU in the fall of 2017 with a degree in Exercise Science. He is originally from Estelline, S.D.
He chose to attend SMSU because of the strong bond he made with former head track and field coach Nate Wolf.  "He really got to know me, and still had faith in me, even when I was in a slump year."
He has always had a passion for working out and fitness. That is why the Exercise Science program at SMSU was a good fit for him. He believes it gave him the background knowledge about exercise and professional development needed to be successful in his career. It gave him hands-on experience that helped make going to school more enjoyable.
Konrad never changed his major while at SMSU, but did give thought to becoming a physical education teacher.
He contributes much of his success to being able to network both on campus and off. He also had an internship at SDSU for two summers helping with strength and conditioning for athletes and its Wellness Center. Konrad also believes that being a student-athlete helped him learn how to manage a team and be a successful coach.
In the future, Konrad wants to earn his master's degree and continue to coach, either at the high school or college level. He also has an interest in becoming a strength and conditioning coach.
"I want to impact people for generations, and help them see why I love my job and profession," he said.
Related Articles