Jean Replinger Honored With 'Women Who Dared' Award
Published Thursday, June 14, 2018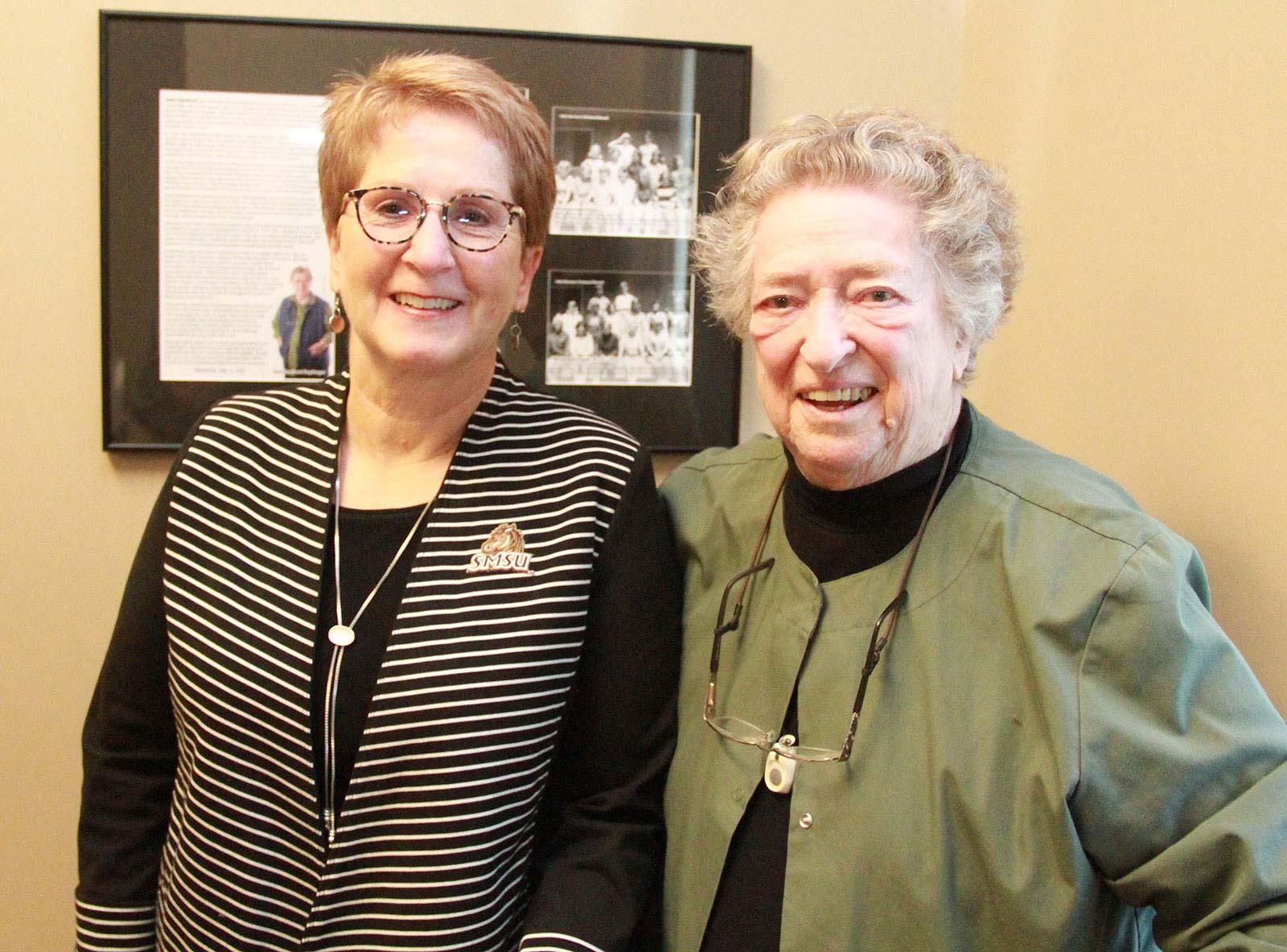 Left: Dr. Connie J. Gores, Right: Jean Replinger
Jean Replinger was outside the Women's Center at Southwest Minnesota State University, chatting with President Connie J. Gores and some friends. She was there for the presentation of her Women Who Dared Award to SMSU. The award is a national recognition that goes someone who has taken risks which have furthered the advancement of equal opportunity and status for women.
For Replinger, Professor Emeritus at SMSU, it had been a whirlwind 18 hours. The previous evening, she was the guest of honor at a Pioneer Public Television showing of the documentary "Women Outward Bound," about the first Outward Bound experience for women, which was organized by Replinger back in 1965. Held at the Marshall-Lyon County Library for an overflow crowd of 90, the documentary chronicled that first pioneering class of  women, featuring interviews with many, including its founder, Replinger.
"Anything I love, I want to share," said Replinger that evening, explaining her passion for a life of giving to others.
Also on hand for the documentary viewing were Maxine Davis, director of "Women Outward Bound" and a member of that inaugural 1965 class; Diann Darnall, president of Women Who Dared, who traveled from that group's headquarters in Fairbanks, Alaska; and a half-dozen members of that original Outward Bound class of 1965.
Following the documentary viewing and a Q & A session with members of that 1965 group, Darnall presented Replinger with her Women Who Dared Award.
The following morning, Replinger and Darnall were at the Women's Center on campus to present a copy of that award to SMSU. Prior to that brief ceremony, Replinger talked about that first Outward Bound experience for women, and influences in her life leading up to a career in education.
She was raised by her mother in a single-parent household since the age of 3, and had a handicapped brother, Jim, who had childhood arthritis. He had an inquisitive mind, but was limited physically, so she became his hands and feet. She recalled him wishing out loud one day for "someone who could pay attention and take direction. He wanted to make a tractor out of a Model A and a Model T. I told him I could do that. Finally, he said I could do it, 'and if you're good at it you can keep doing it.' He would tell me what to do, it was his vision, and we made that tractor, and he drove it."
She was at Antioch College in Ohio when the first Outward Bound experience for women was held. She would come to SMSU in 1969, and was a Health/PE professor until her retirement in 1996. She would take regular canoeing and cross country ski trips with students during those years.
The documentary chronicles that first group of 24, most of whom were from Minnesota. In the documentary, and live, in the Q & A that followed, each remembered how difficult the ordeal was. Each was quick to point out how life-changing it was for them, however, as it gave them a sense of confidence and an appreciation of nature.
How did Darnall hear about Replinger in the first place? "I wanted to expand my indoor garden in my home in Fairbanks, so I moved the TV to the back room. I didn't watch it much anyway, I watched PBS online," she explained. "I had neighbor two doors down who knew I watched PBS. I was a former women's basketball coach and he called up and said there was a special on PBS about a woman's coach. I dug out my small TV and turned it on. There wasn't a show about a woman's coach, but there was 'Women Outward Bound.' It was dumb luck. I watched it and called up Maxine (Davis, the producer) and she led me to Jean."
Replinger chuckled at the memory. "I'm really not used to all this attention," she said over and over. "I guess I did something right!"
Jeanette Boerboom, a non-traditional student who graduated in 1988, recalled a story about Replinger trying to teach the late author/English Professor Bill Holm to swim. That brought a smile to Replinger's face. "A former student told me about his fear of the water, so after classes, in the evenings, we would go to the pool. We sure tried, but he couldn't hold his breath,"  she said.
Boerboom was president of the Non-Traditional Student Organization for a couple of years, and Replinger was her advisor. "The leadership you gave us women was amazing," she told Replinger. "We surprised ourselves — Look what I can do! We are all blessed to have Jean at SSU."
Replinger also organized the first Outward Bound experience for individuals with disabilities, in 1976. "I took two students that first year, John Schatzlein (first SMSU student body president) and Pam Westling," she said.
She was also involved with Ski For Life, which annually hosted 100 visually impaired individuals each winter for cross country ski trips.
As the group talked, it was clear why Replinger was being honored. "She's been an example for so many women in Outward Bound, and a real leader on so many different levels when she was at SMSU," said President Gores. "She's an amazing woman."
Related Articles