Drowns Remember Golf Classic's Early Years
Published Wednesday, June 20, 2018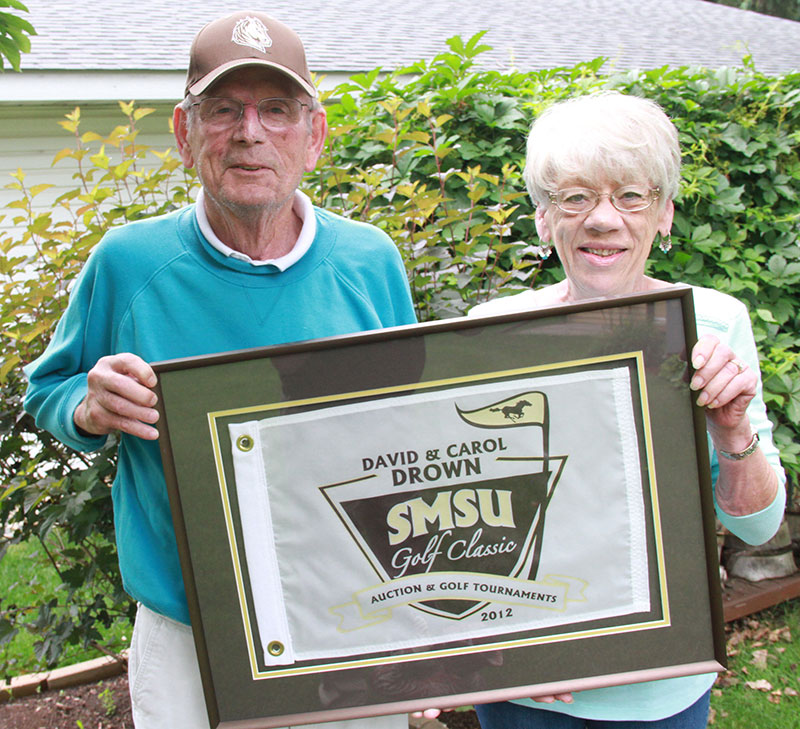 David and Carol Drown
The late Sherri Martel was in town for the SMSU Celebrity Golf Tournament back in 1988, and the then-WWF women's heavyweight wrestling champion didn't want her dogs to stay in the hotel alone. "She couldn't have been more than 150 pounds," said David Drown, one of the founders of the event, now in its 33rd year.
"We would have the celebrities over beforehand when we lived on Gray Place, so we could get to know them, and they, us," he said. "She called and asked if she could bring her dogs over. I figured they'd be ankle-biters."
His wife Carol continued: "The dogs were the biggest things I'd ever seen," she said, holding her hand up, over 3 feet in the air.
 "They were running into people, causing a commotion," continued David Drown. "It was quite a scene."
In a follow-up letter to the agency representing Martel, Merle Krull, another event founder and Drown's "partner-in-crime," would write: "It would be an understatement to say she was the hit of the tournament."
That brought a chuckle from David Drown. "I guess that's true, she was a hit. She enjoyed having fun."
Then there was the time Enos Slaughter attended. The baseball Hall of Famer was at the Drown home and "he kicked his leg up high, he was trying to reach the ceiling with his foot."
David Drown has been a member of the Mustang Booster Club since its second year. "We'd have weekly meetings, and go to events, but it didn't raise any funds. A guy from the Chamber suggested a golf tournament to me," he said, recalling the origin of what was then the SMSU Celebrity Golf Classic. Today, it is known as the David and Carol Drown SMSU Golf Classic, a name it has had since 2012.
A handful of individuals put on that first golf tournament on June 15, 1985, and would continue to do so for "about eight years, before I told the college I was done. So they took it over, and have done a great job with it ever since."
That original group included David and Carol Drown, Krull, Carol's mother, Frieda Sellner, and Carol's sister, Marion Bertrand. At the time, Drown and Krull worked together at Equitable Life Assurance.
And just like the line from the REO Speedwagon song "Take It on the Run," "the tales grow taller on down the line."
"I guess they have. A lot are true; a lot have been stretched, too," he said. "That was a long time ago. We had fun."
Back in the early years, one celebrity would play with four participating golfers in the tournament, which began on a Friday night with a banquet and speaker. Saturday was the golf itself. For years, Gopher PA announcer Dick Jonckowski was the emcee.
The Drowns were recently sitting around their kitchen table talking about those early years. David Drown went to the basement looking for something and came back up empty-handed. Carol decided she'd give it a try, and returned with a handful of memories that the two would talk about fondly for more than an hour. There were photos, letters, posters, hats — everything tournament-related.
That's when the names and stories came from the deep recesses of their memories. "Celebrities" like Baron von Raschke, Bill Goldsworthy, Murray Warmath, Karl Kasulke, Phil Verchota, Flip Saunders, Jim Gallaway, Keith Nord, Jim Marshall and Don Shelby, to name just a few. "We had NFL official Steve Hurvit, too, he had that referee show, 'The Zebra,' on television. And we had Jerry Seeman, head of officials, play here, too," said David Drown, who officially opened the tournament a couple of times from a hot-air balloon.
Current SMSU baseball coach Paul Blanchard, who was then a Gopher punter, attended one of those early events as a "celebrity." Former SMSU Director of Athletics Butch Raymond was then the basketball coach at St. Cloud State and a "celebrity" at that first tournament. So was the legendary men's basketball coach at Northern State, Bob Wachs.
David Drown's favorite? "Gene Washington, the Viking receiver. He was a gentleman. He'd bring his wife and kids, and always something nice for the live auction. And he didn't want a dime. He'd pay for his own room."
Getting celebrities on board in those first few years involved "calling and calling and calling, and getting referrals from a friend of a friend of a friend. After they'd come here — we really treated them well and they had fun — then they'd tell their buddies and they'd be calling us to come down," he said.
But over time, the "celebrity" part of the tournament faded away. It was by then an established event, and on the calendar of area golfers. It became the SMSU Golf Classic until its name change to honor the Drowns in 2012.
"We didn't know a thing (about naming the tournament for them)," said Carol Drown. "They had people whose job it was to keep us there after the tournament, for the presentation."
In those early years, Carol and her sister and mother would make breakfast, lunch and dinner on golf day, from scratch. "And it was in the old country club. The kitchen there was about as big as this room," she said. "We cracked every egg ourselves, and brought in our own pots and pans and utensils. People were appreciative of the food."
SMSU alumnus Lionel Bolden was an owner of Hardee's in Marshall, which was the first tournament sponsor. Coke would come on board a couple of years later.
SMSU Director of Athletics Chris Hmielewski said the re-naming of the tournament to honor the Drowns was "to recognize everything they've done to make this tournament what it is today. They put in so much time and effort and it's become a major fundraiser for athletics. Without those two, it would not have happened."
The Drowns shared many stories about the event, some repeatable, some not so much. "Things got a little scary at times," he said. "We made some good friends, some of whom are gone today. It was a good time, and a good cause."
Related Articles