Donavan Phoenix Learning Much in His Agricultural Education Internship
Published Wednesday, June 27, 2018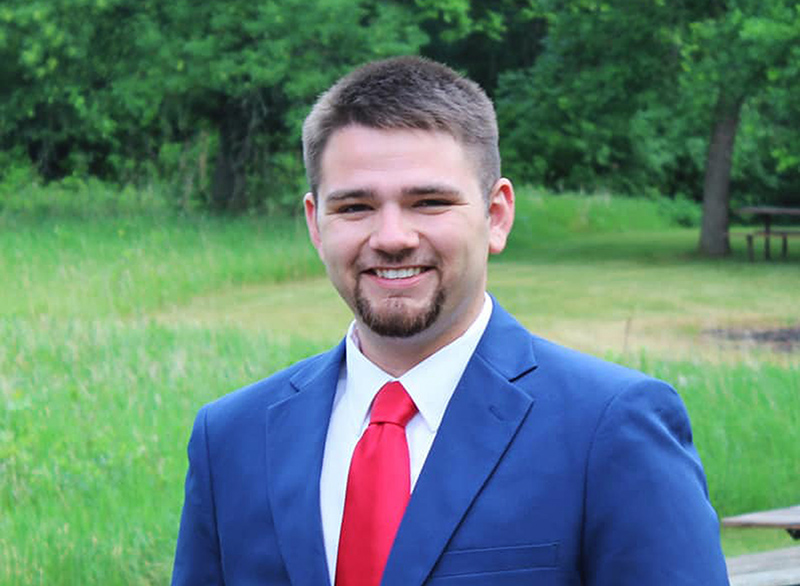 Donavan Phoenix
Donavan Phoenix has his heart set on a career in agricultural education. And his internship this summer is helping him lay the groundwork.
"This internship allows me to see what an agriculture educator's job consists of in the summer. Not everything needed to be a teacher is, nor can be, taught at college. A large portion is hands-on experience, trial-and-error, and that is exactly what I am receiving through this internship" said the junior Agricultural Education major.
Phoenix is interning through the Minnesota Agricultural Education Leadership Council (MAELC), which is affiliated with the University of Minnesota.
"I will be in Sleepy Eye, Minnesota, learning from Mary Hoffmann, one of the high school agricultural educators at Sleepy Eye Public High School" Phoenix said.
"I was part of the Hayfield High School's FFA chapter. The agriculture program was run and structured completely different than Sleepy Eye's. It is a blessing to be able to see new perspectives of teaching agriculture that I can use when I am an educator." he said.
His internship focuses on what agricultural educators do in the summer. So far, he's found it to be fast-paced and always changing. In the past several weeks, he has helped put on a four-day leadership camp in Willmar for over 50 FFA members; organized FFA and curriculum materials; and finished building an outdoor shed. He recently returned from the Region III National Association of Agricultural Educators conference in Cedar Rapids, Iowa.
He is also in charge of scheduling students' Supervised Agricultural Experience (SAE) visits, which are hands-on agricultural jobs for high school students to apply knowledge learned in the classroom to real-world job experiences. During the visits, Phoenix takes photos of students in action, and discusses record-keeping and other information they need to know when applying for FFA degrees and awards.
"These experiences range from working at the local grocery store, owning and operating their own livestock operation, or working for a landscaping business," he said.
"If I had pick my favorite part of this internship, I would say it is the interaction with the students. Being able to see students grow through FFA and agriculture is amazing," Phoenix said.
"My dream job is teaching agriculture at Hayfield High School. However, my ultimate dream is to be happy. Teaching is one of my greatest passions in life, and as long as I'm doing that, I will be happy," he said.
 "I chose SMSU for the people and connections you can make. I wanted to go to a college where I was valued and felt important to others. Here at SMSU, no matter who you are, where you're from, or what major you are, you matter and are valued. For example, in the Agricultural Education Department, the students and professors act as one big, happy family. They are willing to help one another and be there whenever you need it," Phoenix said.
Phoenix keeps himself busy with the numerous opportunities SMSU provides. On campus he is involved in the SMSU Ag Club, Campus Republicans and student government, where he currently serves as the student body vice president.
"During the school year, I work at a local swine producer, Boerboom Ag Resources. I am a breeding assistant, where I work approximately 30-40 hours a week, breeding gilts and sows, caring for the pigs, and maintaining herd health." In his free time, he works with one of the local Boy Scout troop as an assistant Scoutmaster.
Three other SMSU Agricultural Education majors were also selected to take part in the MAELC internship program. They include: Ashley Eisenbraun, who is working at the MACCRAY School District; Emily Amundson, who is working for the Tracy and RTR School Districts; and Mackenzie Schultz, who is working for the Arlington and Medford School Districts.
Of the seven students selected for the internship program through MAELC, four are SMSU students.
Related Articles