SMSU Coaching Master's Ranked 15th Nationally
Published Friday, June 29, 2018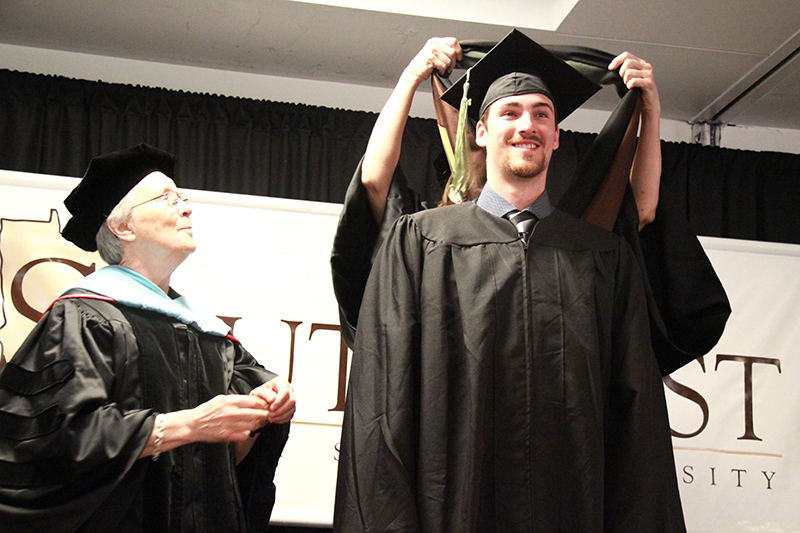 Graduate Student at SMSU's Hooding Ceremony
Southwest Minnesota State University has been ranked 15th nationally for the most affordable online master's degree in coaching.
The ranking is by College Choice, the leading authority on college rankings and resources. Their goals is to help students and their families find the best colleges to fit their academic interests at an affordable price.
SMSU is the only Minnesota university ranked in the top 15 and joins much larger universities such as Florida. Idaho and Missouri.
"The program is unique in that we have faculty and coaches co-teaching," said Cori Ann Dahlager, Director of the School of Graduate Studies. "These are D-II coaches, so they are giving the students a lot of their life experiences. The program is not only affordable, but applicable, as it shows the students real-life examples so they can incorporate what they learn into their coaching philosophy."
SMSU offers a 34-credit-hour Master of Science in Physical Education: Coaching of Sport. The coursework for the program is built on the coaching standards of the National Association of Sport and Physical Education.
To be admitted into the program, applicants must have an undergraduate GPA of  3.0 or above. If a student has lower that a 3.0 GPA they may be considered for provisional admission. The program is five semesters, including one summer semester.  The current tuition rate per semester is $446 per credit-hour. Financial aid is available, and SMSU does not charge out-of-state fees for any program.
SMSU also offers master's degrees in Education, Special Education and Business (MBA).
Related Articles