RAs Play Important Role at SMSU
Published Tuesday, July 24, 2018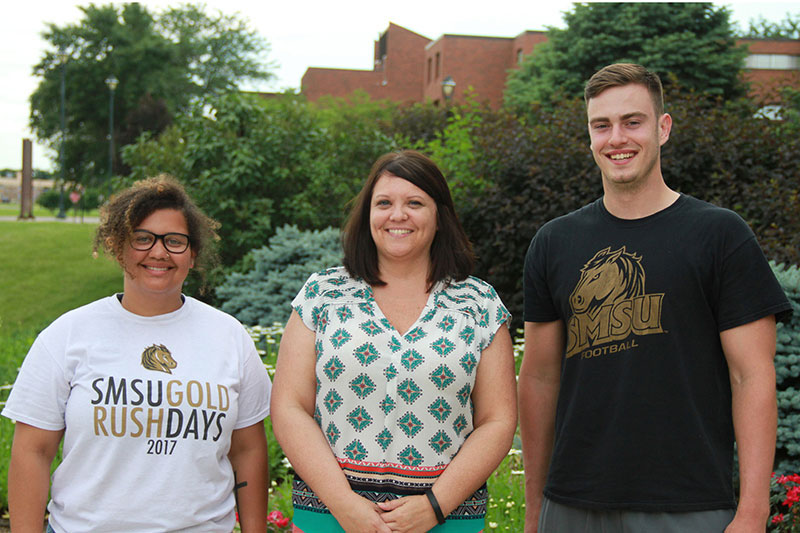 From left: Shelbie Jackson, Jessica Bentley, Keaton Rommel
Being a Resident Assistant is not easy. RAs are special individuals, with certain personal characteristics that ensure their success. It takes a dedicated, detail-orientated leader to ensure the campus residence halls are safe, fun and full of activities. "Becoming an RA can give students a foundation they can use for the rest of their lives. They learn how to deal with various life situations, even becoming aware of people's actions and body language to know how to communicate with them on a good day or bad" said Assistant Director of Residence Life Jessica Bentley.
There are 24 Resident Assistants on campus, which includes up to four Senior RAs, eight LLPAs (Living and Learning Program Assistants), and an FRA building manager that also acts as a Residence Life office manager.
Two of the RAs have been on campus this summer preparing for the students to return for the 2018-19 academic year. Keaton Rommel is from Davenport, Iowa and will be a Senior RA this academic year. He is a junior student-athlete participating in football who is perusing a degree in Justice Administration. The other is Shelbie Jackson, who became an RA in the spring of 2018 and who will be a returning RA this year. She is a senior finance major from Willmar.   
Rommel joined the Residence Life team because he wanted to be more than a student-athlete. He wanted to make an impact at SMSU.
"I like meeting new people, being a resource for them, and finding friends in the process," he said.  
Jackson became an RA when she discussed the responsibilities of the position with her RA.
"I wanted to become a leader on campus, but didn't find a club I wanted to get involved in. I also wanted a way to impact students and show off my creativity," Jackson said.
"The difference between an RA and a Senior RA lies in the responsibilities. Senior RAs are required to maintain a 2.5 GPA or higher. They act as the liaison between the professional staff and the RAs. They also help the other RAs with program ideas, duty coverage, being a go-to person for questions, mentoring, and a resource for Residence Life staff. These RAs have been with us for at least a year before earning the title," Bentley said.
The Resident Assistants go through a 10-day training from approximately 8 a.m.-8 p.m. They cover such things as situation analysis, sexual assault training, diversity training, fire extinguisher training and conflict mediation. During the training, there are breaks focused on team building. They have a diverse array of team-building activities that include Adopt-A-Highway cleanup, going to local fairs and rodeos, going out to eat, mini golf, YMCA events and a student service fair to learn more about services the school can provide students. The training is so RAs can get to know one another, the University, and the community of Marshall.
"Knowing where things are, and the activities available in town, helps the RAs think of unique and fun program ideas for their residence halls," said Bentley.
"Last year's training was a balancing act for me. I juggled fall football training camp and Resident Assistant training. I would go back and forth the whole day to get the required training done while missing minimal football practice. I appreciate athletics and Residence Life finding a way for me to do both" Rommel said.
"We have a mix of quiet leaders and more outspoken leaders to fit the population in the residence hall assigned. We like to have the outspoken leaders be in charge of the first-year halls to get them excited and involved on campus. There is a wide range of qualities we look for in our Resident Assistants, but the universal qualities we look for are approachability, open-mindedness and a welcoming nature," said Bentley.
The benefits of being an RA are many. RAs learn a lot about the University itself, have an impact on other students' lives, improve their leadership skills, make friends, get involved, improve time management skills and receive financial assistance.
"RAs receive room and board while LLPAs receive free room," Bentley said.
Both Rommel and Jackson have become friends with the residents in their halls and feel as though they have made an impact on student' lives. They are able to show their creative side making door decorations, thinking of programs and marketing them and coming up with bulletin boards that are displayed in their complex.
They experience many situations, and have the stories to prove it.
 "I got a wake-up call at 2 a.m. from a resident that said that the lobby was flooded. To my surprise water was flowing down the steps into the lobby and out the front door in the winter. A group of us cleaned up the water, and by morning there was no evidence of the incident. I don't even think anyone knew that it happened except for the resident who reported it. There was just a little extra ice on the sidewalk in front of the dorm that morning," Jackson said.
"Casino night can be stressful to put together. All of the RAs were so tired and stressed at the same time that we got to the point of hysterical laughter for anything that didn't turn out the way we planned," Rommel said.
RAs are carefully recruited and selected for learning communities and other residence halls.
"We do various marketing techniques to recruit students to fill RA positions: flyers, videos on social media, word-of-mouth from staff to residents, asking faculty and staff for recommended students and providing a good residence life experience," said Bentley.
RAs play an important role at SMSU. They have a lot of responsibilities, and at the same time, help make residential life a memorable and positive experience for students.
Related Articles