SMSU Students Play Key Role at Marshall Community Services
Published Wednesday, July 25, 2018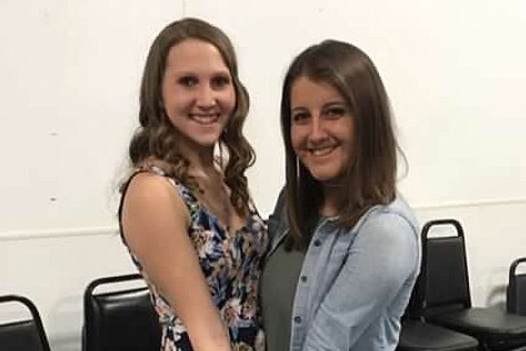 Sarah Nowezki and Kristi Roth
SMSU students play an important role with Marshall Community Services (MCS) throughout the year.
MCS serves Marshall in many different areas, including Early Childhood Family Education (ECFE), youth and adult enrichment and recreation offerings, Adult Basic Education, local cable access, parks and trails, Adult Community Center, driver's training, after- school programming and more.
Marshall Community Services recruits SMSU students at the campus job fair in the fall when students arrive back on campus. Many of the students they connect with work for Community Services for four years.
 "We will continue to use SMSU students in many different areas where we staff seasonal employees. When we attend the SMSU job fair, we've had good luck recruiting and getting SMSU students educated on the opportunities for them with Marshall Community Services" said the Recreation Coordinator Cam Bailey.
MCS employs students to help with many areas, including camps, after-school programs, ice arena staff, lifeguards, office assistants and game officials.
This October and November, 2018, two SMSU students will be running the Tiny Tots (3-5 years old) and Shooting Stars (grades K-2) dance classes through MCS.
Two senior Early Childhood and Elementary Education majors, Sarah Nowezki and Kristi Roth, oversee all aspects of the two classes.
"Kristi and I have full responsibility of how we want to run each class. We take this opportunity very seriously and want to come up with routines, stretches, and skills that will help each dancer individually. In having control of an entire dance class, I feel a sense of commitment as well as responsibility." said Nowezki.
"The class will be focused on two different kinds of dance: jazz and ballet. In both classes, children will learn the techniques of ballet such as the five positions and the expressions of jazz: learning to leap, turn and dance with facial expression," Nowezki said.
"I first got involved with Marshall Community Services my sophomore year of college. A previous dance member helping with the camp had asked if I could take over for her after she graduated. I have been asked to return every year since I began," said Roth.
"I think teaching dance classes through Marshall Community Services is a great way for girls and boys to discover their love of dance. This class is a great beginning step for parents and their kids to get involved in a small dance class to see how their kids like it before they spend big money on studio dance. I also enjoy how excited the kids are to start the class every week. We usually have a lot of girls that return every year. It's really great to see that the kids love it so much and want to come back year after year," said Roth.
Both Roth and Nowezki have been part of the SMSU Dance Team since they were freshman and have been dancing a large majority of their lives. They both want to be involved in dance as long as they can or even teach a dance class once they become teachers.  
"Dance has been my passion for 18 years. Dance makes me feel like I am in a completely different place and can allow me to share my emotions with other people. When dancing, I dance with expression to share my story, or the story of others," said Nowezki.
"I would say they are both something that I have always wanted in my life. I have been a dancer since I was 6 and I can't imagine ever getting out of dance. I have also always wanted to be a teacher, so I think they are just two things that I hope to always have a part of me," said Roth.
Marshall Community Services provides students an opportunity to improve their leadership skills, organization and time management.
"I was my high school's dance team captain and this fall I will have the opportunity to be a captain for the SMSU Dance Team. In doing this, I will get the experience of not only choreographing more dances, but hosting tryouts, banquets, and fundraisers as well as leading group stretches, scheduling performances, and ordering costumes" said Noweki.
Both look forward to sharing their love of dance with their young students.
 "I find an enjoyment in sharing my passion of dance with young people. I feel that not everyone understands how fun dance can be until they become involved with it. In teaching dance for Community Service, I feel as if I am allowing these children an opportunity to learn the knowledge and skills that I learned in studio but for a cheaper price," said Nowezki.
Some of the other SMSU students employed with Marshall Community Services currently are Matt Facile and Emily Hofmann working with baseball programs; a handful of SMSU volleyball players instructing high school volleyball camps; Sariah Cheadle, Alex Solheim, and Sarah Yotter at the aquatic center; and Nikki Atwood, a summer intern.
MCS offers so many activities and events for the community and region, and SMSU students have contributed to that throughout the years.
Related Articles