Mustang Family Members Enjoy Alumni Association Alaskan Cruise
Published Thursday, July 26, 2018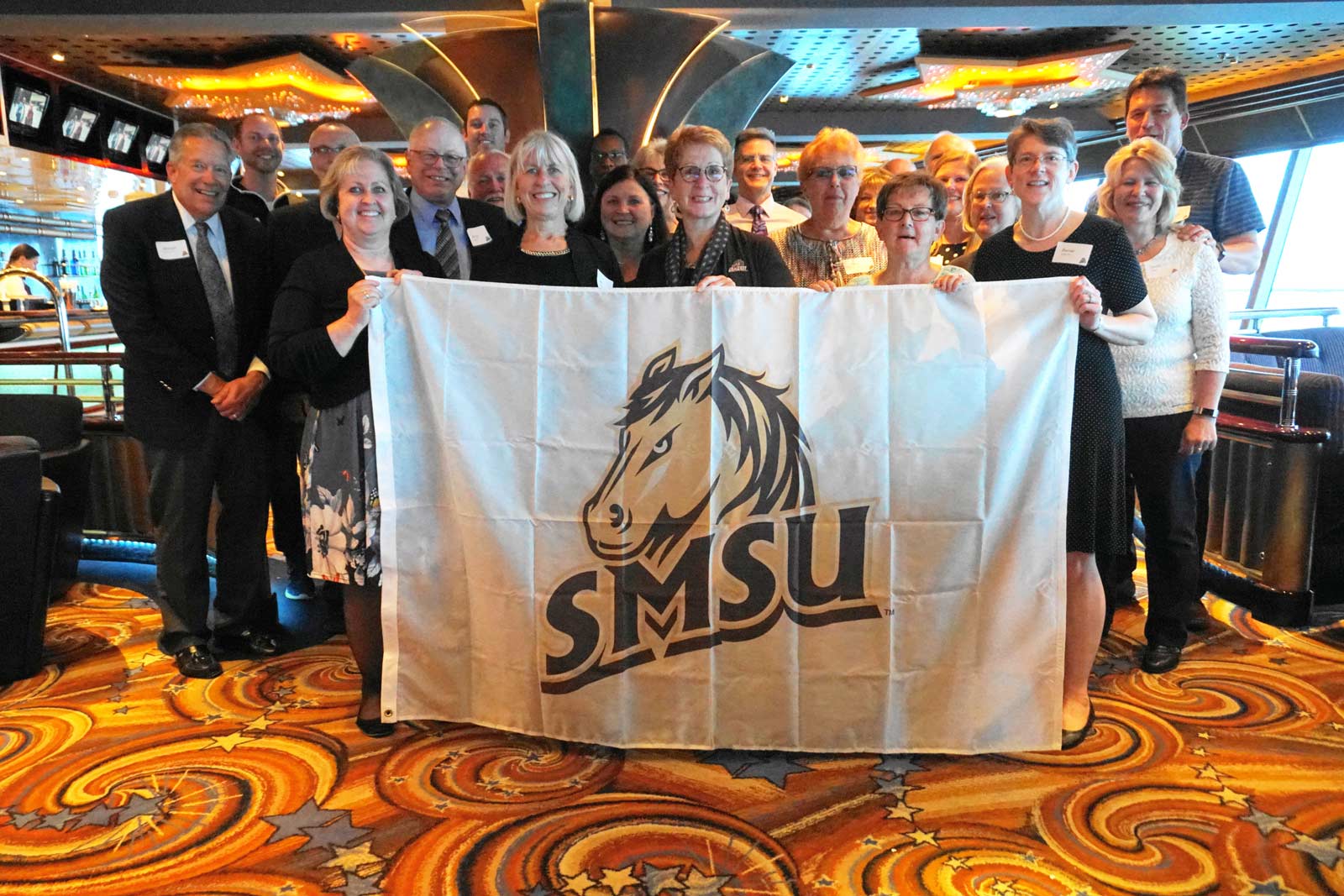 The SMSU contingent
"I can see why an Alaskan cruise in on a lot of people's bucket list."
That was the sentiment of Alumni Director Michael VanDrehle upon the return of the group of 28 alumni, faculty, administrators, students and friends of the University that participated on an inside passage cruise from June 23 through June 30.
"We try to do a cruise every two years," explained VanDrehle. "We had a lot of interest in the Alaskan cruise."
The group departed from Seattle, Wash., and had ports of call in Juneau, Skagway, Ketchikan and Victoria, British Columbia. They also spent a day at the Glacier Bay National Park to observe the Margerie Glacier.
"You can't believe the scenery," said VanDrehle. "You really can't fathom how large Alaska is, and how untouched it is. It's mountains and trees and wildlife."
VanDrehle and the Alumni Association partnered with the Environmental Science program for the cruise. Environmental Science Professor Dr. Tom Dilley taught a one-credit course, "Exploring Alaska," in the 2018 spring semester. "The course was full," said VanDrehle. "Tom is from Alaska, and covered everything about the state. He was our own personal tour guide on the trip," he said.
Joining Dilley on the cruise was Environmental Science Professor Dr. Emily Deaver, who also took his class. "He gave a great overview of the history of native tribes, ecosystems, geology, glaciers — it was all-inclusive."
Joining them, also, were SMSU President Dr. Connie J. Gores and her daughter, Kasha Klinegores.
Dilley also had an informal session each evening, where participants had an opportunity to discuss that day's activities and what to expect the following day.
Each of the stops had a personality of its own, said Deaver. For instance, Juneau is the capital of Alaska and the only capital in the U.S. not accessible by roads; Ketchikan is a fishing community best known for its salmon; Skagway was a central point of the Alaskan gold rush in the late 1890s; and Glacier Bay National Park was on the "favorites" list of many participants, who watched large portions of ice break off of the glacier and become icebergs, a process called calving. "We stood on deck watching that for literally five hours," said Deaver.
And just to show that SMSU alumni are all over the world, the group ran into alumnus John Radzilowski at the Totem Heritage Center in  Ketchikan. "We got off the ship. I took off my rain coat and had an SMSU shirt on. He came over and asked if we lived in Marshall, Minnesota," said Deaver.
Radzilowski has been a history professor at the University of Alaska Southeastern in Ketchikan for 10 years. He is a 1989 alumnus. His late father, Thaddeus, was a history professor and administrator at SMSU for 28 years. John also worked for history Professor Emeritus Joe Amato when he was a student at SMSU.
The SMSU contingent traveled on the Ruby Princess, which has 19 decks and holds 3,600 people. "There were a lot of things to do," said Deaver.
"It was a really fun experience," said VanDrehle. "We received a lot of positive feedback and it was a good chance to see some of the most gorgeous scenery in the world while learning a lot about the state of Alaska."
Related Articles