Adult Basic Education Helped by Baun-written Grant
Published Saturday, August 04, 2018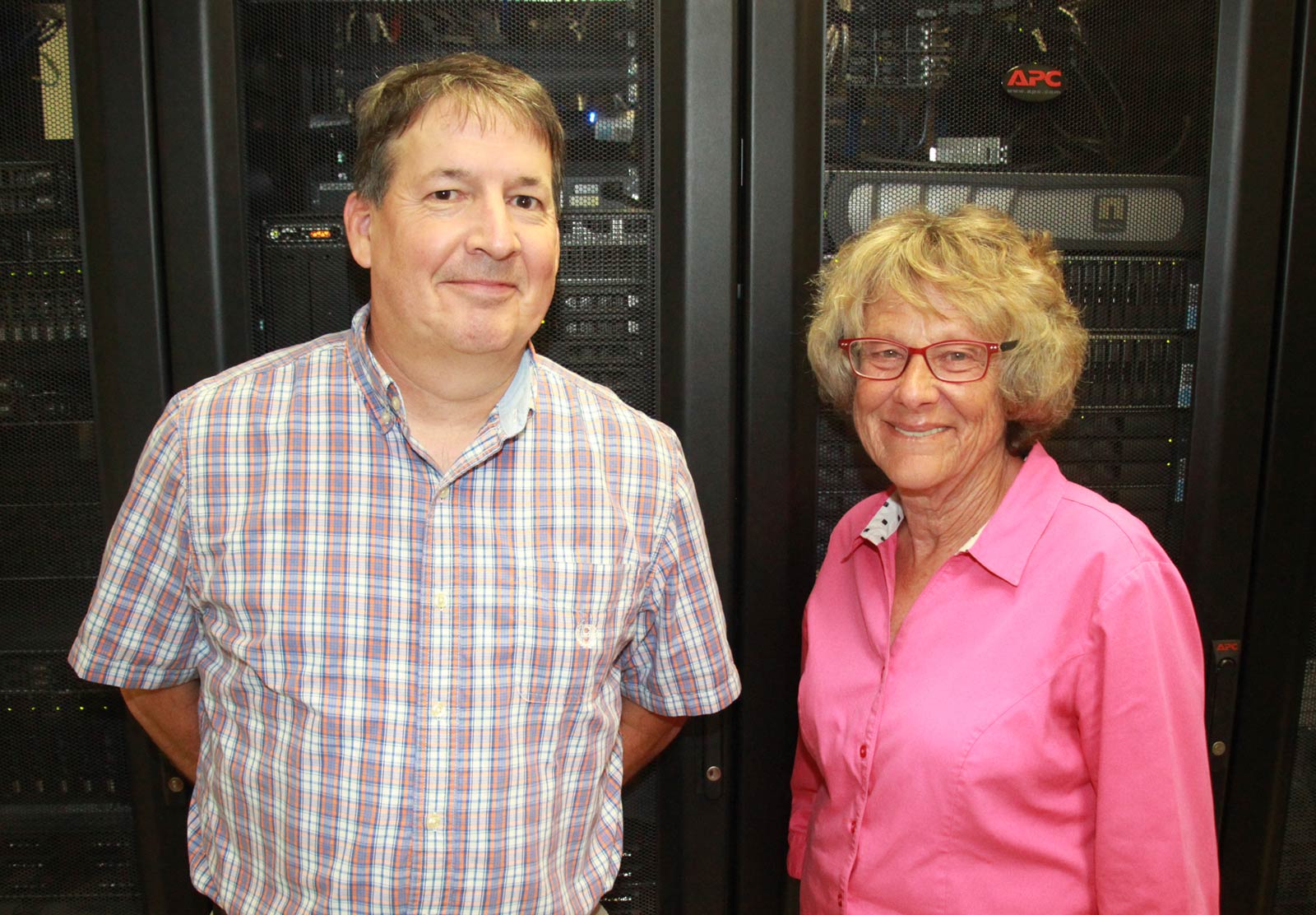 Dan Baun, left, and Pat Thomas
A cooperative effort between SMSU and the regional Adult Basic Education (ABE) program has resulted in greater accessibility for those seeking ABE services.
"All this wouldn't have come about had we not moved to SMSU," said Pat Thomas, Adult Basic Education Program Director of the Marshall Region.
ABE moved to the Social Science building a year ago.
 "ABE provides free literacy services to adults from the pre-literate stage all the way to people brushing up, who may want to get into college, or prepare for a job  interview," said Thomas. She said it's both state and federally funded. "Minnesota invests in ABE because it sees our services as a vehicle to provide better employees to fuel the economy."
SMSU Chief Information Officer and Southwest/West Central Higher Education Organization for Telecommunications and Technology (SHOT) Regional Director Dan Baun and Thomas are good friends, going back 19 years when ABE was first housed on campus. "We then moved to the Government Center in town, but we lost our lease there and SMSU was good enough to offer us space, so we returned," said Thomas.
She was talking with Baun one day about wanting to expand ABE's reach. That's when he connected the dots — needs versus resources — and authored a $29,000 grant for ABE which allows the program to access 300 Adobe Connect licenses, so that those seeking ABE services no longer have to come to Marshall to attend a class. They can do it off of a computer, in their home.
There are 44 consortia in the state of Minnesota. The project will cover six consortia within Minnesota, including the SW-ABE consortia.
"It fits into the SHOT mission, " said Baun. "The (Minnesota State) system put in their own web conferencing system, so these licenses were mothballed and were to be de-activated at the end of July. This will supply funding for one year."
The grant was funded by Minnesota Tele-Media, which provides research, planning, funding assistant, implementation and organization of telecommunications services for the educational institutions in southwest and west-central Minnesota. SMSU is one of the member institutions.
Funding for ABE is based on student contact hours, explained Thomas, who heads one of six consortiums in the state. She believes this new technology will greatly expand the number of contact hours, thus making it sustainable moving forward. "If we create another 5,000 student contact hours within the region by next June 30, we will have created enough revenue to pay for next year's use of Adobe Connect. I think as we move forward we'll find new ways to use this technology, which will increase our contact hours.
"People a lot of times come to Marshall (for ABE services) and they may be in our program three months and then drop out because of a situation. We hope this will re-engage them so that they continue their education, even though they may be working, or have a life situation that doesn't allow them to attend a class  personally. This just gives our services a much broader reach."
By the end of the year, she hopes to have students within the coverage area participating in classes from teachers from other consortia. "That way a student has more opportunities to work with a teacher who fits their specific needs better," she said.
"This has never been done before," said Thomas. "Dan is entirely responsible for coming up with this grant, writing it and presenting the grant. He did everything. The key piece for making this opportunity available for ABE is Dan Baun."
She is also appreciative of other areas of campus which have helped improve the services of ABE. "Ryan Wendt helped us create a map on our website to help people find us. Alma Hale helped with our new logo. Heather Rickgarn has guided us with personnel issues and assistance as we move forward to find a new ABE director. And funding has been made available for a work-study student for ABE," she said.
 "By moving to SMSU, we have been able to access resources way beyond our expectations due to partnering with various departments."
Related Articles