MARL Program Approaches Start of Class X
Published Sunday, August 12, 2018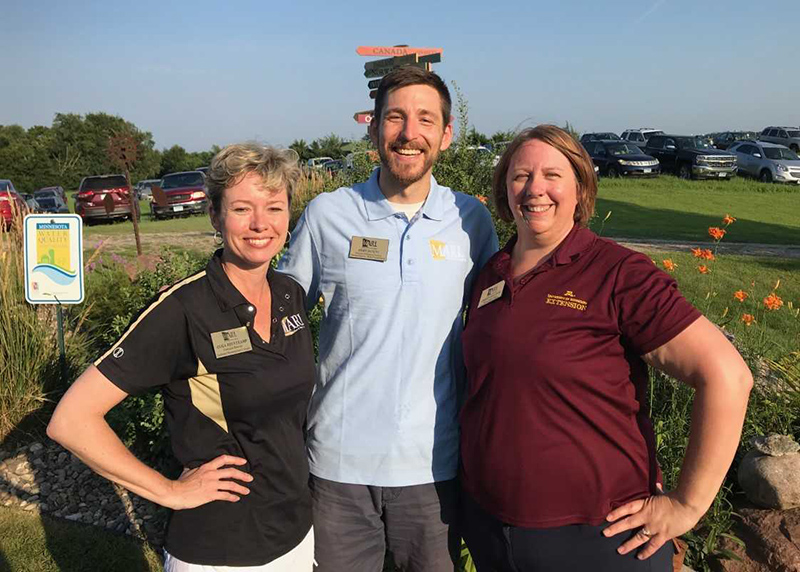 From left: Olga Reuvekamp, Eriks Dunens and Christy Kallevig,
The Minnesota Agriculture and Rural Leadership (MARL) program is approaching its 20th anniversary and has grown steadily since the 30-member charter class first met in November 2000.
 "Each class brings a new dynamic to the program. It is exciting to find new people who can become involved in MARL from different aspects of the industry. Each class has its own unique, diverse culture," said MARL Executive Director Olga Reuvekam. MARL Class X begins in November 2018, and will be led by Reuvekamp, along with Eriks Dunens and Christy Kallevig, co-program directors through the University of Minnesota Extension.
Much has changed since MARL began in 2000. However, Joel Mathiowetz, MARL Class IV, believes the need for ag and rural leadership is as necessary today as it was initially. "Each class is a new crop which creates greater networks and stronger opportunities for collaboration and problem solving," he said.
MARL's mission, "To develop the skills of MN Agricultural and rural leaders so they may maximize their impact and effectiveness in local, state, national and international arenas," has created enthusiastic and professional leaders from Minnesota's rural and agricultural communities.
Alumni are quick to recognize the impact MARL had on their leadership skills. Debbie Chute and Brian Thalman, MARL Class V alumni, believe they became more professional communicators who are open to others' ideas and needs. Thalman feels he has become better at "thinking outside of the box." Before MARL, he became so focused on one idea, he would miss the bigger picture, he said. However, MARL allowed him to see the larger world view and, although he still works on his leadership skills, he has become more active in local, county and state leadership roles within agricultural organizations by recognizing and respecting these different opinions and views. Mathiowetz also credits MARL for creating confidence within farmers and rural leaders who now share their stories. These agricultural leaders have a unique skill set and their stories help create a larger purpose within their occupation. Adam Ulbricht, Class IX, understands that MARL allows participants to build on their strengths. Ulbricht does not believe MARL creates new strengths, instead, it provides opportunities to gain confidence, understand strengths and weaknesses and adapt accordingly.
Throughout the 18-month program, MARL participants travel throughout Minnesota, to Washington D.C., and on an international seminar. Although international travel is a highlight for many participants, the rich ag diversity within Minnesota creates lasting impressions, as well. Shawn Schloesser, MARL Class VIII, was fascinated by the Red Lake Indian Reservation, where his eyes were opened to a community he had never experienced in such a personal way. The supportive MARL community and the diversity in participants and experiences created a memorable experience for Schloesser.
Ulbricht was similarly impressed with the ag diversity in Minnesota. His most memorable experience was traveling to Austin, Minn., to tour the Hormel plant. He was impressed by the opportunities Hormel provided and how the company and the community supported each other. Ulbricht believes MARL allowed him to have a better world view, expanded his networks and allowed him to understand the diversity among "outstate" Minnesota. Too often, he said, Minnesota appears split between the "metro" and "out state." Once he had the opportunity to travel throughout Minnesota, he better understands the challenges and opportunities of all regions. Ulbricht said before his MARL experience, he lived in a bubble, but MARL expanded this personal bubble by exposing him to different experiences.
These opportunities would not be possible without community and business support. Due to the diverse sponsors, business leaders and alumni, each class has unique experiences. Reuvekamp strives to adjust each class based on the evaluations and reflections from the previous class while remaining true to MARL's mission. She finds timing is most valuable when creating a leadership program. MARL trains leaders who can adjust to the times based on the current economy, national events and politics. Each year is unique and 2018 provided an opportunity for MARL participants to reflect on current rural topics while learning to respect other viewpoints.
Although MARL Class X has not yet begun, Reuvekamp encourages those interested in future MARL classes to talk to alumni, to listen to their stories and to ask questions. Reuvekamp stresses advanced leadership development is not necessary when applying to MARL, since the program allows participants to develop stronger personal and leadership skills. With over 270 alumni throughout the state, MARL has rich connections, allowing the program to grow and for each participant to play a vital role in the agricultural and rural development in the future. 
Steven Schmitt, Class X participant, is looking forward to his MARL experience and hopes to enhance his communication skills and create new leadership opportunities while developing stronger networks. While networking with current MARL alumni, he began to understand the camaraderie the program creates among all its classes and the lifelong friendships gained through shared experiences. Schmitt's MARL experience will begin in November when the 30 Class X participants meet in Willmar for the start of their MARL experience.
Related Articles