Gabby Power One of 12 National Teach Ag Ambassadors
Published Wednesday, August 15, 2018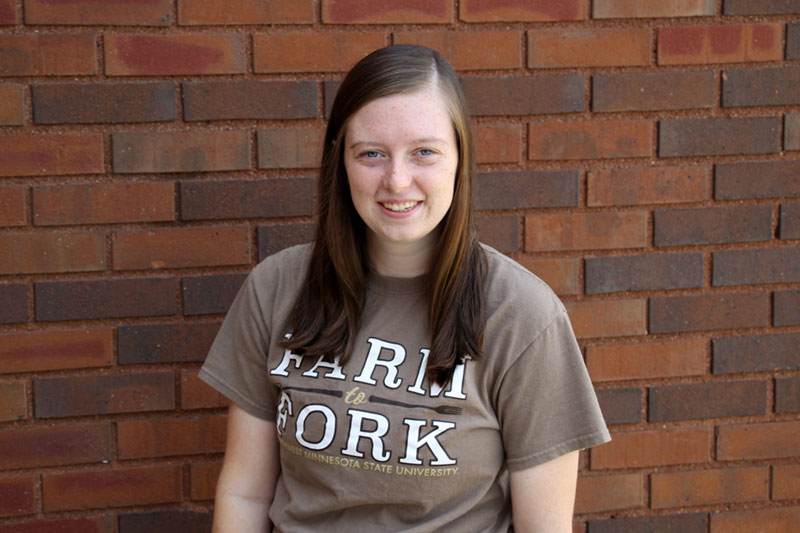 Gabby Power
Gabby Power is making a difference in the lives of high school students nationwide by teaching students about the opportunities of being an agricultural educator. 
"I want to recruit people like me because it is important to fill the agriculture education needs of the country," Power said.
Power, a senior Agricultural Education major, was one of 12 students selected nationwide to serve as a National Teach Ag Ambassador from October 2018-October 2019.
As a Teach Ag Ambassador, Power will represent the agricultural education family by networking with prospective agricultural education teachers and presenting about the profession in high school classrooms and at conferences, such as the National FFA Convention. She also has the opportunity to present workshops throughout the year.
 "For one of my workshops, I plan on inviting high school students to SMSU on Teach Ag Day to promote my major. It will be a great way to get students to campus and interested in my major," she said.  
"The selection process to becoming an ambassador was difficult and time consuming, but worth it," Power said.
A large portion of the application consisted of an essay and references. From the applications sent in, about 25 students were selected for an interview. The interview consisted of one question with a 30-minute response time. Only 12 students were selected to become the 2018-2019 ambassadors.
There is also one intern that is selected to help coordinate events throughout the year.
"The selection process is intense and competitive, but I hope to be the intern for Teach Ag in the next couple of years. I still can't believe I am an ambassador" she said. 
"I feel as though my MAELC (Minnesota Agricultural Education Leadership Council) internship last summer in Grand Rapids, my college choice, and the activities I am involved in at SMSU impacted the judges' decision to choose me," Power said.
Power is involved in many activities on campus: Student Senate, Senior Residence Assistant, Student Activities Committee (SAC), treasurer of Ag Club, intramurals, EMSP Club, and Admissions Ambassador.
 "I came from the small town of Readlyn, Iowa with a population less than 900. I'm used to being involved in a lot of different activities. I have two more years left that SMSU and I plan on staying involved," she said.
 "One day, I hope to make a difference in someone's life to give back to the people that helped me become who I am today. I wouldn't be where I am today if it wasn't for my ag teacher in high school. In April of my senior year, my teacher sat down with me to help me decide a career path to pursue. College was fast approaching, and I had no idea what I wanted to do. She helped me realize my passion for ag," Power said.
Power came on a visit at SMSU and instantly fell in love with the family-like atmosphere, she said.
"I have been given great opportunities at SMSU that have helped me improve my public speaking skills and leadership abilities. I can stand up in front of 400 people to deliver a speech without a problem" Power said.
Related Articles