Tavares Feels All of SMSU Must be Engaged with International Students
Published Monday, August 20, 2018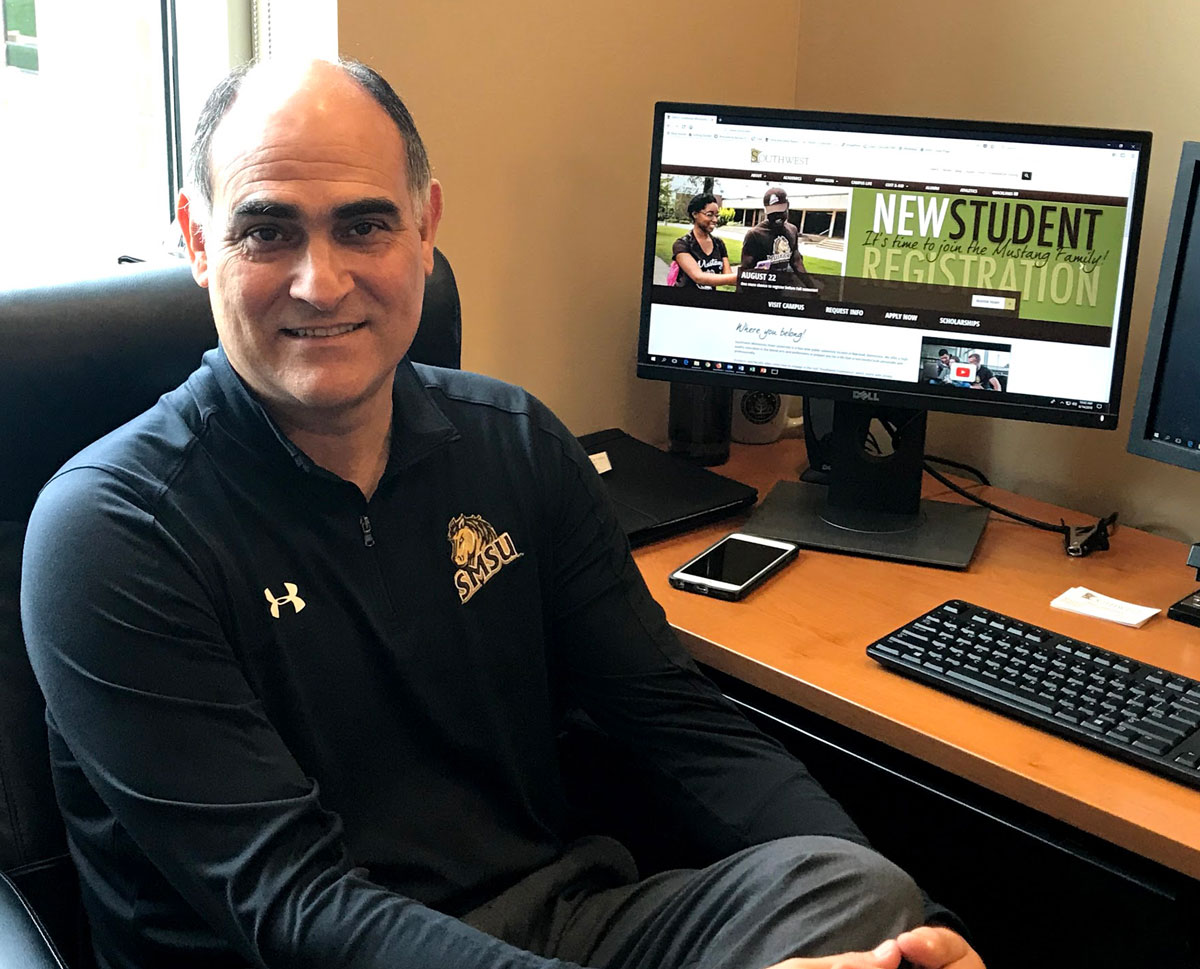 Juan Tavares
Hello, Hola, Olá, Jambo!, Namaste, Gamarjoba, Salemetsiz be. Regardless of a student's native greeting, everyone is welcome at SMSU.
This year, international students will be greeted by Juan Tavares, Director of International Student Services, who is looking forward to working with the SMSU community. Diversity is important to Tavares, a Dominican Republic native who began his duties this summer.
He began his educational career as a student-athlete, a swimmer, at Michigan State University, where he earned a Bachelor's degree in Health and Physical Education and a master's degree in Recreation Management. Prior to his position at SMSU, Tavares was the director of member services at Bronson Athletic Club, Assistant Director of Admissions at Kalamazoo College, and Director of International Admissions at Western Michigan University. Tavares also returned to the Dominican Republic to work for several years before returning to the United States. After returning, he chose a career change and an entry level position as an admissions counselor where he learned the importance of international student services.
Tavares is excited about SMSU's potential for international students and has worked diligently since he arrived to create an opportunity for more diversity and a larger population of international students within the SMSU community. This opportunity comes with challenges as he attempts to convince the Cultural Admissions department in Washington, D.C. to add SMSU to its approved list, which would open the doors to students from many cultural backgrounds.
SMSU appeals to Tavares for many reasons. SMSU has great potential with relatively low tuition for the high-quality of education SMSU provides. The largest challenge for Tavares is to increase the number of visas awarded to students interested in SMSU and retaining international students throughout their educational career.
In the past, SMSU had many students from Nigeria, Nepal and Taiwan. He hopes to also create SMSU's presence in countries like China, Saudi Arabia, Kuwait and Oman. He would also like to create an opportunity for students in Spain, Columbia and the Dominican Republic to attend SMSU, along with those currently enrolled from Portugal, Brazil, Kenya, Nepal, Georgia, Kazakhstan and Kurdistan.
Another goal Tavares hopes to provide includes allowing international students to begin their college experience in their own country and transfer to SMSU to finish their credits and earn a diploma. He has become involved in the evaluation process, which he hopes will allow students to have a smooth transition onto campus as freshman or transfer students.
The current political landscape creates few challenges for international students. "Although the current policies affect immigration relative to people living in the United States, the government has not changed regulations regarding student visas," he said. International students are instead making decisions based on new programs or more developed educational systems now being offered in their own countries and the current exchange rate which creates financial difficulty for international students.
Since his arrival, Tavares has spent time educating the SMSU community about the transitional process for international students. He has spoken to RA's, department chairs and plans to speak during the Professional Development Day to encourage the SMSU community to embrace international students. "Higher education is a competitive market where every student matters," he said. Therefore, it is important for each member of the SMSU community to watch out for each other. He encourages SMSU faculty and staff to "take it and own it.  When we encounter students with concerns, we need to make something happen to create a positive experience for them at SMSU. We are the most effective marketing tool," he said. And it is through word of mouth that enrollment increases. Therefore, retaining current international students will be vital to the growth of diversity and the international student community in upcoming years.
Regardless of which language we use to welcome each other to campus this fall, Tavares believes in warm greetings and fond farewells.  
Related Articles