Living and Learning Communities Offer Unique Opportunities
Published Wednesday, September 05, 2018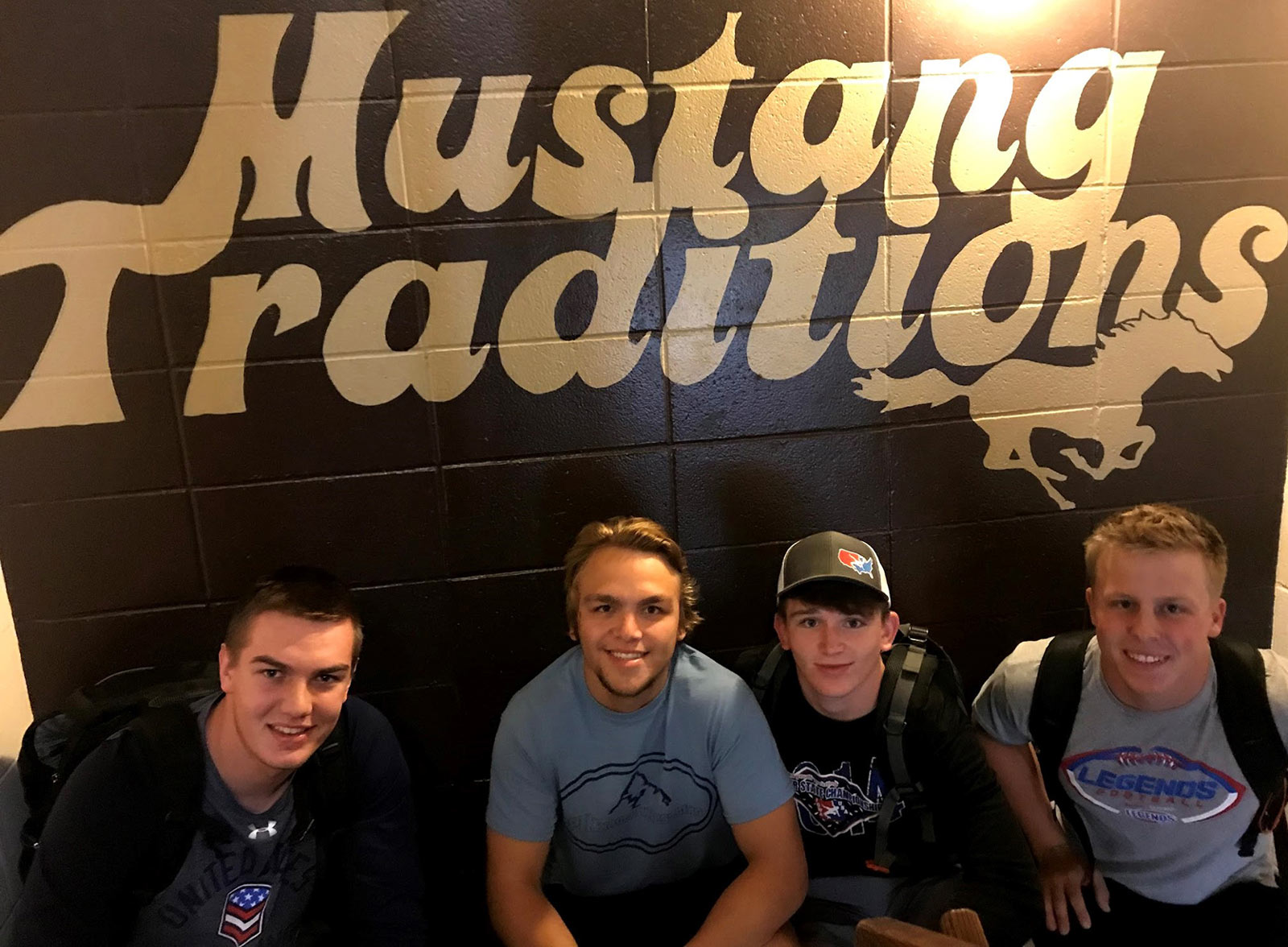 Mustang Traditions House members are Mustang fanatics!
"We love it here," exclaimed a group of first-year students while sitting in the Mustangs Traditions lounge. One continued, "This exceeded all my expectations. I expected to sit in my room and that people would not be close, but we are seriously a family. We are so close."
Whether you live in the Mustang Traditions residence hall or one of the other Living and Learning Communities, the goal is to create a close-knit family atmosphere with peers who have similar interests.
SMSU's Residence Life has seven Living and Learning Communities including: Culinology House (2008), The Access, Opportunity, and Success House (2008), The Fine Arts Community (2009), the Mustang Traditions House (2009), Exercise Science House (2015), Agriculture House (2016) and Blue to Brown House (2016). These unique Living and Learning communities allow students to network with students who have similar majors or interests.
Jessica Bentley, Assistant Director of Residential Life, believes the Living and Learning communities are important because of "the community they are building, which creates a feeling of belonging early in their college experience."
The original purpose behind the Living and Learning Communities was to create an atmosphere where students would be able to interact with others who had similar majors, similar educational backgrounds or similar interests. "We saw these communities having strong potential on campus," Bentley said. "We wanted to build a successful student, both in the classroom, and in their living environment," she said.
Each community has its own unique dynamics, which is important to different students. For instance, the Culinology House allows those with a Hospitality Management or Culinology major to live in this community, where they are provided with different opportunities than other residence halls. This house has a gas stove, stainless steel appliances and allows students to work on lab assignments in their house while creating a community where they learn from each other.
The Exercise Science House has an exercise room where students who live in that community can use various pieces of equipment to promote health and wellness while encouraging group learning. This house also has a full skeleton, allowing these students to study for their courses while in the residence hall. Tutor sessions and mentoring opportunities are available. Students living in this house interact with others with similar interests and with those who are taking similar courses.
Access, Opportunity and Success students are those who are enrolled in the AOS program and would like a supportive living environment. This community has two houses and has become one of the stronger communities, states Bentley. This community requires a two-year commitment and provides educational and professional growth opportunities such as tutoring, a computer lab, job fairs and diversity conferences.
The Fine Arts Community allows students interested in Art, English, Music, Communication Studies and Theatre to take advantage of peer support throughout their living environment. This residential community has a piano room, a painting studio, and a costume design area to make it easier for those with a fine arts interest to interact with others who have similar interests.
The Agriculture Community is for those who are passionate about agriculture. One of the newest houses, it allows students interested in ag to network outside of the classroom and to work on projects with others in their classes and in their living community.
Although many of the communities focus on academic majors, the Mustang Traditions house provides a unique opportunity for those who want to become involved in everything SMSU. Students living in this house are typically outgoing, energetic and want to attend athletic, fine arts, academic or other campus events.
Michael VanDrehle, Director of Alumni Relations at SMSU, believes the Mustang Traditions house creates a valuable connection between current students and alumni. His goal for Mustang Traditions students is to "get connected with SMSU. These students get involved in clubs and organizations as students and are more likely to be active alumni as well."
The latest addition to the Living and Learning Communities is the Blue to Brown Community, which is a shared community with Minnesota West Community and Technical College. This is a chance for Minnesota West students to live on SMSU's campus and interact with others taking the same courses and having the same educational path. Students in this community live in the residence hall while taking classes through Minnesota West on SMSU's campus, as part of the Blue to Brown pathway.
Bentley and VanDrehle agree the goal of the Living and Learning Communities is to create a sense of belonging and family within the SMSU community.  This connection often increases student retention and graduation rates.
VanDrehle encourages students in the Mustang Traditions house to become involved early. He also believes it provides a valuable opportunity for these students to network with alumni. "Although there are students who are looking for job opportunities after graduation, there are also alumni who would love to hire SMSU alumni in their businesses," he said.  Therefore, the Mustang Traditions house provides a place for connections to be made and networks expanded. STAT (Students Today, Alumni Tomorrow) connects current students with their classmates and with alumni.
Regardless of a student's major, the Mustang Traditions House and STAT provide opportunities for students to interact with alumni in various fields, creating an important network of diverse individuals. This student and alumni connection is one advantage provided to those in the Mustang Traditions House. "It's all about getting them involved early," VanDrehle states. "We are finding many more of our young alumni are still involved after graduation." He attributes part of this success to the opportunities provided to the Mustang Traditions students during and after their time living on campus.
Finding a place to belong is important to the success of any college student; therefore, the variety of Living and Learning Communities offered at SMSU is key to becoming involved academically and personally. Creating an atmosphere that exceeds all expectations is an important part of the success of Residential Life. Bentley recommends students check out the Living and Learning Communities to see which one would best fit their interests. "Many don't know what each community has to offer. It's the little things we do within each community that makes it unique and successful. Students appreciate the extra amenities and the community that is built."
SMSU's Living and Learning communities provide one more opportunity to find a place Where You Belong!
Related Articles