Six to Receive Homecoming Alumni Awards
Published Friday, September 14, 2018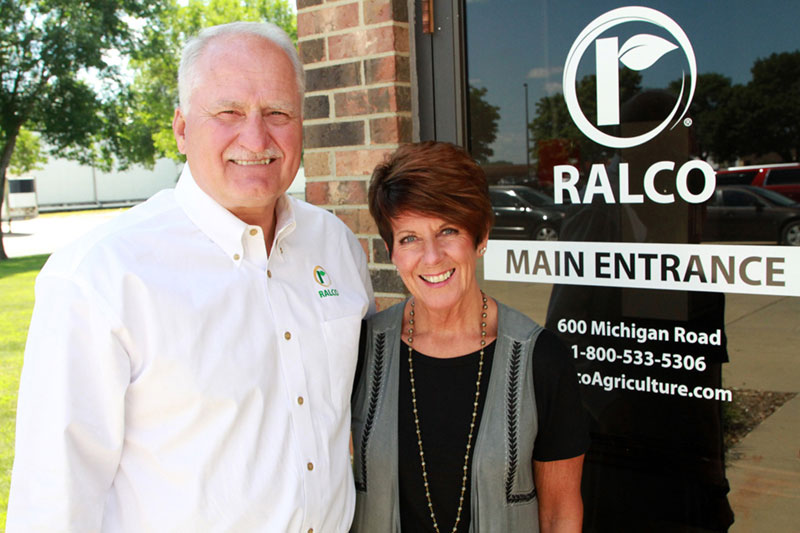 Jon and Niter Knochenmus, Honorary Lifetime Members
Six individuals will receive Alumni Association awards at a Friday, Oct. 5  noon luncheon in the Conference Center Ballroom on the campus of Southwest Minnesota State University.
The event is part of Southwest Minnesota State University Homecoming activities, with a theme of  "Home of the Mustangs."
Alumni Achievement Awards are presented to alumni in recognition of professional success and the positive reflection made on the university and fellow alumni. Alumni Achievement Award recipients include Eldean Maschoff, '71, founder of Aluma; Susan McGaughey, '72, retired general manager of Valley Natural Foods, Burnsville, Minn.; and Jim Schlenner, '79, partner and co-owner of the accounting firm Schlenner Wenner & Company, St. Cloud, Minn.
Honorary Membership Awards are presented to individuals who are not SMSU graduates, but who give their time, talent and enthusiasm to the university. The Honorary Lifetime Membership Award recipients this year are Jon and Niter Knochenmus, co-owners of Ralco, Marshall, Minn.
The Graduate of the Last Decade (GOLD) Award is presented to an individual who has distinguished him/herself in the last 10 years since graduating. This year's recipient is Trisha VanDusseldorp, '11, Assistant Professor of Exercise Science at Kennesaw State University, Kennesaw, Ga.
A closer look at this year's honorees:
Alumni Achievement Awards
Eldean Maschoff  '71
Eldean Maschoff's belief in himself led the 1971 Charter Class graduate to start a trailer company that has developed a national reputation for craftsmanship, value and durability.
Eldean is the founder of Aluma, the most complete aluminum utility & recreational trailer line in the country.
He worked for a couple of different companies after graduating, including Winnebago Industries, before starting his own company, El-San, Inc., in 1977. The Crystal Lake, Iowa, company did custom fabrication of aluminum extrusions. Then in 1992, a trio of Winnebago Industries managers asked him to design and build an aluminum golf cart trailer. His reputation for quality soon led others to approach him about the trailers. So successful was that venture that he started Aluma in 1995 and soon moved the plant to a 12,000-square-foot facility in Bancroft, Iowa.
In five years he had doubled the size of his building, and increased the number of employees from 5 to 45. He designed most of his extrusions so the trailers could be built in less than three hours, cutting in half the production time. Aluma established a market for aluminum trailers, which to that point was dominated by steel trailer manufacturers.
He sold the business in 2000 to friends from Mankato, and continued to work for the company, designing every trailer that Aluma built. He retired in 2015, when the trailer manufacturing firm had 160 employees and was building 350 trailers per week with sales in all 50 states, Canada and several foreign countries. That early 12,000-square foot plant has grown to over 140,000 square feet, and a second plant builds trailers in Emmetsburg, Iowa.
He fondly remembers his days at SMSU. The Engineering Technology major says "SMSU was a wonderful education for me. It has a real warm spot in my heart." Influential professors included Robert O'Brien, Joseph Van Wie and Don Hein.
He lives north of Fairmont now and sells vegetables, including harvest from his 10,000 asparagus plants. Ever the inquisitive mind, he's recently started a new business, building electric-powered 4-wheel carts that can be used for planting and harvesting vegetables.
Eldean recently lost his second wife, Joyce. He has two children, three-step-children, and eight grandchildren.
He's grateful for today's honors, and gives credit to SMSU for laying the educational groundwork which led him to professional success.
Susan McGaughey, '72
When Susan McGaughey reflects back at her professional career, she can only smile at the twists and turns that it's taken along the way.  
How does an Education major, after all, become the general manager of a 12,000-member food co-op?  
She grew up in Gary, Ind., and attended both Goshen College in Goshen, Ind., and Virginia Polytechnic Institute in Blacksburg, Va., before unusual circumstances led to her meeting her husband, Roger McGaughey, and moving to Walnut Grove, where he was a teacher. She was delighted to learn of a new college in the area, Southwest Minnesota State College, where she finished her education, graduating in 1972. She was a substitute teacher in Walnut Grove before the couple moved to Vermillion, S.D., where Roger finished his doctoral work.  
Then it was up to the Twin Cities, where Roger, accepted the position as Visual Arts Coordinator at Apple Valley High School.  "It was in the middle of a corn field next to a horse ranch back in the late '70s," she recalls. 
Susan was a long-term substitute teacher in ISD 196 until the birth of her third of four daughters.  
"Valley Natural Foods began as a volunteer organization at which I accepted the position as volunteer scheduler. When an evening volunteer coordinator position opened I began working a couple evenings weekly.  My responsibilities continued to grow and grow." 
She had intended to go back into the classroom when their youngest daughter started school, but about that time, the coop was destroyed by a fire and relocated to a strip mall, requiring a $65,000 loan to help rebuild. The coop reopened in 4 months.  That's when she got her education in running a business. 
Susan said she felt a responsibility to make sure that the coop continued to thrive and serve the community. As her responsibilities grew, she moved from being one of 5 members of the management team to co-manager and, finally, General Manager.  Between 1994 until her retirement in October, 2017 the coop grew to a 12,000 member-owner organization, purchasing land to develop a 10,000 square-foot retail operation, and an off-site wholesale Gluten Free Bakehouse. Sales for the organization exceeded $20 million and a new 5,000 square foot addition is now in progress. 
 "I think SMSU was a very supporting and inspiring place for me," she said. "It had a strong foundation in education, and it was small enough to have some intimacy. I got to know other (student) commuters, and I value the opportunity I had to advance my education and expand my knowledge." 
Susan and Roger are the parents of four grown daughters, six grandchildren and one great grandchild. 
Jim Schlenner, '79
Jim Schlenner knew he wanted to attend college as high school graduation approached in his hometown of Wood Lake, Minnesota.  He was unsure of whether he could afford it.
 "I wasn't sure how I was going to pull it off," said Schlenner, one of the owners of the St. Cloud-based Schlenner Wenner & Co. accounting  firm. "I graduated high school in 1971, and entered the Air Force until the summer of '75."
He recognized an aptitude for numbers during a high school bookkeeping class and, after his discharge, entered SMSU with the goal of graduating in four years and starting a career.
"I was married and a non-traditional student. SMSU had a very strong Veteran's Club and a lot of people were getting out of the service and returning to college. Some were married, too, and became close friends."
He graduated in 1979  with an Accounting degree, and his first job was with the accounting firm of Kerber & Company in St. Cloud. He never left.
"Mike Wenner has  been with me since Day 1," said Schlenner. "We bought in as partners, and later bought the business and had the name changed to its present Schlenner, Wenner & Co."
The business has grown to five locations, including St. Cloud, Little Falls, Albany, Monticello and Maple Lake. Fifty-five of its 85 employees work in the St. Cloud office.
"We work with small and midsize businesses providing tax accounting, auditing and consulting services," said Schlenner. Most of the company's clients are in central Minnesota.
He remembers his time at SMSU fondly. "It was a good experience for me. I had good professors, and made good friends. Us non-traditional students wanted to get out in four years. We still managed to have some fun, and we went to Earth II and the other local establishments and always enjoyed Saturday afternoon football games. Marshall was a good town for going to school."
Influential professors for him included Mike Boedigheimer and the late Jim Babcock.
Schlenner and his wife Joan have two grown daughters, and four grandchildren.
Honorary Lifetime Members Award
Jon and Niter Knochenmus
Jon and Niter Knochenmus consider themselves blessed. The two are co-owners of Ralco, a third-generation Marshall-based ag company that is a cutting-edge industry leader in the U.S., and beyond.
And to think it all started in a garage at 701 South Second Street back in 1971, where Niter's parents, Bob & Lou Galbraith, started the company after mortgaging their furniture and pursuing their dream. Niter worked in various roles for the company in its early years while attending high school and college.
Jon and Niter met on March 10, 1973, the day after the Marshall High School basketball team defeated Jon's Balaton squad in the District tournament finals. Niter came to Balaton with her cousin to skate at the local rink, "The Rollerdome." During their courtship, both Jon and Niter worked for Ralco, even loading semis together.  They'll celebrate 44 years of marriage on Oct. 19.
Ralco is the title sponsor of the annual Ag Bowl, a celebration of agriculture in southwest Minnesota. Their involvement was ratcheted up several years ago when Director of Athletics Chris Hmielewski and Athletics Development Director Tim Steinbach paid a visit. "We talked about celebrating agriculture in a more vibrant way," said Jon. "At the time, there were two ag majors at SMSU. We felt strongly about Ralco giving back to the community, where agriculture plays such a large role."
Since that meeting, an Ag Bowl Scholarship Challenge has been incorporated in the spring, an FFA competition where teams and individuals compete for cash and scholarship dollars. Over 700 FFA'ers participated last year. "We like the concept of those students being on the SMSU campus. It's good for the university," said Jon.
Ralco is owned by Jon and Niter, along with their son Brian, an SMSU alumnus and current company president, and his wife, Mindy. Jon's title is President Emeritus, and while his job and responsibilities have changed, his activity hasn't.
Jon and Niter have a strong faith, which is ingrained in the company.   "All our decisions are based on faith and trust in the Lord," said Jon.
Ralco has 240 employees spread over 4 locations in Marshall, and the Balaton campus, as well. Its first product, a cattle feed supplement called Suppli-Mix, was followed by innovative products such as "Birthright baby pig milk replacer"; Regano, an essential oil-based product to defend against harmful animal microbes; a product, Generate, which improves soil and plant health; and, most recently, land-based shrimp production called trū Shrimp.
Jon and Niter are proud of their involvement with SMSU, and humbled by their Alumni Association Award.
Graduate of the Last Decade (GOLD)
Trisha VanDusseldorp '11
Trisha VanDusseldorp, this year's Graduate of the Last Decade Award winner, said it was an SMSU professor who first opened her eyes to Exercise Science shortly after her arrival on campus.
The 2011 alumna from Oskaloosa, Iowa, came to SMSU initially to play basketball and earn an Elementary Education degree. She was on the team for two years, and by her own admission, switched majors a lot. She went from Elementary Education to Pre-Med, and finally pursued Exercise Science. She earned her degree in just three short years.
VanDusseldorp is now an Assistant Professor of Exercise Science at Kennesaw State University in Kennesaw, Georgia.
VanDusseldorp took a Kinesiology class with Associate Professor of Exercise Science Brent Jeffers and liked the class. "He was dynamic and I liked the way he interacted with college-aged students. I'm still close with him today," she said.
She asked to be his unofficial teaching assistant and then met Associate Professor of Exercise Science Dr. Jeffrey Bell, who got her interested in research. "I decided to become a college teacher, and do research, because of those two guys," she says. "They really made an impression on me."
She also said Biology Professor Sandy Craner was a big part of her student success, also.
VanDusseldorp earned a master's degree in Human Performance: Exercise and Sports Science from the University of Wisconsin-LaCrosse, where she also returned to the hardwood, starting at point guard.
She earned her doctorate in Exercise Science at the University of New Mexico, graduating in July 2016.
She then went to Kennesaw State and is a member of an Exercise Science program of 1,300 students, at a university of 36,000 students, located just north of Atlanta. And it didn't take her long to make an impression, last year earning the Career Advising Faculty Award for her college.
She is appreciative of her time at SMSU and has fond memories of her Mustang days. "I loved, most of all, the small-campus feel," she said. "I like how connected I was with the students and faculty, and enjoyed the campus activities. It was a welcoming and warm environment."
Related Articles