Kim Guenther Instrumental in Farmer's Market Growth
Published Saturday, September 15, 2018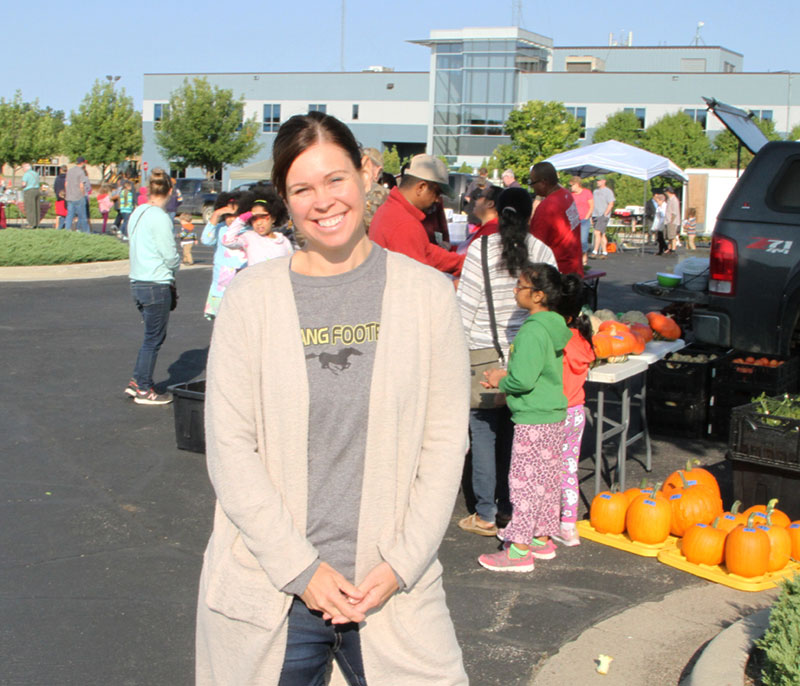 Kim Guenther, at the Marshall Farmer's Market
Kim Guenther believes in the importance of the Marshall Farmer's Market, and her efforts have resulted in a dramatic increase in community/region involvement in the weekly market, which sets up on Saturdays in the Schwan's Company parking lot north of the Marshall Area YMCA.
Guenther, the Director of Concurrent Enrollment at SMSU, is the market coordinator for the Marshall Farmer's Market. What does that title entail? She chuckles at the question momentarily, sifting through the myriad of responsibilities. "I work with all aspects of marketing, coordinate volunteers, work with numerous financial aspects and coordinate a variety of market operations," she said.
 There's more. Much more. In her first year in the position, she got involved initially through the YMCA, where she teaches a yoga stretch class. Tom Bolin, YMCA Executive Director, is an avid supporter of the Farmer's Market — it fits well into the Y's mission. "When they had this position open, I thought it would be a fun way to get involved. I've loved the Farmer's Market for years; I've been an active attendee on Saturday mornings."
The Farmer's Market has grown up. Formerly located in a smaller parking lot north of West College Drive, its new location offers more space for more vendors and other activities that are planned to make Saturday mornings at the market more of an event. There's weekly entertainment now, and a broader offering of produce, baked goods, flowers, crafts and other homemade items that the public may enjoy.
A year ago, the market was in an adjacent parking lot. Due to road construction, it was moved just to the west, where there's an equal amount of space but it's broken up into smaller areas due to the parking lot's layout. Next year, the decision will have to be made which location is best.
"I think we're settled where we are now," she said. "I think there's been a growth as far as energy and atmosphere that shows things are going well. It's fun to come out on a Saturday. People like local, healthy options, and it's an inexpensive family activity. I love seeing families ride in on their bikes, with their dogs. It's an event now."
The number of Farmer's Market customers has more than doubled from a year ago. Those attending the "new, improved" Farmer's Market often comment on the atmosphere, the weekly entertainment, the wider variety of offerings, and the convenient payment options.
The market accepts EBD (SNAP), debit and credit cards. It is also associated with the Power of Produce (POP) Club, a national group which gives children ages 4-12 a weekly $2 token to select their own produce.  It also has available Market Bucks, which match up to $10 in SNAP benefits to help customers purchase local produce.
"It's fun to see the kids interacting with the vendors," said Guenther. "I really believe in kids getting to eat fruits and vegetables, and this allows the kids to have the power to choose their own vegetables, and it creates a new learning environment for them. It encourages the parents to try new things, as well."
Guenther works closely with Bolin. Customers and vendors may use the YMCA's restrooms, and the local 'Y' also donates some storage space, as well.
Volunteers also play a big role, working alongside Guenther in the information tent. Each Saturday, 3 or 4 volunteers sit with her to answer questions, pass out POP tickets, and handle debit and credit card machines. On one recent Saturday, SMSU Chief Human Resources and Affirmative Action Officer Nancy Olson and Dean of Arts, Letters and Sciences Dr. Aimee Shouse were on hand to lend their assistance.
"We've tripled the number of volunteers this year," said Guenther. She works several hours per week, and her position is grant-funded.
"The market is really a wonderful community effort between multiple entities including the YMCA, United Community Partnerships, Southwest Health and Human Services and of course, most importantly, the great vendors who spend so much time growing, creating and selling their products. We also have so many additional partners as well, including volunteers, businesses and other sponsors who are making the Marshall Market something that has grown very quickly, and something I am really proud to be a part of. The market is really a wonderful community effort."
There are residual benefits to the position, as well. "I get to spend much of my time on Saturdays chatting with friends and colleagues. And I've learned numerous cooking secrets from several people in the SMSU family from our conversations at the market (she mentions, specifically, Computer Science Professor Dr. Shushuang Man for her tips on cooking bitter melon, and Shouse, for her fried okra recipe).
Guenther is in her eighth year at SMSU. She and her husband, Christian, are the parents of three children: McCoy, 10; Coby, 8; and Cade, 4.
The Marshall Farmer's Market is open from 7:30 a.m.-noon on Saturdays, through Oct. 27. Its website is: www.marshallfarmersmarket.org.
Related Articles