Crystal Yearous, AmeriCORP Health VISTA Representative, Concerned With Food Insecurities
Published
Wednesday, September 19, 2018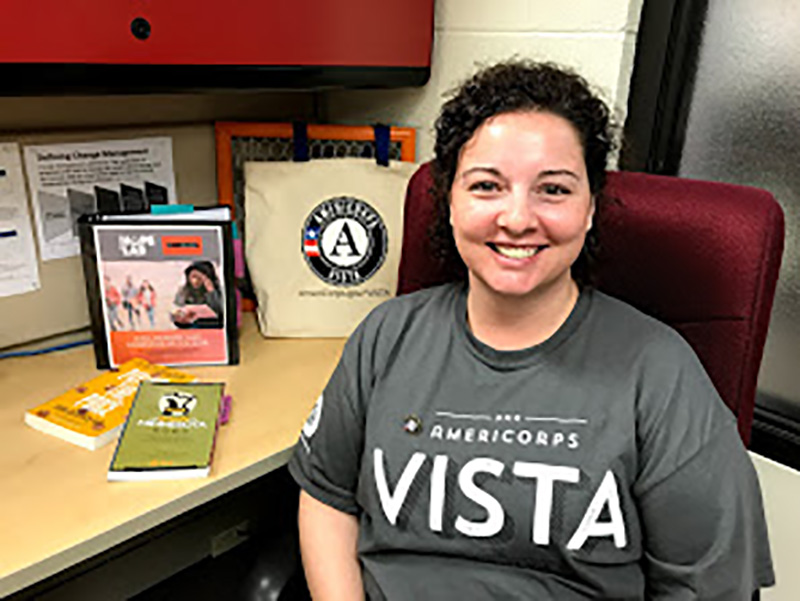 Crystal Yearous
Crystal Yearous, a 2018 SMSU graduate with a degree in Psychology, hopes to "fight poverty in whatever form it presents itself" on SMSU's campus. Yearous recently began her position on campus as the AmeriCORP Health VISTA (Volunteers in Service to America) representative.
Yearous' one-year position is designed to create opportunities to reduce food insecurities on campus; however, the AmeriCorps VISTA program has been "Lifting People Out of Poverty" since 1965.
The position as VISTA at SMSU was appealing to Yearous due to her own struggles as a college student. When she was three classes shy of earning her AA degree, her parents moved so she was no longer eligible for Pell Grants and was not old enough to declare financial independence.
Yearous ended her college career without the "victory dance," but still carried the debt. This created a vicious cycle.  She could only work at minimum wage jobs and could not advance in her positions without a degree. Yet, she was not earning enough to afford a college education.
Although Yearous cannot fix the financial strain put on college students, she is researching ways SMSU can increase retention by providing students with resources and places to turn when they are struggling to afford their next meal.  Students new to the SMSU and Marshall communities may not be aware of what they offer. Networking within the community and finding out how SMSU and Marshall can support each other regarding food insecurity is important to Yearous' research.
The Marshall community's grassroots organization, Healthy56258, serves as a steering committee which promotes healthy living. Their initiative increased the bicycle paths around town, became instrumental in the expansion of Avera's cancer center, and encouraged healthy lunch initiatives within the schools. Marshall also has SNAP and MA benefits, a food shelf, and Esther's Kitchen, which serves food four nights a week, Monday-Thursday from 5:30-6:30 p.m.
 "I am learning a life of balance," Yearous said. Her VISTA position requires her to live a life of poverty. "I park my car more and walk or ride bike when I can. I have learned to shop smarter and am working a part-time job in addition to my full-time work." Each of her life experiences allows her to better understand the physical and mental struggles people in poverty deal with daily.
Conversations are not the same when dealing with people in different economic classes. "Impoverished people have a different mindset than those in the middle or upper classes," she states. "Making a plan five or ten years in the future isn't feasible when they are only planning for tomorrow."  Survival is a day-to-day struggle for those who fight the battle of food insecurity.
Yearous is spending this year on campus researching, networking, attending workshops and putting forth recommendations to SMSU and the Marshall community on how to battle food insecurity within the college community.
Although her focus is on the student population, she also understands the need for students to take responsibility and become invested within the Marshall community. One way for students to make a difference is to become a part of the MustangsVOLUNTEER program on campus, which connects prospective volunteers with local service opportunities that match their interests, abilities and availability. This collaboration between SMSU and United Way of Southwest Minnesota provides volunteer opportunities for individuals, classes or clubs/organizations. Yearous' internship with the SMSU Civic Engagement Office allowed her to understand the dynamics of this program, which is still instrumental in her position today.
Yearous understands there are many misconceptions regarding food insecurity on campus. She hopes to get a better idea of the urgency of this problem when she presents her lunch and learn event, "Food Insecurity: Unlock the Stigma" on Wednesday, October 10, 2018, from 12:30-1:30 p.m. in BA 161. This event will allow Yearous to educate students, staff and community members about food insecurity on campus, and will allow others to get involved.
 "Discussions need to take place within each community," Yearous said. "Poverty discussions are much different in the metro versus rural areas, in northern Minnesota versus southern regions. Rural areas get hit hard." In fact, she recalls, "Over 40 percent of Lyon County is a food desert" which lacks accessible or affordable healthy food options.
After this year, Yearous hopes to provide SMSU with a plethora of information and data to move forward with a plan for the future. Part of the challenge with her position is not knowing where her data will lead. "I never know what this project will look like in the end," she said.
Yearous enjoys her work with VISTA and would like to continue working with nonprofit organizations in the future. One thing is for sure, Yearous will follow the AmeriCorps motto which states, "America Needs You. Go Where You're Needed."