Dicke Honored for Selection to Allstate Good Works Team
Published Thursday, September 20, 2018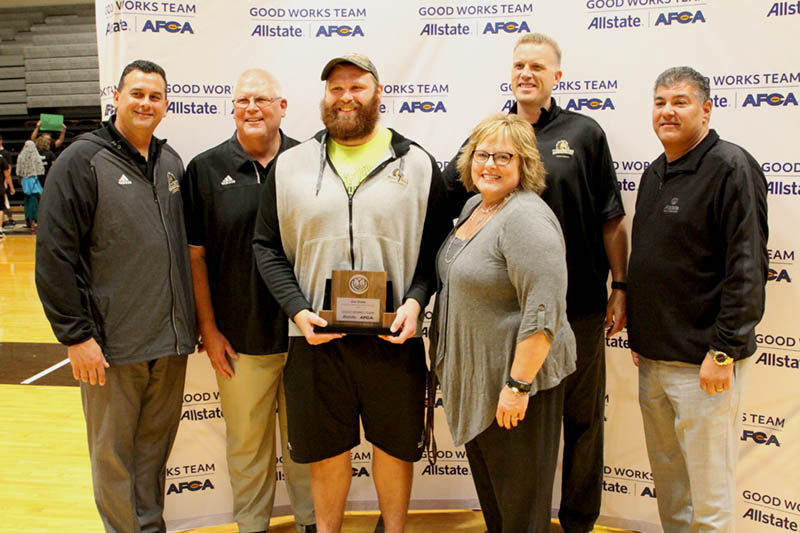 Jon Dicke, center
Southwest Minnesota State University senior student-athlete Jon Dicke couldn't put his finger on it, exactly. "I was suspicious. When I got here today, people were treating me differently," said Dicke, who was honored during a special plaque presentation Thursday, Sept. 20 for being named one of just 22 college football players named to the 2018 Allstate Good Works Team.
The award was presented during the Hy-Vee KidsFit event in the R/A Facility on campus. Head football coach Cory Sauter introduced Dicke, who was presented the plaque by Allstate agent Rob Jacob, a 1985 SMSU alumnus. Jacob lives in Medina and has agencies in Plymouth, Edina, Chaska and Woodbury.
Also on hand were his parents, Grant and Kris Dicke.
"I talked to them last night. They didn't say a word about it," said Dicke, a defensive lineman who said the special award presentation was "humbling and surreal."
Dicke said he is proud to be honored with an award that places such a premium on student-athletes who make a lasting impact off the field.
A Rochester native, Dicke has been involved with numerous community service projects in his hometown and in Marshall. For his selection to the Good Works Team, Dicke will be honored at halftime of the 2019 Allstate Sugar B owl in New Orleans, La., on Jan. 1, 2019.
The 22-member squad, along with an honorary coach, was pared down from the list of 169 original nominees across all four-year divisions of college football. The team is divided into 11 members from Football Bowl Subdivision schools, with the other half from the Football Championship Subdivision, NCAA Division II, Division III and NAIA programs. Dicke is one of just three Division II student-athletes selected.
In addition, he was just one of four players on the team to be selected to be 'shadowed' by a film crew for several days for a video tribute to his good works.
Dicke is an Exercise Science major and carries a 4.0 GPA. He was named a first-team CoSIDA Academic All-American in 2017, becoming just the 20th SMSU student-athlete named Academic All-American, and just the seventh to earn first-team honors.
Locally, Dicke is involved with Mustang Mail; bagging and packaging meals for the United Way in Marshall; Relay for Life; and SMSU athletics Adopt-A-Highway. He's an active member of the Exercise Science Club and has also worked with the SMSU Physical Therapy Clinic, helping stretch, evaluate and implement treatment programs for students attending the clinic with musculoskeletal issues. He also held numerous leadership roles during his three years on the SMSU student senate.
"I'm just very overwhelmed," he said of the special ceremony, held in front of all third- through sixth-graders in Marshall. "I was caught off guard. I'm still trying to take it all in.
"I've had a lot of blessings in my life, and I like to give back whenever I have a chance," he continued. "I'm proud that the award is about character; I try to display that on and off the field."
Related Articles