Ewing Works Behind the Scenes at Homecoming
Published Wednesday, September 26, 2018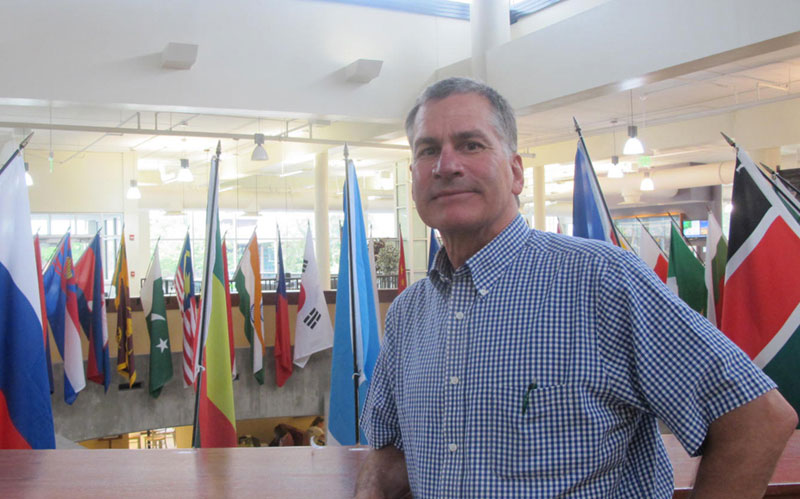 Scott Ewing
 Scott Ewing, Assistant Director of Student Activities, is an experienced hand when it comes to Homecoming.
 Celebrating his 25th year with SMSU this December, Ewing has had his fair share of planning and coordinating the special Homecoming events that students enjoy during the week leading up to the football showdown on Saturday night, Oct. 6.
Ewing works hard as the chief resource person for the Student Activities Committee (SAC), which is eight sub-committees that meet weekly to plan and execute campus-wide programs. Not only that, but he also serves and advises the 87 SMSU student organizations.
"It's a lot of behind the scenes work," Ewing said. With Homecoming just around the corner, he constantly is busy with work as he simultaneously helps plan and execute the Homecoming Coronation (including Candidate's Night) and parade with SAC and the Student Activities Fee Allocation Committee (SAFAC).
SAFAC is a nine-member student organization in charge of reporting Student Activity Fee Allocations to the Student Senate each year, and then submitting their recommendations to President Connie J. Gores.
Ewing, SAC, and SAFAC work year-round to make coronation and parade become what it is each year. "We start right after it's over the previous year," he said. "We look at what worked, what didn't work, what we are doing again and what we are never doing again."
To Ewing, these events are an ever-evolving process that are tailored each year to becoming a better version of what they were the year before. The technical details are looked at first, and that's when the ball is dropped on some aspects. Then, what is to never be done again is corrected, and what is to continue to happen is solidified because it worked so well the previous year.
"We let that incubate over the rest of [the fall semester] and then SAFAC and SAC (all of the clubs) put forth their next year's request for budgets in the spring and have a final approved fee distribution," he states.
As August nears, Ewing works together with the groups to complete anything that wasn't checked off the to-do list in the spring. Whether it's getting together information for posters, setting deadlines, or ordering crowns and decorations for coronation, they chisel away at the list until it's completed. For the parade, he launches the invites right after Sounds of Summer, which is typically either during orientation or the week before school starts.
Getting further into the behind-the-scenes work, Ewing explains in detail how the entire run-down of both the coronation and parade work.
 "The coronation itself is a three-week, three-step process," he states. "In week one, nominations will be open. That's Monday the 17th through Wednesday the 19th and then the window closes."
To have a nominee be taken into consideration, one must be enrolled as a full-time student, have at least 12 credits completed at SMSU (except for freshman), have a minimum GPA of 2.5, and be an active member of a student club or organization. Each club is allowed one nomination per category.
The nomination categories go as followed: male and female freshman representatives, male and female sophomore representatives, and king and queen.
The nominees all must sign off on a form that allows Ewing to know that they intend to stick with it if they make it to the next round. The form states that they will be photographed, they will have their grades checked and they will be checked through the registrar regarding the status of their classification.
Following nominations, week two is spent narrowing down all the nominees to the final 20, which includes one male and female representative from both the freshman and sophomore classes, and eight king and eight queen candidates.
At the end of week two, students will already know who the freshman and sophomore reps are.
 "Week three is the sweet 16," Ewing says. This is when the voting for King and Queen will open.
Once the nominees are narrowed down and all details are checked and confirmed, Ewing builds the ballot with everyone who made it through the filter. It's one busy process.
"Staying healthy is the goal because nobody else is set up to do it and I want to keep everyone innocent of any accusations. Right up to the moment of the crowning, I'm the only one in the room who knows who is going to win," says Ewing. He strives to guarantee that the election is credible.
Voting opens on Tuesday Oct. 2 and concludes the night of Oct. 3.
Week three is also Candidate's Night, where SMSU students can see the candidates in action under the influence of a hypnotist brought in by SAC. It's one of students' favorite events during Homecoming week.
Students and faculty can attend Candidate's Night on Tuesday, Oct. 2 at 9 p.m. in the PE Gym.
Coronation is on Thursday, Oct. 4 at 7 p.m. in the Lower Ballroom of the Conference Center.
Once Coronation has concluded, Ewing's ' busy week doesn't let up quite yet. The morning of Saturday, Oct. 6, parade duty begins bright and early. Before check-in begins at 9:30 a.m., Ewing drives the parade route checking for any cars or anything irregular lining the streets. Following check-in, he takes his mountain bike to the front of the line-up to make sure the color guard is set up to start the parade, that the fire department showed up, and that the police and ambulances are there.
This year, there are 104 units in the parade, with the tail end typically reaching downtown about an hour to an hour-and-a-half after the parade begins. During the parade, Ewing rides his bike up and down the line-up with a duck call to make sure no gapping happens and no small children are in the way of cars or machinery that could do them harm.
The Homecoming Parade is Oct. 6 at 11 a.m.
Once the parade concludes, Ewing and the committees get right back to it for the next year and the entire process restarts.
Though he is a very busy man, Ewing says he does have time to relax. He has a garden and a kitchen where he does primarily 90% of the cooking in his home with freshly picked ingredients. He has a dog, and he likes to hunt and fish. "I play like other big boys do," he states.
And as for the most rewarding part of his job, he says it's every day. "There's not a day like the day before. I never know what's going to walk through that door. They come to me because I work closely with the students. You can't see some of this coming, you just have to be ready for what walks through the door."
For more information on Student Activities or Homecoming events, you can contact the Student Activities Office via phone at (507)-537-6394 or via email: Scott.Ewing@smsu.edu.
Related Articles