Culinology Degree to be Offered at St. Paul College
Published
Friday, October 12, 2018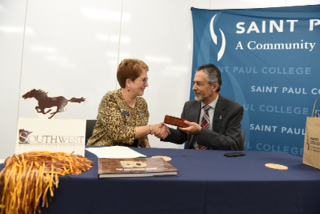 President Gores and St. Paul College President Rassoul Dastmozd
The Culinology degree at Southwest Minnesota State University will be offered at St. Paul College starting in the fall semester, 2019.
Having the SMSU Culinology degree available in the Twin Cities market is the result of an articulation agreement and Memorandum of Understanding (MOU) between the two institutions, signed recently.
St. Paul College has a strong Culinary Arts program, with over 100 students. Offering SMSU's Culinology degree is "the perfect marriage," according to Joyce Hwang, Associate Professor of Hospitality Management.
The agreement  between the two institutions says, in part:
Qualified St. Paul College students may apply for early entry to Culinology, securing a place in the program with a probationary admission at the start of their two-year AAS, instead of applying in the last semester of their AAS
Upon completion of their AAS degree, St. Paul College grads will be eligible for full admission into the Culinology program
Courses will be taught by SMSU professors using Adobe Connect, online classes, hybrid classes or face-to-face classes. St. Paul College students won't leave the St. Paul area for classes
Labs associated with the Culinology degree will be taught in the St. Paul College kitchens by award-winning Chef Nathan Sartain, working collaboratively with SMSU faculty
President Connie J. Gores recently signed the Memorandum of Understand with St. Paul College President and SMSU alumnus Dr. Rassoul Dastmozd and calls the collaboration "an innovative approach between two institutions, which involves specialized training, with faculty from both SMSU and St. Paul College. It's a partnership that builds on the best of being a part of a system of colleges and universities."
The majority of coursework will be delivered via Adobe Connect, said Mary Jones, Director of Extended Learning and Academic Outreach.
 "St. Paul College's Culinary Arts program has very high standards, and is the best two-year program in the state," she said. "Their students can transfer those credits into the only Culinology program in the state, so it's two premiere programs working together."
For further information, contact Jones at: Mary.jones@smsu.edu; 507-537-6396.