Andreen Dawson Helps International Students Adjust to College Life at SMSU
Published Tuesday, November 13, 2018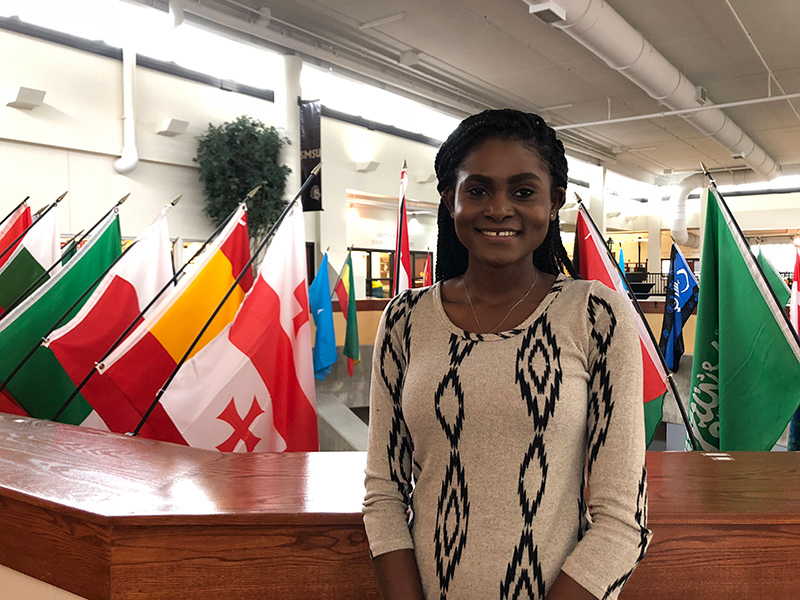 Andreen Dawson
With 27 countries represented at Southwest Minnesota State University, the campus is home to many international students who are undergoing the process of change and finding ways to assimilate into a new culture.
Andreen Dawson, a master's student and graduate assistant in the International Student Services Office, moved to Marshall in 2012 from Jamaica to begin her undergraduate career. And, like many others, she, too, underwent the process of change, and is now helping other students do the same.
Andreen is in her fifth year at SMSU pursuing her MBA degree. One of the big reasons she chose SMSU was its affordable tuition. Having never been to Minnesota before, she had to quickly acclimate to the climate, and the food.
 "I'm happy with my decision coming here. I didn't put my parents in any debt, and I really like the professors. I have no regrets," Andreen states.
Graduating in 2016 with her Accounting degree, she participated in Optional Practice Training (OPT) and worked at a World War II museum in Hawaii between her undergraduate and graduate careers.
Coming back to SMSU to complete her master's degree was an easy one. The tuition was affordable, and her mother loved SMSU.
 "In 2017, my mom passed away. When my mom came here for graduation, she just fell in love with the school. She loved the place, everything about it. She met my professors, she met President Gores. She loved the atmosphere. She thought they were just so friendly and open."
Andreen saw her mother's love as a reason to return to pursue a master's degree. "She always told me, 'when you do your master's, go back,' and so that's why I came back."
She finds her master's courses to be just as rigorous as her upper-level Accounting courses but says she writes more papers now. She describes it as "being trained to think like a manager and applying everything I learned as an undergrad to a real-world situation."
 A little over a year ago, Andreen received her graduate assistantship within the International Student Services office. She plans events for the students to help showcase their cultures and make them feel more comfortable. "They're so far away from home," she said, "so we do anything we can do to make them feel at home. We have the Art and Culture Festival, performances, the Food Festival, and fundraisers."
She says in the International Student Services office she learns about a lot about conflict resolution and communication. For students from different countries, it's important to be open and talk to everyone. The office helped Andreen grow because she got to know the students on a deeper level. "They just come to me and I sit down and talk to them like we're friends."
She also assists with international student admissions. She understands what others are going through because she's been through it.
"When I first came here, I was very shy. Having other international students to talk to, it brought some comfort to me. I knew they are in the same situation as I was," she states.
Working with international students daily, she understands how scared some of them can be and how much of a cultural change it is to come to SMSU. Many international students may also find themselves surrounded by others like Andreen did, but she finds it important to assimilate with American students, as well.
"One of the big things I regret not doing in my undergrad years was not talking to American students. I just gravitated toward other international students because that's what I was comfortable with. But I think (students in this situation) should try to move outside their comfort zone and talk to other people that aren't like them," Andreen states. "Now that I am doing it, I started liking it. I started to learn more about their culture."
One of Andreen's favorite things about working with the International students is that she gets to help them. "When you leave home and you're in a new country and culture, it's very hard to assimilate. I try to assist with that, because I'm still going through it. I'm still learning but doing anything I can to help."
Once her graduate assistantship is over and she graduates in the spring of 2019, Andreen isn't sure what's next. She says until working with the students, it never crossed her mind continuing a career in international relations, but she has been thinking about it and knows she wants to do something business related. As for now, she is weighing her options.
     Advice she has for other students? "You're here for school. It's your main priority, but don't forget about yourself." Outside of work and school, Andreen finds her "me time" every Thursday in the massage chair at the Counseling Office. She also makes time for friends of hers, who are also graduate assistants, and occasionally goes to Minneapolis to enjoy the city life.
To contact he International Student Services Offices, email: InternationalStudentServices@smsu.edu or call 507-537-6018.
Related Articles