Got an Interest? There's a Club or Organization You Can Join
Published
Monday, November 26, 2018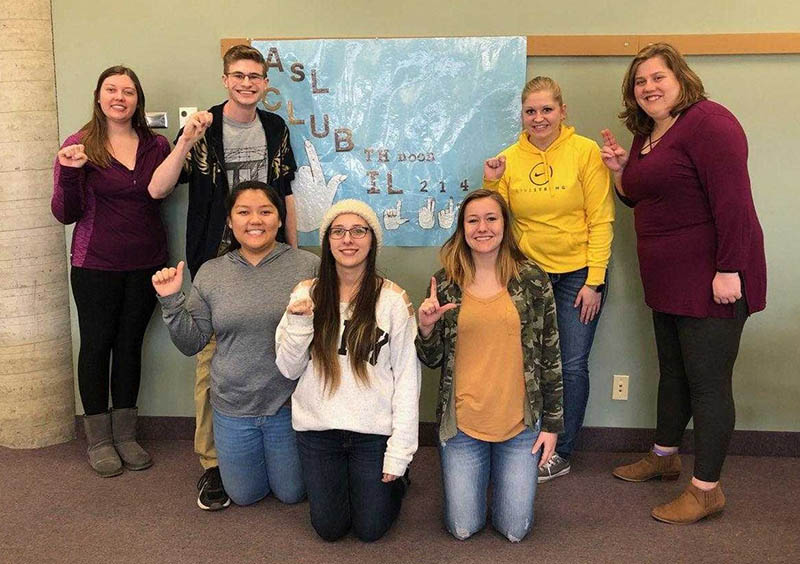 Some of SMSU's American Sign Lasnguage Club members
     "My favorite part of belonging to our club is being a part of a community that has the same interest as I do. We are like one big family, whether you are a freshman or a senior," said Rachael Kellen, a member of the American Sign Language Club.  With approximately 90 clubs and organizations on SMSU's campus, there is sure to be one, "Where You Belong!"
These organizations vary in meeting times and activity level and are based on similar interests, academic majors or lifestyles. For example, on Thursdays at noon, students could attend the Sign Language Club or the Dungeons and Dragons club. Although diverse in interests, they both welcome new members and encourage students, staff and faculty to get involved.
Shawn Valez, president of the Dudgeons and Dragons club, encourages others to join their club, regardless of their knowledge of the game. "Never feel shy or nervous. We were all new to the game once, we understand what it is like to know nothing about what is going on. We truly believe it is a game anyone can enjoy. So, we like to inform and help anyone who is curious or interested in playing D&D but has never played before!"
According to the SMSU Forensics annual report, the Forensics team has goals of "educating and preparing students for the real world by developing logic and reasoning skills, delivering a presentation effectively, creating poise and confidence, communicating efficiently, researching and listening critically." Professor Ben Walker, Forensics coach, believes, "Being an active member of SMSU Forensics takes time and effort, but we believe competition helps sharpen and hone communication skills."
Also enhancing communication skills is the American Sign Language club, which, according to Kellen, provides a "great opportunity for all to learn a basic level of sign language communication that will help benefit your communication skills and add to your resume."
Regardless of which organization a student chooses, they all impact SMSU and thelocal community. SMSU Forensics not only competes in tournaments, they also host tournaments which brings hundreds of high school student competitors to campus multiple times a year.  Along with their active tournament schedule, they also sponsor events on campus and throughout the community. Walker states, "This year, we sponsored an event for transgender acceptance and had students present an event in the Marshall community raising awareness for sex trafficking. We have also supported the campus blood drive, and assisted with a vigil for victims of domestic abuse. In the past, we have also raised money for the National Alliance on Mental Illness, brought poets to SMSU, hosted spoken word workshops and participated in the Relay for Life."
The American Sign Language Club has between 10-15 members and helps with community events such as the Relay for Life and the Healthy Kids Day at the YMCA. These events promote the organization while providing information about the importance of supporting the deaf and hard of hearing community through sign language use.
The Dungeons and Dragons club has around 30 active members who enjoy a community of support from individuals who enjoy the game. The D&D club often coordinates with other clubs to put together an event. Some past events, according to Valez, included making dioramas out of styrofoam, doing an all-night game or helping people create their first characters for a game. Club members set the tone as to what events happen throughout the year and they coordinate their meeting time based on the class schedules of the members.
Clubs and organizations on campus encourage students to find something they are passionate about and to get involved. Now is the time to try something you haven't considered before. Valez states, "I want others to know we have all sorts of people, play styles and accommodations. We recognize that people are busy with their lives and their schedules, and we work hard to help them still get to play."
If D&D, Forensics, or American Sign Language don't fit your interests, check out the Campus Life tab on SMSU's home page to get information on all the other clubs and organizations available at SMSU. Whether you are interested in the Fine Arts, Sciences, Math, Culinology, Exercise Science, Philosophy or Marketing, there is a place for you. If you are interested in athletic activities, there are intramural sports such as soccer, rugby, ultimate Frisbee and dance team. If you are interested in politics, there is a club for you regardless of your political affiliation. There's also clubs for religious organizations, intercultural organizations, and clubs which are local chapters of a larger cause such as the Colleges Against Cancer and the Love Your Melon organizations. Although not all clubs can be listed, there is plenty of information available online or by contacting Scott Ewing, Assistant Director of Student Activities.
Ewing is always interested in assisting students in finding the right club to belong to or in helping new clubs and organizations find their niche on campus. "I am a supply and demand kind of a guy," Ewing states, so if someone finds an organization that is missing on campus and they have others who would also be interested, Ewing will guide them through the process of starting a new club or organization.
Ewing appreciates and applauds the work of organizations, their leaders and their advisors. "There are so many organizations that fully embrace what they are doing, and they are making a difference on campus." Ewing also believes more learning often occurs in student activities than in the classroom, and these organizations provide opportunities for students to become involved and gain leadership skills.