50th Anniversary Book Wins CASE Award
Published Monday, December 03, 2018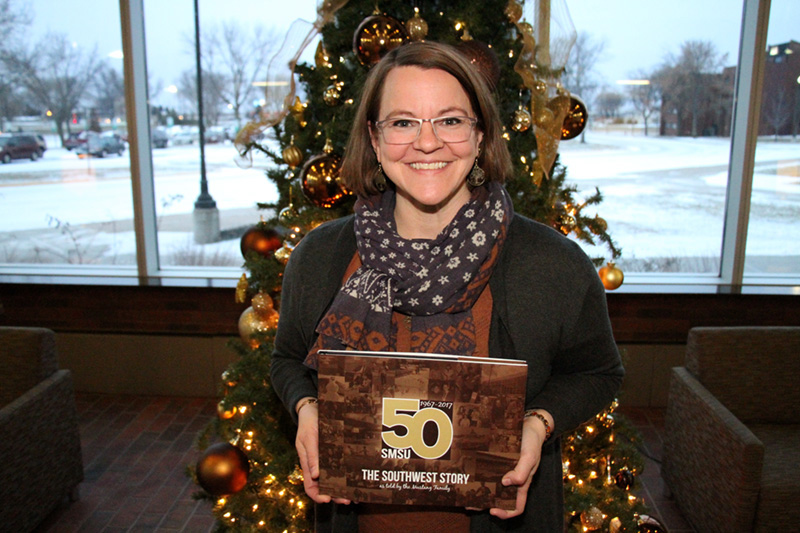 Marcy Olson
Southwest Minnesota State University's 50th anniversary coffee table book, The Southwest Story, as told by the Mustang Family, has been recognized with a bronze award by the Council for Advancement and Support of Education (CASE), District V.
The bronze award is in the category Excellence in Design — Specialty Pieces.
The 164 page book was compiled for the University's 50th anniversary, which was celebrated during the 2017-18 academic year. It consists of 99 short essays by alumni, faculty, staff and friends of the University who tell, in their own words, what they remember about SMSU, and what SMSU has meant to them. A large number of historical photos are included throughout the book.
"I think everyone involved approached this project with a sense of purpose. We knew that this might very well be the biggest project of our careers. I know I did," said Assistant Director of Communications and Marketing Marcy Olson, an SMSU alumna and the book's designer.
Joining Olson in compiling the book were Jim Tate, Director of Communications and Marketing, and Rita Fonder, then-graduate assistant in the Office of Communications and Marketing.
The project seemed to grow from its early inception and it was a trip down memory lane when it came to selecting the photos from literally tens of thousands of possible images to include in the book.
"I'm proud of the book. I'm proud to be an alumna of SMSU. And I'm proud that we could represent Southwest Minnesota State University and be recognized with this award in our district that includes some big names: Notre Dame, University of Chicago, University of Minnesota, Carleton, Northwestern, University of Michigan-Ann Arbor, Ohio State and many other notable institutions. It shows we can compete on any level if we embrace who we are, take pride in what we do, and believe in what we have to offer," said Olson.
The Council for Advancement and Support of Education (CASE) is an international association of education advancement officers, who include alumni administrators, fund raisers, public relations managers, publications editors, and government relations officers. CASE District V includes members from Illinois, Indiana, Michigan, Minnesota, Ohio and Wisconsin.
"Being recognized for your work by a professional organization in your field, it's an incredible honor, and I'm proud to represent SMSU with our best work. But I'm also proud of the work we do every day because I think we pour the same heart and effort into everything we do," said Olson.
The book sells for $35 and would make a good holiday gift for your special Mustang. It is available here: https://www.smsualumni.com/50thBook.
Related Articles