Veterans Resource Center a Special Place on Campus
Published Tuesday, December 18, 2018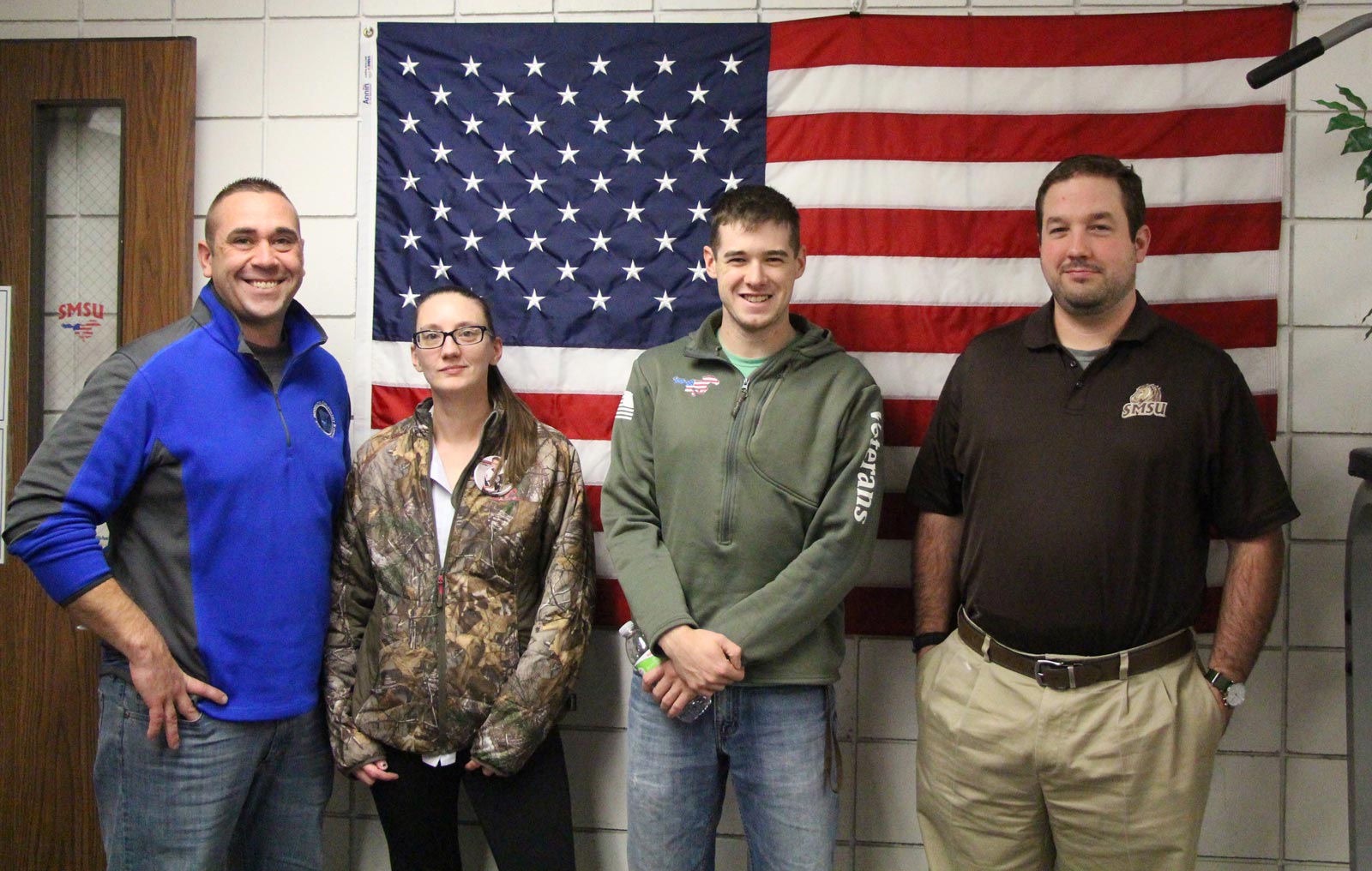 From left: Justin Guggisberg, and Veteran's Club members Ottena Pfannschmidt, John Irwin and Joseph Schmitt
"Everyone seems to have an idea what a veteran is like or should be, but we don't fit into just one category," said Joseph Schmitt, a U.S. Navy veteran and member of the SMSU Veteran's Club.
Yet, regardless of how different the veterans are from each other, they find unity and friendship in the Veterans Resource Center because they understand each other and have experienced similar situations.
Justin Guggisberg, Regional Veterans Service Coordinator for Higher Education Programs, coordinates benefits for SMSU military veterans and those in the surrounding area, including the Minnesota West campuses. He believes camaraderie is important when running the Veterans Resource Center. Some universities have virtual spaces for veterans but do not have a physical space. Others are impersonal and run like a business. Guggisberg understands the value of having a family-like atmosphere in the Veterans Resource Center. Additionally, he travels to outreach locations and supports veterans statewide who need information regarding their benefits or assistance with other challenges they face.
Guggisberg stresses the importance of having a space where the veterans feel welcome and can gather with others who have similar experiences. "It's all about not losing their brotherhood/sisterhood from their military experiences," Guggisberg said.
Lack of guidance after military service is often a challenge for veterans. Guggisberg explains, "When you are in the military and have a question about something educational, you go to the building labeled 'education'; however, once you get out, veterans stumble in the dark until they find a place or a coordinator who can help them out." Guggisberg is that coordinator, and has assisted many veterans entering the college setting. Guggisberg listens to their needs, guides them to the right agency and gets them the help they need.
Many of the veterans at SMSU are non-traditional students and have a life and family experiences their classmates can't always comprehend. One veteran states, "I am not just getting an education for me, I have a wife and kids to support, and I am also getting good grades for them."  These veterans deal with the same financial struggles many college students face, but they often have additional obligations and responsibilities.
Sometimes the challenge is as much about perspective as it is about experiences. The Veterans Resource Center offers a place for them to talk about their challenges and find a way through common issues. Adapting is also a challenge since many veterans spent time serving overseas, therefore, they are no longer with their peers in the academic setting.
SMSU's Veterans Resource Center offers services to help with this transition, including tutoring for students who struggle with topic selection, writing, or math. "They never tell us about what we lose academically when we join," said Schmitt, a veteran and SMSU student regarding the divide between high school classes and college courses after serving in the military for years.
Although the Veterans Resource Center offers many services to make the transition into college easier, some veterans choose to return to college and blend in with the campus community. Although reasons are as diverse as the veterans themselves, sometimes it is easier to return to normal lives and to avoid biases and judgments from others.
In the past, Guggisberg has offered sensitivity training on campus where he could guide faculty on ways to deal with veterans' issues. Some of these issues, especially during the holiday season, deal with depression or anxiety. "We often deal with our stress differently than other students, and it is important for professors to understand the anger or hostility which sometimes appears," Guggisberg said.
The Veterans Resource Center also works with other departments on campus to provide educational exhibits.  In the past, information has been shared regarding Vietnam and 9/11. Guggisberg hopes the Center will continue to grow, and that student understanding of veterans' issues also grows.
Guggisberg also works with SMSU administration to have discussions over what can be done for veterans on campus. Beyond the Yellow Ribbon — Mustang County has provided an opportunity for others within the campus community to support veterans. Beyond the Yellow Ribbon works with neighborhoods and communities to provide service members and their families with support before, during and after deployment. On SMSU's campus, Beyond the Yellow Ribbon connects different departments and leaders to provide a supportive environment for service members and their families.
The most rewarding part of Guggisberg's job is the relationships he has built over the years. Many alumni return to campus to see the changes in the Center or to see the friends and "family" they met while on campus. Currently, there are around 46 members of the Veterans Club.  These veterans take care of each other. "We help each other out. If someone doesn't have a place to go for the holidays, they depend on each other, or we invite them into our homes," Guggisberg said.
There are many ways the SMSU community can help veterans throughout this holiday season. One of Guggisberg's favorite programs is the "Adopt a Vet" program, which allows an individual or group to provide emotional and financial support to a veteran in need. Unfortunately, many older veterans in hospitals, VA homes, nursing homes or care centers do not have family close by. Therefore, they need basic necessities and appreciate conversation or letters from others.  Another way to support veterans is to donate to a local military care packages or help with local events during Veteran's Day, the holidays, or in April, which is the Month of the Military Child.
The Veterans Resource Center at SMSU is a place for veterans to find others with similar experiences and to get any help they need. "We don't just sit around reminiscing our military days," Schmitt said. The variety of support and perspectives creates a space for veterans to talk, to laugh, and to experience camaraderie. Schmitt continues, "We are as diverse and different from each other as every other person on campus. We come from all walks of life- politically, economically, educationally, and personally." The Veteran's Center welcomes everyone and encourages veterans to take advantage of the support they offer.
Related Articles