SMSU Alumnus Dave Hillestad Directed Rosen's Final Show
Published Friday, January 18, 2019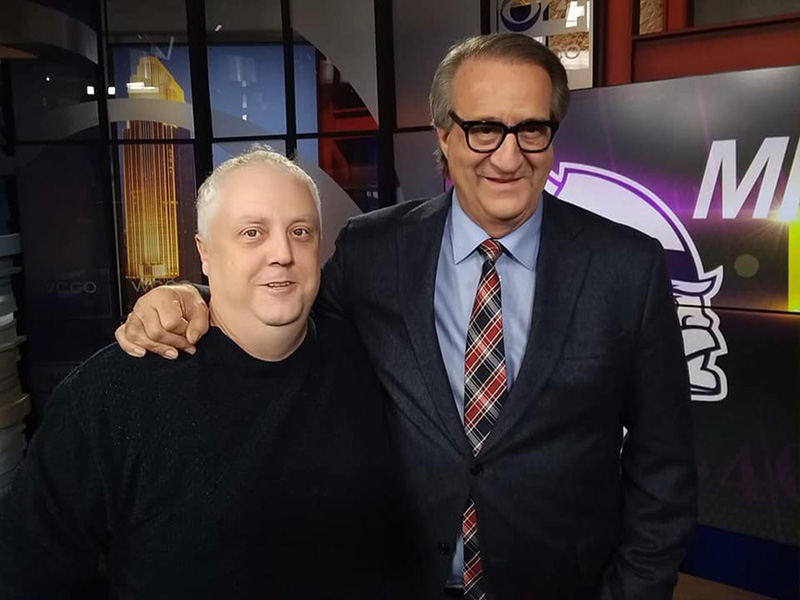 SMSU alumnus Dave Hillestad, left, and Mark Rosen
SMSU alumnus Dave Hillestad recently had the honor of directing the final television show for WCCO sports broadcaster Mark Rosen.
Hillestad is an Emmy Award-winning director who has worked at WCCO television since 1997. He graduated from what was then Southwest State University (SSU) in 1996 with a double major in Radio-TV and Public Relations.
"I've done quite a few things here at WCCO," he said. "I direct the news at 5 and 10 o'clock and run the studio robotic cameras at 6 o'clock."
He's worked in several areas at WCCO. "I worked my way up the ladder. I started as a camera operator and a commercial dubber, then got into editing audio and then a technical director." He's been a news director "for about six or seven years," he said.
Working for WCCO has been a professional dream of his since an early age. "I grew up in Fairmont and my parents watched WCCO, back when Pat Miles and Dave Moore were on. I got the opportunity to come up here and work for the station my parents watched the most. There's incredible people here in front of and behind the cameras who taught me and helped me grow as a director and excel in the areas that I do. It's a challenge each and every day," he said.
What does a director do? "He puts the show in order — the stories and who reads them — and makes sure the cameras are set up the way the producer is hoping, gets the right audio, and as things go along makes sure everyone is on track."
When he came to SMSU "my goal was to be a play-by-play announcer on the radio," he said. "As I went through I saw how automated radio was getting so I started to like TV more. I wanted to be a sports anchor. But then I started liking the behind-the-scenes work more," he explained.
Automation is not one of his favorite words when it comes to television. "When I started you'd sit in front of a switcher and audio board and do things manually. It's more cookie-cutter now with automation; there's less versatility with what you can do."
Hillestad was the director for Rosen's final show, which occurred Jan. 10, the day, coincidentally, that missing Wisconsin teenager Jayme Closs was found alive. That proved to be a hectic day, said Hillestad.
"I consider it an honor to have worked with him. He's kind of an idol for me. He grew up in Minnesota, and stayed here. When we lost our sports producer due to budget cuts that allowed me to help him out while I was directing.
"Mark is a nice guy, he knows his stuff, he's open and engaging. He's got so many great stories, and he's funny. I already miss working with him."
Hillestad said SMSU prepared him for his professional life, and had special praise for former Speech Professor Bob Ridley. "He'd take time out of his schedule to grade my tapes when I would be an anchor on KSSU-TV. He'd look over the tapes with me after the shows, tell me what's good and bad. He was a hard teacher, and looking back, exactly the professor everyone needs. He didn't sugarcoat things, and that's the way it is in the real world."
He also praised retired Radio-TV faculty members Dr. Jan Loft and Mike McHugh for helping prepare him for a successful career. "I also worked for Brad Strootman (at KMHL Radio) when I was a student, too," said Hillestad.
Hillestad has enjoyed a successful career at WCCO, but says television "isn't as glamorous as it seems. "Television news is 365 days a year; you don't get Christmas and holidays off, and you go in and stay in because you love what you do. It can be long hours. Normally it's 8 hours, but with breaking news, it would be a 12 or 13-hour day, depending on the situation."
Television today, he said, "is almost a dying business. You have to really love it, deep down in your heart. You have to be open to change, and go with the flow. You also have to be able to handle doing multiple jobs due to automation."
Hillestad has won a total of four Upper Midwest Regional Emmy Awards — two for shows that won Emmys that he was a part of, and two, individually, for his directing skills.
Related Articles