Meet Erin Kline, Blue to Brown Connection Coordinator
Published Friday, January 25, 2019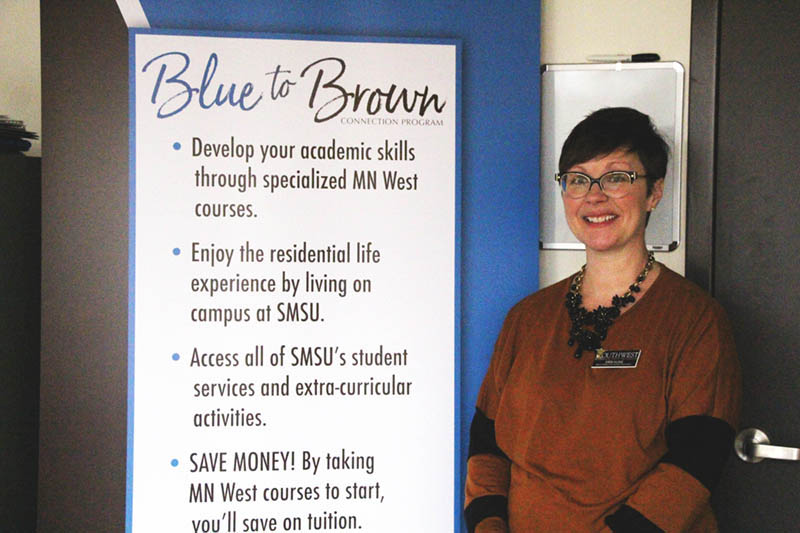 Erin Kline
SMSU alumna Erin Kline is excited to be back at SMSU in her new role as the Blue to Brown Connection Coordinator.
Kline, who graduated in 2002 with a major in Sociology, also earned her master's from Minnesota State, Mankato, and a Ph.D. from South Dakota State University.  Kline, who grew up in the Marshall area, returned to southwest Minnesota where she lives with her husband and two daughters.
Much of Kline's background focused on teaching until she took an administration position at Dakota State (Madison, S.D.). She looks forward to her new role and responsibilities at SMSU. "I am excited to work directly with students again," Kline said. She is involved in all aspects of the student experience through the Blue to Brown program: assisting with financial aid planning, course registration, career choices, programming opportunities and connecting the two partner campuses — SMSU and Minnesota West.
Blue to Brown is currently in its second year and has approximately 20 students enrolled. This program is a collaboration between Southwest Minnesota State University and Minnesota West Community and Technical College and provides students with the right academic and social environment to start their college career.
This one-year program allows students to complete 24 credits from Minnesota West while living on the SMSU campus. After successfully completing the program with a 2.0 or higher GPA, students are able to transfer those credits to SMSU. The program allows students to gradually enter SMSU while taking any developmental courses needed through Minnesota West to provide a greater level of success.
Since this program is only in its second year, Kline hopes to continue to create growth. "I would love to see 30-40 students enrolled in the program next year and would like to maintain that number in the future," Kline says. She would also like to retain a large number of those students who enroll in SMSU after completing the Blue to Brown program.
Kline understands the challenges many of these students face. However, regardless of academic circumstances, she would offer advice to all students. "Utilize campus resources and don't be afraid to develop a relationship with your professors and advisors who can help you through your challenges." She also recommends students "continually work on time management and organizational skills while creating a sense of balance between school and socialization."
Kline, who began her position on November 26, 2018, has many goals she would like to reach. She would like to have a quick, easy website combining all the information from both campuses in one place so students aren't overwhelmed with information received from two separate entities. She would also like to work on more Blue to Brown promotional materials and faculty/staff clothing.
Kline looks forward to meeting current Blue to Brown students and working with those interested in the program in the future. As Kline gets acclimated into this role, she looks forward to making the program her own and creating an opportunity for success for many more students in the future.
Related Articles