Charter Class Member Jane Malo Wins Alma Mater Lyrics Competition
Published Friday, February 15, 2019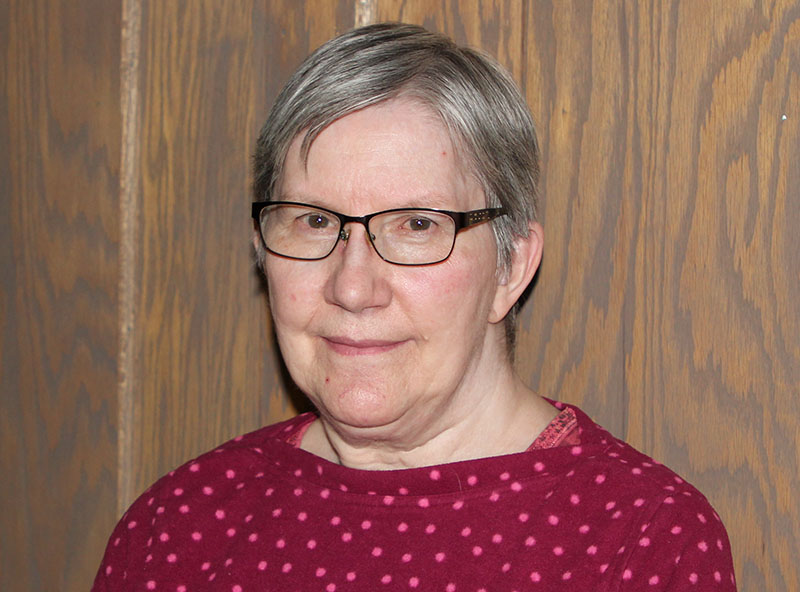 Jane Malo
Jane Malo, a Charter Class member at Southwest Minnesota State University, has been named the lyrics winner of the university's Alma Mater Competition.
Malo's lyrics are entitled "Southwest."
"I was going to a Planetarium show and I saw the notice about the competition," said Malo. "I forgot about it, but then later printed it out. I sat down and started to write — I guess it took me a couple of days. I finished it, and let it sit there, in case I wanted to make any changes. I emailed it before the deadline," she said.
An Alma Mater serves as a hymn or an anthem associated with a school or university.  Alma Maters tend to be serious and reflective.  They serve a ceremonial purpose in the life of an academic institution, being used at formal events such as convocation, commencement, and the installation of new campus leadership. 
Her academic background is in science and physics. She credits her mother for her writing ability. "She wrote a lot of poetry. When she died, I wrote a poem for the memorial service," she explained.
Stephen Kingsbury, Associate Professor of Music and Director of Choral Activities, said he was pleased with the number of entries in the competition, and the quality. "The fact that the winning entry ended up being written by a member of the Charter Class just makes it all the more meaningful," he said. "Jane has already earned a place in Southwest's history through her membership in the Charter Class, but she has also now contributed to something that will be enjoyed by members of the SMSU community for generations to come. That is an amazing legacy."
Malo entered SMSU with the Charter Class in 1967 and received her AA degree in Machine Design Technology in 1969. She went to work at Onan Corp. in Fridley, Minn., where she was a mechanical drawer. In 1971 she returned to Marshall to be closer to her father, who was battling cancer. From 1971-73 she worked as a clerk/typist in the SMSU Business Office. She returned to the classroom, earning a Physics degree from SMSU in 1976. She then attended the South Dakota School of Mines and Technology, earning a master's in Atmospheric Physics in 1979.
She took a job with the Tennessee Valley Authority Air Quality Branch,  in Muscle Shoals, Ala., which involved meteorological and air quality assessments. Her job was cut in 1987, so she returned to Marshall and worked evenings at Marshall Publishing while pursuing licensure to teach physical science. She earned that degree from SMSU.
She has worked at Photoworks in Marshall since 1991, where she wears several hats, including lab technician and customer service representative.
She won $1,000 for her entry.
Her winning lyrics:
Southwest our Alma Mater
We sing our praise to thee;
Remembering the days gone by
Upon windswept prairie.
With hopes and dreams we came,
 Our eyes set on the stars;
 Nurturing our hearts' desires
 To make achievements ours.
You guide our minds to knowledge,
To service turn our hearts;
We learn with fellow students
Of sciences and arts.
Our years at Southwest form us
Into whom we aspire to be;
Southwest our Alma Mater
We sing our praise to thee.
The second round of competition — the music to go with the poem — is now open, with a deadline of March 15.
Entries should be in the form of a melody that sets the winning text from Round 1
Chord symbols for the intended chords are allowed, but not required
Entries should include a suggested tempo indication
Entries should be submitted in standard musical notation (either handwritten, or electronic) with appropriate text underlay
The winning entry will be announced on April 1, 2019
There will be a cash prize in the amount of $1,000
The new SMSU Alma Mater will be premiered by the SMSU music ensembles at their spring 2019 performance
Those wishing to enter Round 2 can find a list of rules and deadlines at

www.smsu.edu/go/almamater

, or on Facebook at @SMSUAlmaMater.
Related Articles