Gordon's MARL Experience Has Helped Him Become National Soybean Leader
Published
Wednesday, February 27, 2019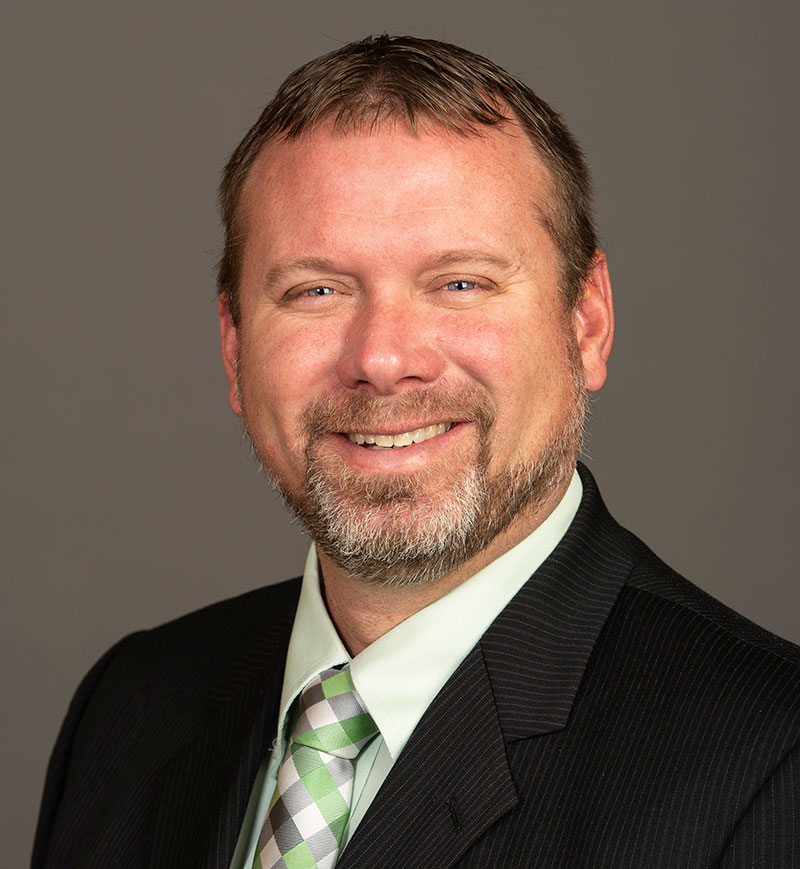 Bill Gordon
Note: This is the first in a series of articles about past Minnesota Agriculture and Rural Leadership (MARL) members leading up to the 20th anniversary of the program.
William (Bill) Gordon, MARL Class IV, received a perfect test score, an accomplishment rarely achieved. His perfect score was on the Myers-Briggs personality scale, and he was a perfect extrovert. That score has influenced his leadership style since he took that test at the beginning of his MARL experience and as he moved into other agricultural leadership opportunities.
Bill and his wife, Dawn, farm near Worthington, Minn., where they raise their four children, Luke, Lance, Anna and Liam. His family farm is important to him, and he enjoys working with his parents, uncles, cousins and children. Many people don't understand the importance farm land has to rural America or the important role every family member plays in the success of farming operations. "For generations, my father and grandfathers have taken care of this land for me, and I take care of it for my own children." This is the message Gordon takes with him when he talks to others who don't understand rural America.
MARL helped Gordon communicate these messages more clearly. MARL didn't train Gordon to be a different person or a different type of leader, but helped hone his skills, so he was more accepting of others' opinions. Gordon believes MARL allows participants to move from good leaders to great ones.
When Gordon first joined MARL, he had just entered the Minnesota Soybean Growers Association, he had completed a co-op leadership program in Chicago and the DuPont Young Leaders program. All of this gave him a desire to use his passion for agriculture to make a difference in his community, state, and eventually on a national and international level.
How? MARL helped him gain confidence and skills to become more involved. He has since attended Soybean Leadership College, was treasurer (twice) and vice president (twice) of Minnesota Soybean Growers, started Worthington Tax and Business Services, a tax accounting business, and sits on a Mutual Insurance Board. Although these boards have given him ample opportunities to make a difference, his most notable leadership role is for the American Soybean Association, a national organization which represents all U.S. soybean farmers on domestic and international policy issues.
In ASA, Gordon served as treasurer (twice) and was recently elected vice president, which means he will be president of the organization next year. Minnesota has not had a president in this national organization since 1999.
Throughout Gordon's seven years on the ASA board, he has served on numerous committees providing him with diverse experiences and perspectives. These committees include: Public Affairs, Strategic Planning, Agricultural Rail Board, Biodiesel/Transportation, Environmental and International Marketing. He has also provided interviews for local, state and national broadcasts including two interviews regarding trade and tariffs for CNN. MARL's media training helped prepare him for these interviews.
ASA is time consuming and often has Gordon traveling throughout the United States or on international trips to take care of soybean business and to aid in legislation which will make a difference to Minnesota farmers, like Gordon's family.
With all these responsibilities and time away from his own business and family farm, many may question why Gordon does what he does. For Gordon, the answer is simple. "What I do makes a difference. Showing up and being part of a team can make a difference for rural agriculture. Sometimes it may not seem like we have a major impact, but we are speaking to legislators, we are traveling to D.C., we are providing international buyers an opportunity to meet the producers from the United States. We are building relationships which will impact rural America now and in the future. We may not see the impact today, but we are making a difference in the way people see farmers, agriculture, and our products."
The confidence Gordon gained throughout MARL helps him speak up for rural America. "There are many people who don't know who we are. We need to spark conversations, listen to others and their concerns, and then answer their questions or dispel incorrect assumptions. People can't always handle the truth, but I believe it is our job, as agricultural leaders, to be transparent and to speak the truth wherever we are," he said. "Regardless of where we live, we are all the same. We value the same things."
MARL trained Gordon to listen to others, regardless of their beliefs.  "I listen and I don't tell them they are wrong or try to change their opinions, but I do reassure them that we value the same thing and we want to raise the healthy, safe food for our own families, just like they want to buy the best for theirs."
Whenever Gordon is given the chance to lead, whether it is for MN Soybeans, the American Soybean Association, or within his tax accounting business, he remembers his MARL lessons. "Listen to introverts," Gordon reminds himself. He also realizes, "It is okay to shut up and listen. Give everyone the opportunity to speak in small groups and encourage them to bring their ideas to the table in large groups. You don't have to be an extrovert to be a leader."
Gordon realizes MARL training is extensive, however, he encourages others to apply. He tells rural leaders to "Be yourself. Don't let anyone or any program dictate how you will become a leader or what leader you will become. Don't become frustrated if you don't get accepted into MARL or other leadership programs the first time. Sometimes, it is all about timing. Get involved in rural leadership opportunities. Build your resume, give back to your community, and keep trying. Don't ever give up on your opportunity to become a leader."
For those currently attending MARL, Gordon recommends, "Keep an open mind. Talk to every person in your class and get to know them. Every person brings something different to the conversation."
Throughout his MARL experience, Gordon learned how to communicate and work with different types of leaders. "Those who are on the opposite side of the issue are often your greatest assets. Sometimes we become too focused on one side, but we need both. So, I learned how to listen and to see issues from their perspective."
For Gordon, MARL was an eye-opening experience. Gordon has learned to adjust his leadership skills based on what others can contribute, and he no longer maintains his perfect extrovert score. "Throughout the years, I have learned the importance of surrounding myself with smart people and those who are good leaders. I learned not to be intimidated by the educated and strong leaders around me. Instead, I brought them to my team. It is okay not to be the smartest person in the room!"