Forensics Member Crystal Enga Wins State Title in Oratory
Published Friday, March 01, 2019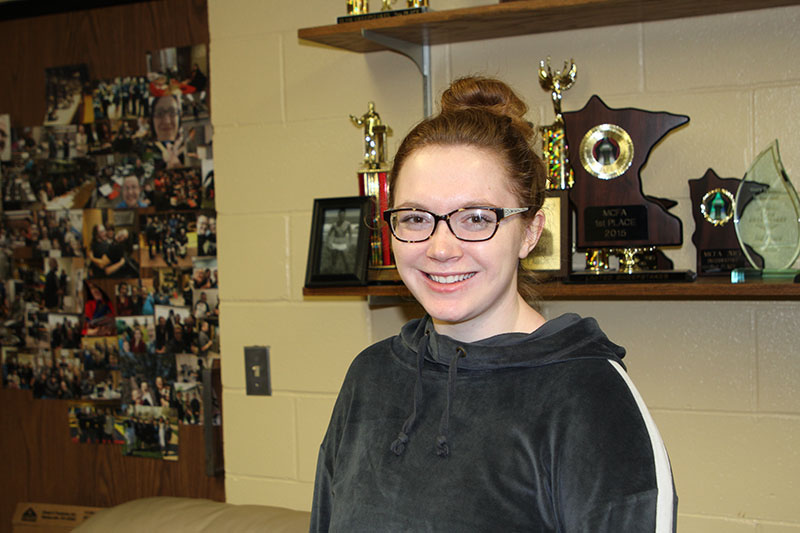 Crystal Enga
Crystal Enga, a senior Early Childhood Education major from Marshall, Minn., used her background in theatre to qualify for the 2019 Interstate Oratorical Association Tournament to be held on April 27-28 at West Chester University in West Chester, Pa.
In February, Enga won the Oratory category at the Minnesota Collegiate Forensics Association (MCFA) Speech and Debate Tournament, held at SMSU. She will be one of two forensics participants representing Minnesota at the 2019 Interstate Oratorical Association Tournament. 
Enga's state championship marks the second straight year a SMSU student has won a state title, and the second time in six years that a SMSU student has won Oratory.
"It is so awesome and humbling to know that the hard work I put in over the last four years is finally paying off. I worked very hard the week before the competition to finish memorizing my piece and working out the kinks," she said.
Enga enjoys being part of the Forensics team, and being able to speak about topics she is passionate about in a competitive fashion.
"My coaches have made me realize that my speeches can make a difference," Enga said.
The process of creating an award-winning speech takes time. For months the student and coach take time to brainstorm, pick a topic or speech, draft or cut the script, make revisions if needed and practice until it is fully memorized.
This is Enga's fourth year on the SMSU Forensics team. She joined as a freshman because the SMSU Forensics coaches made an impression on her in high school.  
At a high school speech tournament, SMSU Forensics was handing out a flyer and information about its team, which really sold Enga on joining when she was accepted to SMSU. She though it sounded fun, and knew that is exactly what she wanted to do.
"I started out in theatre performances and decided to join speech my junior year of high school because it was similar to theatre. I thought if I liked theatre, I would like speech. Some categories require some acting too," she explained. From there, her passion grew.
From high school speech to college Forensics, there were some changes that she had to get used to. In college there are more categories to choose from, all of which require more analyzing and knowledge on current events and world happenings. 
As a freshman, she decided she would try three different categories. As a senior, she took on five different categories at the MCFA event.
There are a total of 12 categories to choose from, and no one can do more than six per tournament. The categories are: After Dinner Speaking, Communication Analysis, Dramatic Interpretation, Duo Interpretation, Extemporaneous Speaking, Impromptu Speaking, Informative Speaking, Oratory, Parliamentary Debate, Poetry Interpretation, Program Oral Interpretation and Prose Interpretation.
"The reason people do multiple categories is to expand their horizons and be able to dabble in everything. Oratory was a new category for me this year, and I found out I really like it. Before I added Oratory to my usual category portfolio, I focused on categories that required more acting, like Prose or Dramatic Interpretation, because that is what I was more comfortable with," she said.   
Forensics has allowed Enga to get out of her comfort zone, and has made her a more well-rounded individual, ready to take on a professional career.
"I still get nervous when I get up in front of people to speak, but once I start talking, the nerves goes away. I feel like people get nervous in front of others out of fear. Fear that the crowd will not like you, agree with you, afraid you will forget your train of thought, or not knowing how the people will react to you or the topic," she explained.
She has been able to alleviate most of the nerves that come with public speaking by taking a deep breathe before she begins, talking to herself in a positive way, practicing her material and finding the confidence she needs to succeed. These nerve-alleviating tips are something that she will keep with her as she moves into the work world. 
She recommends that students join the Forensics team because it looks good on a resume, gives you the ability to speak about topics you are passionate about, and helps communicating with others easier.
Enga has enjoyed her time at SMSU and with graduation nearing, she will miss the feeling of community that exists on campus. She has also enjoyed the professors, and the ability to connect not only with them, but her friends she sees all over campus during the day.
After graduation, she hopes to teach preschool or kindergarten close to Marshall. She feels the need to help rural areas succeed.
She is involved with the Marshall Area Stage Company (MASC) and the Lake Benton Opera House, and also helps the Marshall High School speech team. She hopes to continue those volunteer efforts upon graduation.
Related Articles