Mission Trip Changed Outdoor Enthusiast Behning's Life
Published Friday, March 01, 2019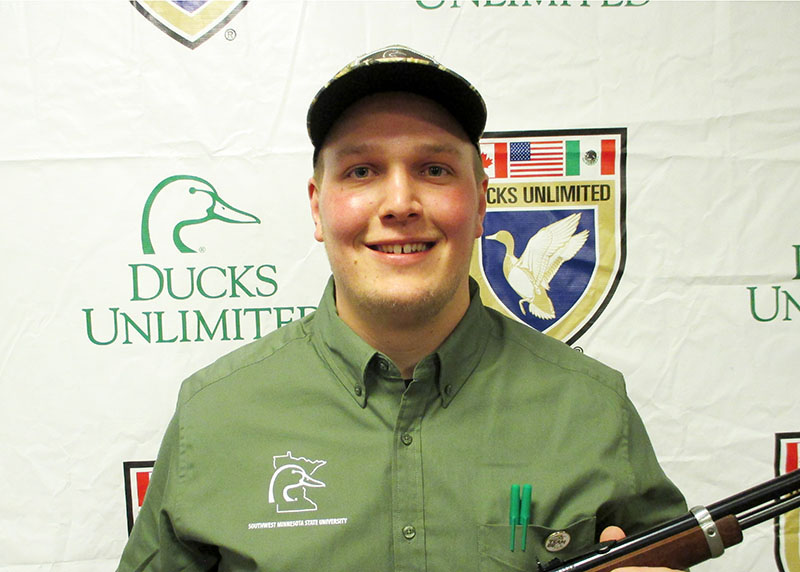 Josh Behning
"I left as a boy and came back as a man," said Josh Behning, a senior Marketing major at Southwest Minnesota State University, recalling his time as a missionary. "I didn't know what I wanted to do with my life, and the experience put everything into perspective for me. It allowed me to figure out what was important to me."
Behning is a Crystal Lake, Ill., native, where he lived with his parents and two brothers and two sisters. Originally, Behning attended SMSU to participate as a thrower on the track and field team, where he earned all-conference accolades his sophomore year and academic achievements every semester. Along with these accomplishments, he was also nationally ranked, an important highlight in his athletic career.
Although SMSU originally intrigued Behning athletically, his grandmother also lived in Slayton, Minn., and he knew hunting is good in the area. His passion for hunting and the outdoors has created lasting memories. Behning recalls many fond memories from his childhood when he and his father hunted together. "My grandpa and dad hunted together, so my dad and I also hunted together. There were many times when all three generations were in the fishing boat or in the duck blind together."
Due to his love for the outdoors and hunting, Behning became active in the community and in Ducks Unlimited, Pheasants Forever and the Governor's Pheasant Opener, hosted by Marshall in 2017.  It was at these events that he met Andrew Limmer and SMSU alumnus Nate Peterson, owner of Shooters Sporting clays. They provided opportunities for Behning. It was because of these experiences that Behning realized the need for shooting sports on campus. Behning communicated with Scott Ewing, SMSU Assistant Director of Student Activities, and established the University Sportsman's Association, which replaced a previously inactive club. This is the third semester for the organization. The club actively helps with community events for Ducks Unlimited and Pheasants Forever as well as campus events like the 2019 Mustang Ice Classic.
He was instrumental in putting together the first Ducks Unlimited banquet by the campus club, held on Feb. 28.
The University Sportsman's Association supports traditional outdoor sporting activities: shooting sports, hunting, fishing and conservation. Therefore, the club often spends time at Shooters Sporting Clays. These events are open to all SMSU students who are interested. "I have never had an event where someone did not hit a bird! We are willing to help out and Nate Peterson does a great job with gun safety," Behning said. "We provide everything and make the shooting as affordable as possible, since it can be an expensive sport. Anyone who is interested can come as they are. Eye and ear protection as well as all other resources are already there for us," Behning said. He feels the club offers opportunities for like-minded students to get together and meet others who have similar interests.
"I would recommend those interested in the Sportsman Association to visit us at the Club Fair on campus," he said. Behning also recommends those interested in their events to check out their Facebook page, where they post their activities and upcoming events. "There is only so much we can do to promote, so we typically promote on Facebook," he states.
When Behning isn't in class, participating in track or organizing events for the Sportsman's Association, he spends time on his own hunting locally. Many early mornings throughout the fall, Behning can be found scouting or hunting. He recalls, "Those early mornings were a blast." He also admits balancing life and responsibilities is challenging when you are a busy college student. "There are only so many hours in the day," he said.
Balancing his life was something Behning learned at a young age. After his senior year of high school, he decided to do a gap year so he could continue making a difference as a missionary for NAIM (North American Indigenous Ministries) in Mt. Currie, Canada. NAIM's mission is to minister and to build relationships with the local people, to help with community needs, and to share their faith in Jesus Christ. Although Behning had limited experience there from his high school summer missionary programs, he decided to apply for a year-long position. When he began his work, he was trained for two weeks, and then given the freedom to create activities and a schedule on his own.
"I stepped up and I grew up quickly. I completely submerged myself in their community. I went to pow-wows, attended hockey tournaments, coached the senior girls' basketball team and became a volunteer in their schools. Throughout my time as a missionary, we went to retreats and we had local hiking trips where we stayed in teepees or tents, we had an outhouse, limited running water, and no cell phone service," Behning recalls.
The experience helped Behning to arrive on SMSU's campus more confident. "I made my own path and knew morally what was right and wrong which I was able to figure out by myself," Behning said. He recommends the gap year because he feels, too often, students are still trying to figure out who they are while dealing with the pressures of college life.
Behning is grateful for the many diverse experiences he has had in his life. Someday, he hopes to find a job where he can combine his passions and work. "I love the business aspect of outdoors, too. I would love to work in a marketing department where I can work with brand loyalty or getting new products immersed in the market."
Although Behning's time at SMSU is drawing to a close, he looks forward to "getting his ducks in a row" and finding a great job where he can combine work and his passions. "Be intentional," Behning advises college students. He also suggests students get involved on campus. "If you find a club or organization you are interested in, get involved. You need to put forth effort."
Related Articles