Kate Borowske: Curiosity is the Key to Learning
Published
Tuesday, April 16, 2019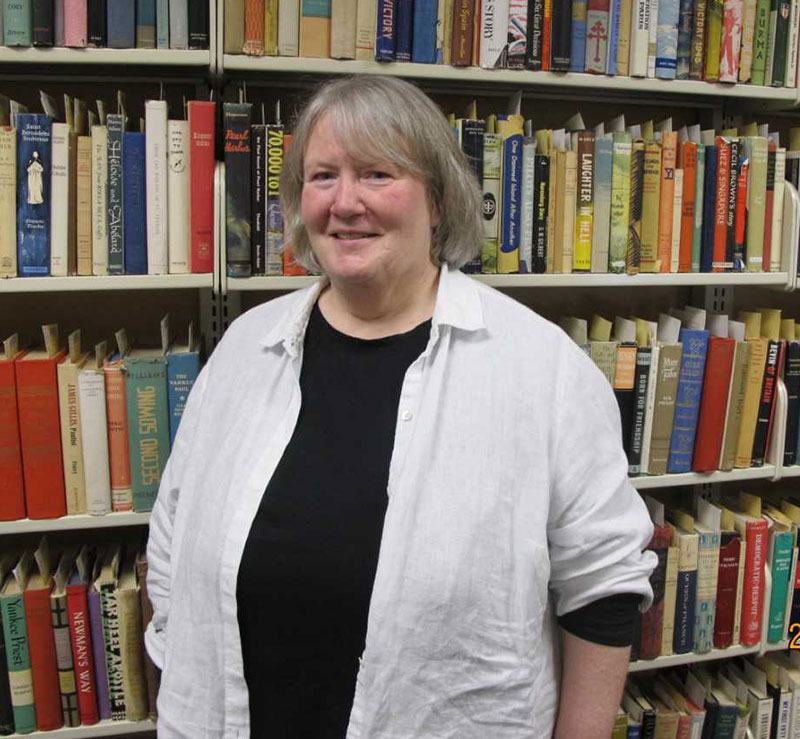 Kate Borowske
"The main thing is curiosity. If you don't give life to curiosity, you haven't done your job."  This quote by Edward Robinson gave Kate Borowske, SMSU Instructional Design Librarian, a new focus on life and a new purpose to her work. Curiosity, interaction, and relevance are the focus of her workshops and interactions with students and faculty. She strives to keep each learning opportunity engaging and meaningful.
"The line has never been straight, but I wouldn't change any of it," said Borowske as she recalls her past work and educational experiences. Her first degree was an MFA in Art. Although she worked briefly in the art industry, her path changed when she began teaching horsemanship at the University of Iowa. Throughout this time, she also periodically worked in various libraries and decided to earn her M.A. in Library and Information Science at the University of Iowa. 
Although her job no longer focuses on her art degree, she still enjoys being in the art classes on campus and loves the music, art and theater opportunities available at SMSU and throughout the Marshall area. Due to this love of the arts, she is a member of the Marshall Area Fine Arts Council (MAFAC).
Her current role as Instructional Design Librarian combines three roles: library, academic technology and teaching and learning, so she finds herself multi-tasking often. She loves balancing these roles and appreciates the control she has over her schedule and the workshops she creates.
When Borowske is not in the library setting, she is active on many committees. She is currently the chair of the Academic Technology Committee, and a member of the Student Technology Fee Committee, the Committee on Institutional Assessment (CIA), the Faculty Development Committee and the Open Educational Resources (OER),  which attempts to make more scholarly work free and open to help reduce textbook costs for students.
The majority of her job and committee work involves technology. Since technology doesn't intimidate Borowske, she enjoys trying different things to see what would work for faculty and students.
Borowske has never enjoyed lecture-style classrooms, so she works on student interaction whenever possible. When she isn't teaching, she is researching. She is intrigued by curiosity theory, brain research and how emotions play a role in learning. "I feel privileged to work in a place where I get to keep learning! I love being able to learn about it and then share that information with others," Borowske said.
One of the most enjoyable aspects of her job is how receptive the faculty have been to her workshops. Her goal is to help faculty find weays to make learning exciting for students. "I work on finding ways to make students more curious about the topic, making them care about the subject matter and discipline and showing them this is something worth thinking about, something worth learning," Borowske said.
At one workshop she attended, the speaker's comments resonated with her. "I am not a teacher," the speaker claimed. "I design learning experiences." Since that workshop, Borowske's goal is to design experiences which lead to student learning.
One of the most rewarding parts of Borowske's job is researching new techniques in education to motivate students. She also enjoys her interaction with each person she meets on campus and is driven to make teaching and learning more enjoyable and effective for all. She also appreciates the connections she makes with the people she interacts with.
Lack of time is one of her challenges. "There is so much more that I want to do than I have time for.  I love to research and filter ideas so faculty won't have to.  It all takes time but is so valuable," she said.
She also strives to make research more enjoyable and empowering. Therefore, she advises students, "Be willing to ask for help, and do not feel you need to know everything. We can help you. Research can be rewarding, and it becomes more fun the more you dig."
Borowske is excited about the direction the McFarland Library is going. "One goal was to have a space in the library for faculty to meet and do training. We wanted a faculty gathering space for less formal workshops, book talks, or simply a physical space to think about and share ideas with each other."
Borowske is thrilled to be a Mustang.  Regardless of where her experiences have taken her, Borowske's love for horses has been unwavering. She recalls, "Although there are so many things I love about the Marshall area and living in a smaller community, I am thrilled to be at a place with a horse as its mascot!"
Go Mustangs!