Benson Her '17 Becomes First Hmong Deputy in Lyon County
Published Wednesday, May 01, 2019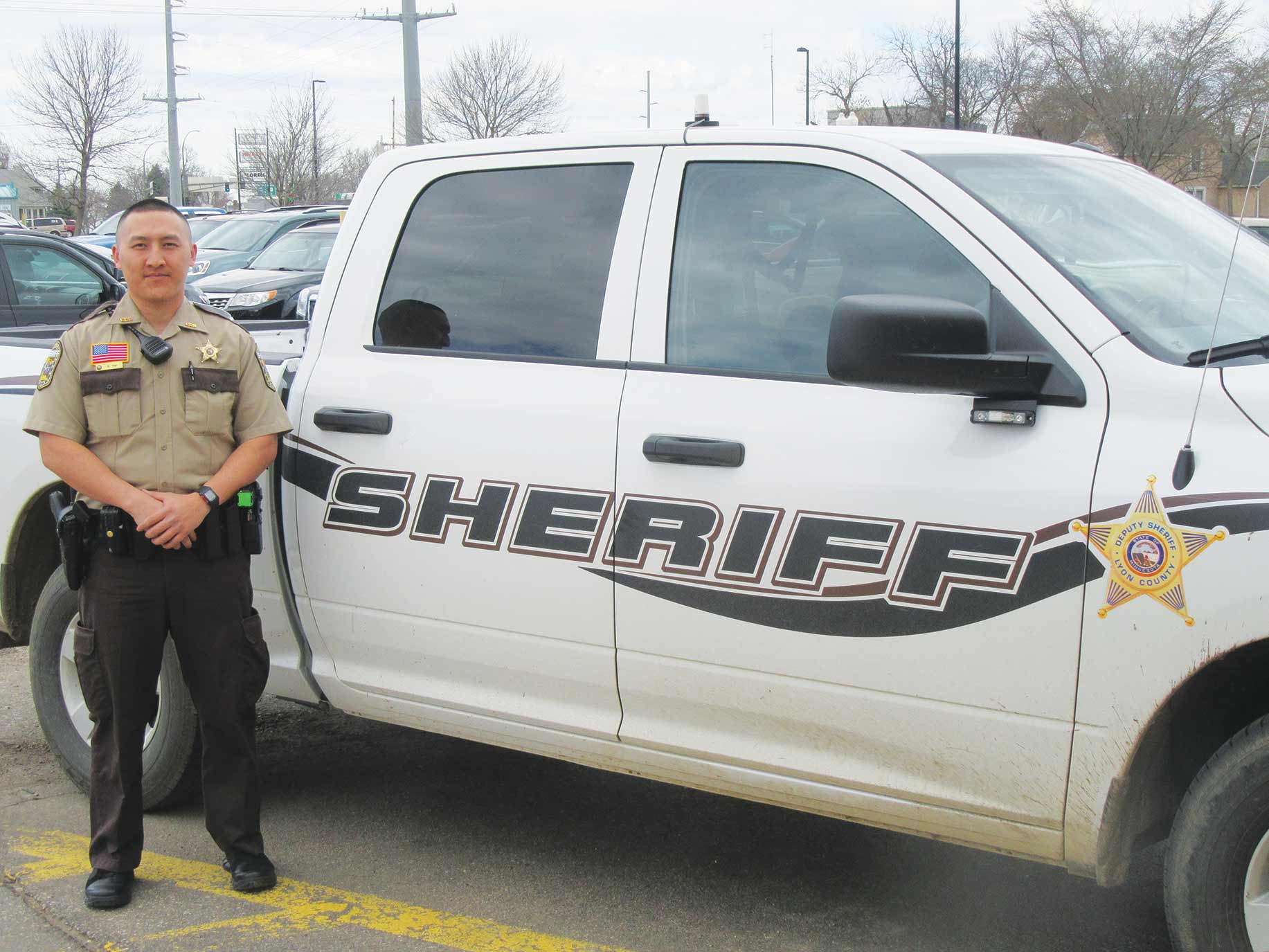 Photo by Karin Elton. Benson Her '17 is a new Lyon County sheriff's deputy and is the first Hmong.
Armed with Diversity: Lyon County Sheriff's Department promotes Hmong from jail duty to deputy
by Karin Elton, Marshall Independent Staff Writer and SMSU Alumna
MARSHALL — Lyon County is becoming more ethnically diverse and law enforcement is starting to reflect the population.
Benson Her of Marshall is the first Hmong sheriff's deputy in Lyon County. Prior to his current role, he was a correctional officer at the Lyon County Jail. On April 2, he officially became a sheriff's deputy for Lyon County, receiving approval from the Lyon County Board.
Lyon County Sheriff Eric Wallen said there is another Hmong correctional officer at the jail, so there were two while Her was working there, but Her is the first Hmong to become a sheriff's deputy.
"With the larger Hmong population we have in our area I do think it will be very beneficial as far as community relations and having a familiar person to that culture," Wallen said.
Her has lived in the United States almost from birth.
"My parents immigrated (to the United States) when I was a couple months old back in '93," Her said.
They were from Laos, a country in southeast Asia.
"My grandfather fought in the (Vietnam) war so when the U.S. backed out it was very dangerous for the family to stay there," Her said.
In the late 1960s, when the Vietnam War spread into Laos, the United States recruited the Hmong to fight against communism. Many Hmong suffered human rights violations by the Vietnamese so families immigrated to the United States.
The Her family first settled in Green Bay, Wis.
"We were there for awhile and then moved to St. Paul," Her said. "That's where I spent most of my childhood."
The family then moved to the Walnut Grove area when Her was about 13. Her is one of eight children. He graduated from Westbrook-Walnut Grove High School.
He moved to Marshall in 2013 and attended Southwest Minnesota State University, majoring in justice administration. He graduated from SMSU in 2017. Her is married and has three children. His parents now live with his family.
Her said he was inspired to go into the criminal justice field by his first encounter with a police officer when he was in the third grade back in St. Paul. The family had a period of rough times and he and his siblings had to be placed in foster care for awhile.
The officer he met made a good impression.
"That imprinted on me," he said.
Her said he would like to carry that forward, to leave people with a good impression of law enforcement whenever possible, maybe be a role model to someone else.
"There are very few minorities that want to do this job," he said. "Maybe there are minorities who didn't have a good experience with the law, so maybe they don't want to be officers."
Her said he had applied for the position of sheriff's deputy, but when it happened, it was quick.
He was working in the jail when "all of a sudden I was offered the position. Sunday night I was at the jail and Tuesday night I was a deputy. It was very sudden."
Her is working with a field training officer for the first few months.
"I'm observing, learning the system, getting familiar with all of the areas that I will work in," he said. "Familiarization and observation."
"It's a pretty extensive training process, 12 to 16 weeks of training," said Wallen. "He's fairly new to it yet, but he's doing a good job. He's very committed."
Last week Her worked the day shift. Next week it will be the night shift.
"I'm very familiar with rotating shifts from working at the jail," he said.
Her said working in the jail "gives you a different perspective of people. You never really see that side of people and when they come there, they would never really be like that in public."
He worked at the jail for about a year and a half.
Her, who speaks Hmong, said being bilingual is an asset to his job and is why he wanted to stay in the Marshall area for law enforcement.
"There is a large Hmong population here," he said.
Her has observed that the younger generation leave the area.
"They're educated and as soon as they turn 18, they're off," he said. "The older generation sticks around."
Wallen said Her's ability to speak the language will be an asset to the community.
The county has access to translators, he said, but having someone on the scene is better.
Reprinted with permission of the Marshall Independent. This article was published in the Marshall Independent on 4/30/19
Related Articles