Agricultural Education Major Ashley Anderson One of Six to Earn MAELC Internship
Published Wednesday, July 17, 2019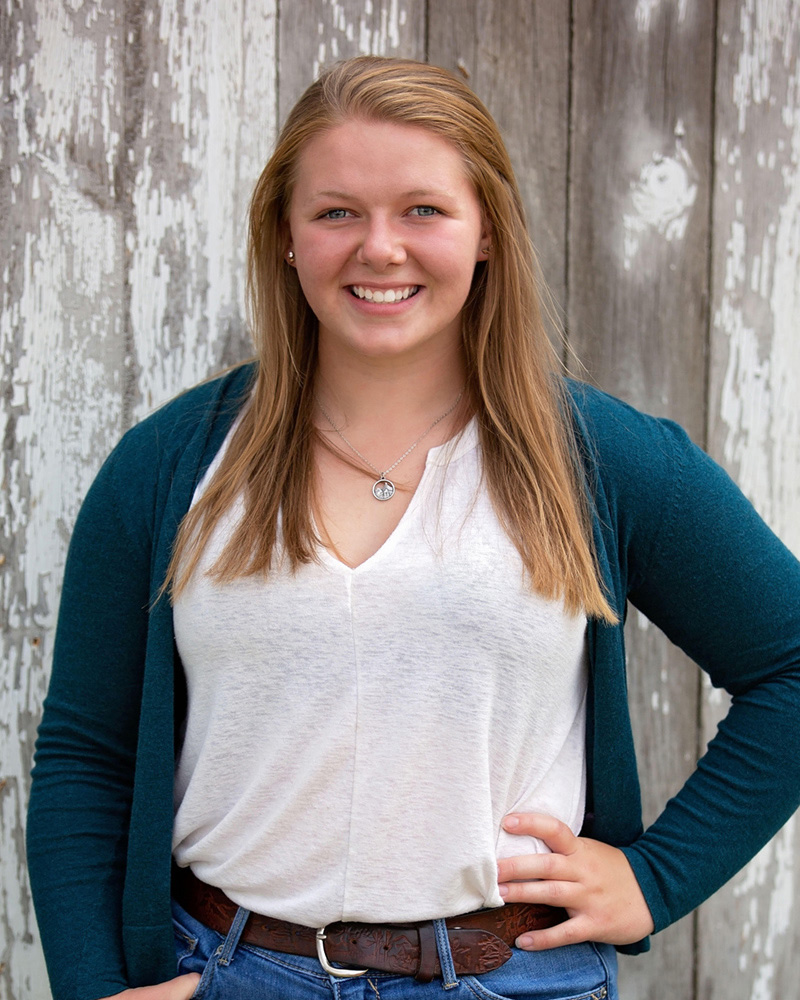 Ashley Anderson
Ashley Anderson, a senior Agriculture Education major from Glenwood, Minn., is using her summer to gain hands-on experience in the classroom while also teaching others about her life-long passion, agriculture. 
 "I am ecstatic for the day I can be teaching students something that I am so passionate about. This internship has made me even more excited to become an agriculture teacher," she said.
This summer, Anderson received an internship with the Minnesota Agriculture Education Leadership Council (MAELC). The Minnesota Agricultural Education Internship is made possible with donations from AgriBank, Compeer Financial, Riverview LLP, and MAELC. This internship was created to spark interest in undergraduate students who are thinking of entering a teaching profession, and provides these students with hands-on experience in the classroom. She was placed in the Sleepy Eye Public Schools to work with agriculture teacher Mary Hoffmann.
Anderson applied for the internship through MAELC's website in November 2018. She fit the qualifications by not yet completing student teaching or graduating, being an Agriculture Education major, or pursuing a teacher licensure. Other qualifications included being strong communicator, self-motivated, ambitious, and with a desire to learn. She interviewed for the position at the MAELC office on the U of M campus, and is just one of six interns selected.
 "I have a wide range of duties. My main jobs entail supervising and advising students, and organizing and executing events. So far, we have had meetings, done multiple events in the community, road tripped to Ohio for an exchange trip, and chaperoned at a leadership camp. We have more events like these planned throughout the rest of summer," she said.
 "One of the coolest events was playing Bingo with the residents in the nursing home and care center in Sleepy Eye. Students had made cards for the elderly for holidays, before going to play Bingo at the end of the school year. We also had a pen pal program between the third graders at Sleepy Eye Public School and the fourth graders at St. Mary's Catholic School in Sleepy Eye. This helped them develop their communication skills and gave the third graders someone to look up to. They eventually got to meet each other and played games, and had cookies and milk," she said.
Anderson, her mentor teacher Hoffmann, and seven students traveled to Casstown, Ohio where they met with the Miami East FFA Chapter. They played games, and went to the Young's Jersey Dairy, where a number of dairy products are made. The dairy also offers mini golf, batting cages and a large slide for entertainment for children. Other places they visited on the trip included the Hobart Welding Institution, Winan's Chocolate Factory and the Johnston Historical Farms.
Anderson also chaperoned for four days at the Timberland Leadership Camp located at Sibly State Park. This camp experience involved high schoolers from the Sleepy Eye, Tracy and Marshall FFA chapters. Students spent their time learning about leadership, Career Development events in FFA, supervised agricultural experiences, and opportunities in agriculture.
So far, Anderson has learned more about teaching, different methods of instruction, discipline techniques, and many other ideas that she can incorporate in her future classroom.
"I love everything about this internship! I am getting to know students and teachers on a personal level and constantly learning. I enjoy interacting with students and helping them learn more about agriculture, leadership, and career opportunities that are best for them, all while having fun," Anderson said.  
By the end of her internship experience, she hopes to have gained as much hands-on experience as possible by working with students directly, getting ideas for future lesson plans, getting advice from current ag teachers, and creating bonds with current and future agriculture teachers. 
Anderson's passion for agriculture started early. When she was a child, she begged her parents to put cattle and horses in their garage in town. That never happened, but she got her farm fix when she visited her grandparents' farm. Growing up, she helped on all types of farms ranging from crops, hogs, beef, and her personal favorite, dairy. She hopes to farm on her own some day and also teach.
Anderson came to SMSU after she received her Associate of Applied Science (AAS) degree in Farm Operations and Management with an emphasis in Dairy from Ridgewater College in Willmar, Minn. While she was getting her AAS, she lived on her grandparents' farm. 
Anderson enjoys SMSU for the people and opportunities it offers.
 "The professors and students are always willing to help offer a helping hand, and willing to work with you on things like scheduling conflicts with classes. Being a commuter student this winter was really hard for me; there were days I could not make it in, but the professors were always flexible in allowing me to make up my missed work. Another thing I like about SMSU is the opportunities that it offers. I love being able to go to a variety of schools and work with an assortment of programs to optimize my educational experience," she said.
She chose SMSU because of the scholarship opportunities and the location in the state. "SMSU is a practical option for everybody — they offer a great education at a lower rate than most, and offer a lot of opportunities. The campus is also located in an agricultural-dense area in the state," Anderson said.
When she is not in class, she enjoys being a member of both the Agriculture and Education Club (EMSP). She also works in the SMSU Foundation office, helping with event planning, contract management, website management and donor relations. Away from campus she enjoys everything outdoors and related to animals. She does a lot of fishing, kayaking, hiking, swimming, hunting, and spending time with her dog.
Related Articles