SMSU Ranked 6th Nationally in '30 Lowest Out-of-State Tuition Colleges and Universities'
Published Thursday, November 21, 2019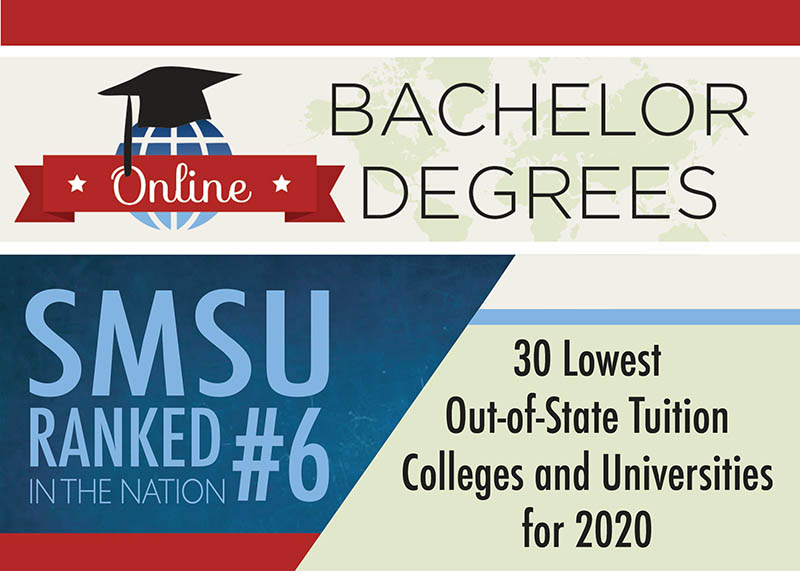 Online Bachelor Degrees - SMSU Ranked #6 in the Nation - 30 Lowest Out-of-State Tuition Colleges and Universities for 2020
Southwest Minnesota State University is ranked 6th nationally in the "30 Lowest Out-of-State Tuition Colleges and Universities" for 2020 by Online-Bachelor-Degrees.com.
Online-Bachelor-Degrees.com is an online web publication committed to enhancing the information available to students when choosing an academic institution. Most students do not apply for schools outside their home state because they fear the price will be much higher, but that is not always the case. Online-Bachelor-Degrees.com found the best options for students looking for affordable higher education institutions.
The ranking takes into account the cost per credit hour, semester, annual tuition, meal plans, and housing.
SMSU offers in-state tuition for most out-of-state students. Another affordability factor is banded tuition, which means students may take between 12-18 credits, and pay for just 12 credits.
Online-Bacholors-Degrees.com, in its synopsis of SMSU, says: "Southwest Minnesota State University has an enrollment headcount of around 6,500 students. It is a great school for future teachers in areas such as Elementary and Early Childhood Education, and maintains an excellent graduation rate. The unique university campus provides a fun and friendly academic community."
To learn more about SMSU's affordable bachelor degree options for in- and out-of-state students, please visit: https://www.smsu.edu/admission/paying-for-college.html#cost-of-attendance.
Related Articles