Virtual Reality Enhances Ag Programs; More VR Projects to Come
Published Tuesday, November 26, 2019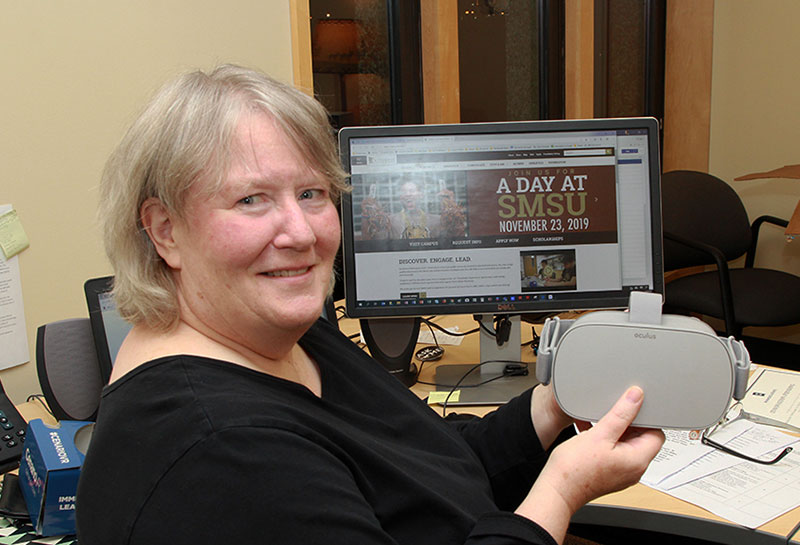 Kate Borowske
Virtual reality now allows SMSU ag students to be right on the farm, seeing for themselves, through technology, how successful ag operations work.
Four virtual reality headsets were recently acquired by SMSU. A series of six ag-related videos were then uploaded to the Oculus Go headsets, so that ag students can get a fuller understanding of the farm environment and the day-to-day work that goes into different types of ag operations.
How the headsets came to be a learning tool at SMSU is a perfect example of preparation meeting opportunity.
Instructional Design Librarian Kate Borowske attended a virtual reality conference in California last summer. "Through my professional reading I knew that the use of VR was increasing in higher ed and I wanted to learn more about it. I got a bigger picture of how it could be used, and went to workshops about what it takes to produce. I had a good overall picture, and left feeling confident it is something we could do without a huge price tag."
Fast forward to 2019. Borowske took her dog into veterinarian Dr. Scott Kuecker at the Marshall Animal Clinic. He is an adjunct instructor at SMSU. "I was looking for someone to work with in regard to virtual reality," she said. "I got to talking to him and he was telling me about how difficult it was to get all of his students together to visit farms for tours as part of his Introduction to Animal Science class, which was offered for the first time last semester. That's how it all began."
After her conversation with Kuecker, she started looking into the possibilities. With a clearer understanding of the potential — and the process involved — she turned her attention to the next hurdle. How to fund the project?
Borowske had heard of an innovation funding program through the Minnesota State system. "Shark Tank funding," she said. "That's what it's called. You apply for it, and it's like the television show. You go in front of a panel, explain your request, what it's for, and then they determine whether you receive a grant for the project based on its merit."
It's a two-step process, she said. The first was submission of the proposal to the system office. Personnel there evaluated the proposals and invited finalists to the second round, where representatives of each project went before a group of judges.
 "We received a unanimous vote from the judges, and got a $25,000 grant for the project," she said.
The SMSU presentation team included Borowske; Kuecker; virtual reality producer Chuck Olsen; and Kristin Kovar, Assistant Professor of Agricultural Education and department chair.
Olsen is owner of Visual, a virtual reality production firm in Minneapolis. He shot the virtual reality footage using special VR cameras during several visits this past summer.
The visits yielded a total of six videos, each between three and five minutes apiece. They include a pork facility; Red Angus ranch; and a trio of dairy farms, each with varying degrees of technology. A sixth video shows the birth of a calf, and was pulled from one of the dairy videos.
The videos, when shown on the VR headsets, give the viewer a true 360-degree "being there" experience. They will also be available for viewing on YouTube.
"This will add another exciting dimension to the Agriculture program," said Kuecker. "SMSU students and all people are drawn to animal agriculture, because few of us grew up or live on farms today. Many of our parents and grandparents did, and so we are drawn to the love of raising livestock," he said.
"We are trying to show how farmers do love their animals they raise and how well they are cared for on modern farms, with new technology and methods," Kuecker concluded.
The videos will also be used by Assistant Director of Marketing, Recruitment & Outreach for Ag Ian Wyffels at various career fairs and school visits, said Kuecker.
The VR headsets will be available for checkout at the McFarland Library, said Borowske.
"Virtual reality is something that's growing in all facets of education, because students today have this predisposition toward technology, and they connect well with experiencing virtual realities. That's what we want to do, meet them where they are at," said Kovar.
Borowske feels that VR technology is in its infancy at SMSU, and points to a list of nine faculty members who have contacted her in recent months about doing VR projects for their academic areas.
"There's so many possible applications," she said. "I'm very excited about the possibilities that exist with this technology."
Related Articles