Alumnus Carlton Lance Now Known as Trey Lance's Father
Published Wednesday, January 22, 2020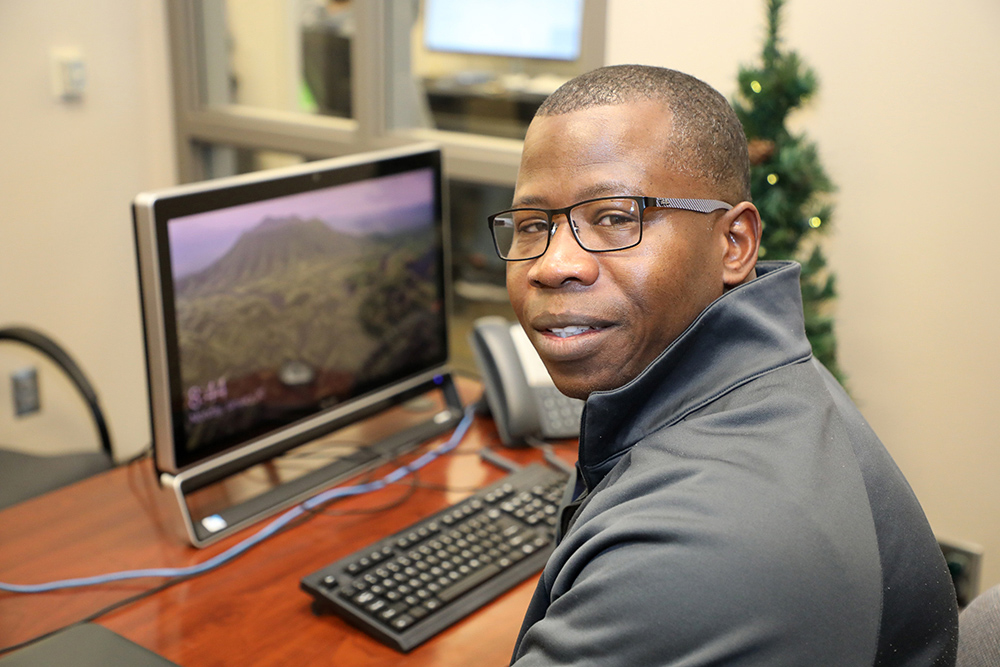 Carlton Lance
"Around the office here, I'm known as Trey Lance's father."
That's what 1994 SMSU alumnus Carlton Lance said recently about his son Trey, a redshirt freshman at North Dakota State University who quarterbacked the Bison to the Football Championship Series (FCS) national championship Jan. 11, the eighth title in nine years for the Bison.
The expectations at NDSU are high, said Lance. It's a program that has enjoyed unequaled success, has a wide fan base, and being the father of the quarterback can be "excruciating."
Lance is co-owner of Hampton Ridge Financial, an equipment finance company he started with Nate Bourne. "We both worked at U.S. Bank together and we started the business 12 years ago. We have eight employees," he said.
Lance has a business degree (marketing minor) from SMSU. He played four years of football for the Mustangs. His wife Angie (Irsfeld) is a 1993 alumna who works at Schwan's.
The community of Marshall has become, collectively, a big fan of NDSU football since Trey committed to the Bison two years ago. He appeared in two games his first year under a new NCAA rule which allows a true freshmen to play in four games without losing red-shirt status. He won the job during fall camp 2019. Things haven't been the same in the Lance household since.
Trey had a dream season, winning just about every meaningful FCS individual award, including the Walter Payton Award, the FCS equivalent of the Heisman Trophy. That award was handed out on the eve of the national title game, and Carlton and Angie Lance accepted the award for Trey, who wanted to be with his teammates that evening.
Lance watches the Bison games with a more critical eye than most. He was inducted into the SMSU Hall of Honor as an individual in 2011, and again as a member of the 1990 team. The Ft. Myers, Florida native came to SMSU to play football for Gary Buer, and was a standout defensive back. He was invited to several NFL camps before playing a year professionally for the Saskatchewan Roughriders in the Canadian Football League and the London Monarchs in the World League.
The Lances have a younger son, Bryce, who is a junior at Marshall High School, competing in football and basketball. Following both sons at times plays havoc with their schedules. "We try to have one of us at his (Trey's) games," said Lance. "With Bryce playing (in the fall), typically I'd go up to the game and Angie would stay back with Bryce. We missed some of the away games."
The Lances remain down to Earth about Trey's success. "I think the only thing that's changed is that we are more noticeable now," he said. "We'll go out to breakfast up there and we don't really tailgate, so we walk through the tailgate area into the dome and find our seats. It's made us publicly more visible, just because people know that's Trey Lance's dad, which is absolutely fine. We are who we are; we're pretty low-key."
Lance and Trey took  a very practical approach when he was being recruited. "I put on my dad hat," he said. "We made a spreadsheet of the 10-to-20 things that are important, things like school size, how many go to the games, the coach's contract, defense, factors like that," he said. "NDSU checked off all the boxes. My role was to sit back, and gave him some ideas what he might want to look at. I would decipher what they were saying."
During the year, too, he'll throw some observations his way, as well. "Anyone who knows me knows I am an avid film watcher, I love that part of the game, looking at schemes and players. I like to look at what he did last game, tell him this is what you need to do, you're doing too much of this, those types of things. The coaches do their thing, but I'll throw out a few things, too. You can find the games out there, and I scour the internet."
Carlson and Angie met while students at SMSU — "I remember the party, but not the date," he said — and feel fortunate to have brought up their sons in a caring community. "We are blessed for our kids to grow up in Marshall, for the friends they have, and the coaches and opportunities they've had. Not too many communities have (teams) that have so much success, with coaches who are reaching and striving for excellence, who take the time and effort to get the program where it should be. We have program builders here, not just coaches."
It's an atmosphere Trey enjoys in Fargo, too. "It's a total region buy-in," said Lance. "Everyone there loves the Bison, they are supportive and knowledgeable fans, and it's something you want your kid to be a part of. People watch out for them, and they are surrounded by good kids, as well."
His time at SMSU "was a microcosm of the Marshall community. I was first-generation college student, and didn't know the ropes. I had people went above and beyond, like (the late business professor) Jim Babcock, he was my advisor and helped me grow and get to where I needed to be. Coach Buer, Eddie Meierkort. Plus, I made a lot of friends, guys I still golf with each summer."
Athletics have taken the Lances down many roads over the years, perhaps none as high profile as this journey. Still, he doesn't mind being known as Trey Lance's father.
Related Articles