Sariah Cheadle Makes Theatre History With Win at KCACTF Event
Published Wednesday, January 29, 2020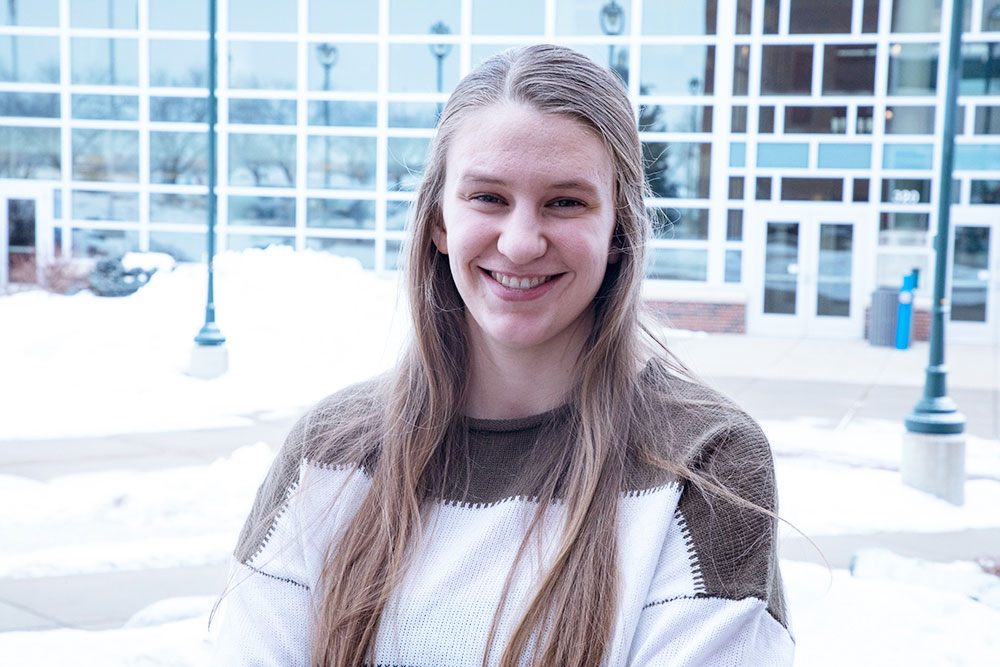 Sariah Cheadle
Sariah Cheadle made SMSU Theatre history at the recent Kennedy Center American College Theatre Festival (KCACTF) Region V event in Sioux Falls by being the first SMSU student to ever take first in an award category.
She won the National Dramaturgy Award for her work on "'The 1940's Radio Hour" production, held in fall semester, 2019.
Cheadle is an English Literature and Theatre Arts double major from Fulda, Minn.
A dramaturg is a researcher, she explained. "Anything I can do to aid the actors and designers. A dramaturg is the first audience for the play," she said.
A dramaturg takes a close look at the history of the play, and the time it depicts. "The 1940's Radio Hour" was set in New York in 1942, so Cheadle researched the language and the songs of the time, and helped the actors put that into perspective. She made information packets for each of the actors.
"For 'The 1940's Radio Hour,' she came to me and said she wanted to look at World War II in southwest Minnesota. She really likes research. She went to work with Jan Louwagie in the Southwest History Center and Jennifer Andries at the Lyon County Museum and created a display for the lobby," said Theatre Professor Sheila Tabaka, who directed the play. "A lot of our patrons are older and get there early, and this was a way to look at items from that time that helped transport them to that time period."
Cheadle said her display consisted of two horizontal cases and one upright case. It included many items from that period, including uniforms, articles, newspapers and even a Christmas card sent from Pearl Harbor on December 5, 1941, two days before the bombing.
"lt's behind-the-scenes work, and a position that people really don't know much about," she said of being a dramaturg. "I like to act, but moving forward, I probably see myself working more behind the scenes."
For the KCACTF competition, she took photos of the display cases, made photocopies of some of the telegrams and papers on display, and completed a "protocol" — which included a letter of nomination, a description of the scope of the project, the process used, photos, and the packet of information she created for the actors.
She is applying to graduate schools and wants to go on and earn two master's degrees — "my hope now is one in children's literature, and then library science. I just like school," she said. Cheadle would eventually like to be a librarian, with a focus area on children's literature.
"She's such a scholar," said Tabaka. "She makes the best dramaturg, and her heart is in the library. It fuses both of her interests — theater and research — and she can let herself go in that world."
Cheadle is one of eight students nationally to win their individual region awards. The eight region winners will now apply for the national Kennedy Center event in Washington, D.C., in April. Four will be selected.
"I was really surprised when I won," said Cheadle of the District V competition. "And it's cool to be the first one from SMSU. I'm proud of that."
Related Articles