Three SMSU Programs to be Offered on Campus of Lake Superior College
Published Tuesday, February 04, 2020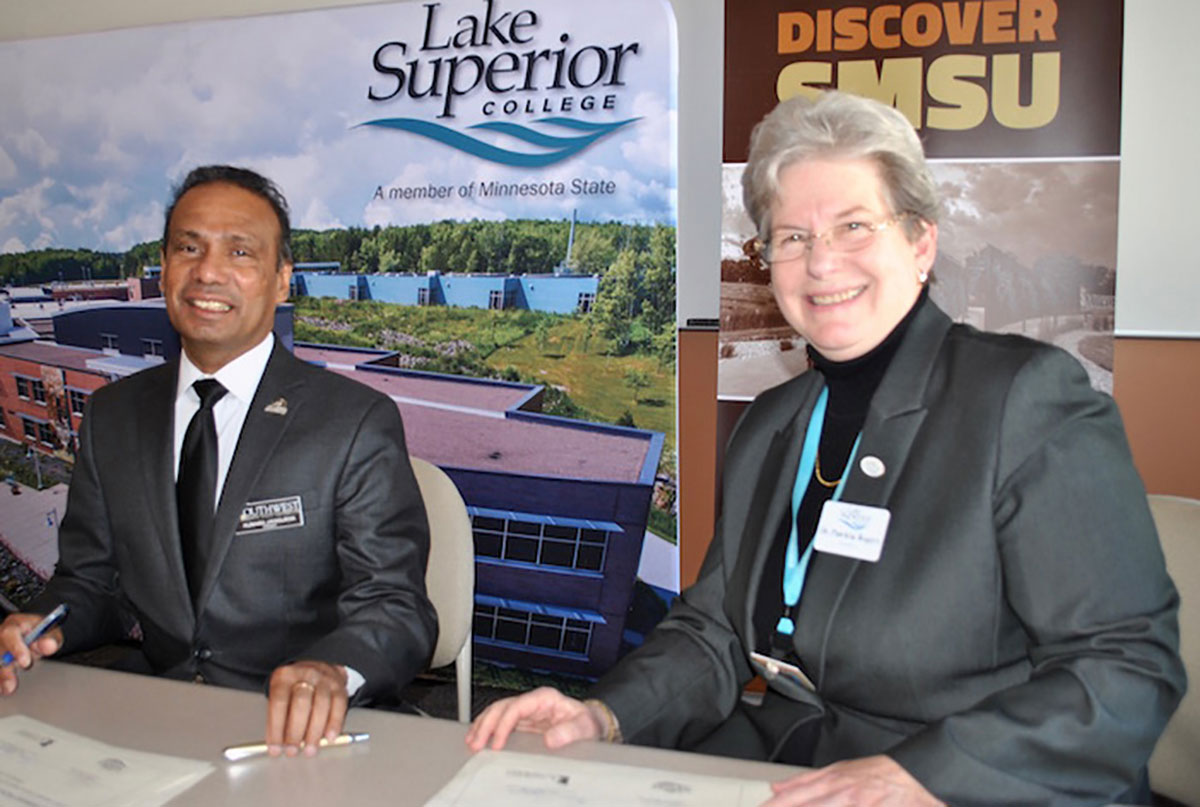 SMSU President Kumara Jayasuriya, left, and LSC President Patricia Rogers
A trio of Southwest Minnesota State University academic programs will be offered on the campus of Lake Superior College (LSC) in Duluth starting in the fall semester, 2020.
The programs include Community Psychology and Health Promotion; Agriculture Solutions; and Marketing.
Southwest Minnesota State University President Kumara Jayasuriya and Lake Superior College President Patricia Rogers finalized the agreement at a Feb. 4 signing ceremony on the LSC campus.
It marks the first time that bachelor's degrees have been offered on the campus of Lake Superior College.
Once a student has earned a two-year degree from LSC, he/she will be granted admission to one of the programs based on SMSU admission guidelines.
Course delivery will include on-site, online, or a hybrid combination of the two.
It is the first collaborative agreement between the two institutions and brings additional educational options to students at Lake Superior College.
"We are excited about this collaboration," said President Jayasuriya. "Having three SMSU programs delivered on the Lake Superior College campus will give the students an opportunity to earn an affordable, quality SMSU bachelor's degree in a very convenient way."
"LSC and SMSU are both committed to providing students with increased opportunity and access to a quality, affordable education," said President Rogers. "This new partnership will give current and future students in these programs the opportunity to remain here on our campus and in our community. Both of our schools look forward to working together to support our students and helping them earn their AA degree and their bachelor's degree, all while making it a seamless transition and putting students on the path to success."
Both President Jayasuriya and Lake Superior President Patricia Rogers indicated that future collaborations could follow.
Related Articles