Director of Dining Services Stanwick Appreciates 'Mustang Spirit'
Published Friday, March 27, 2020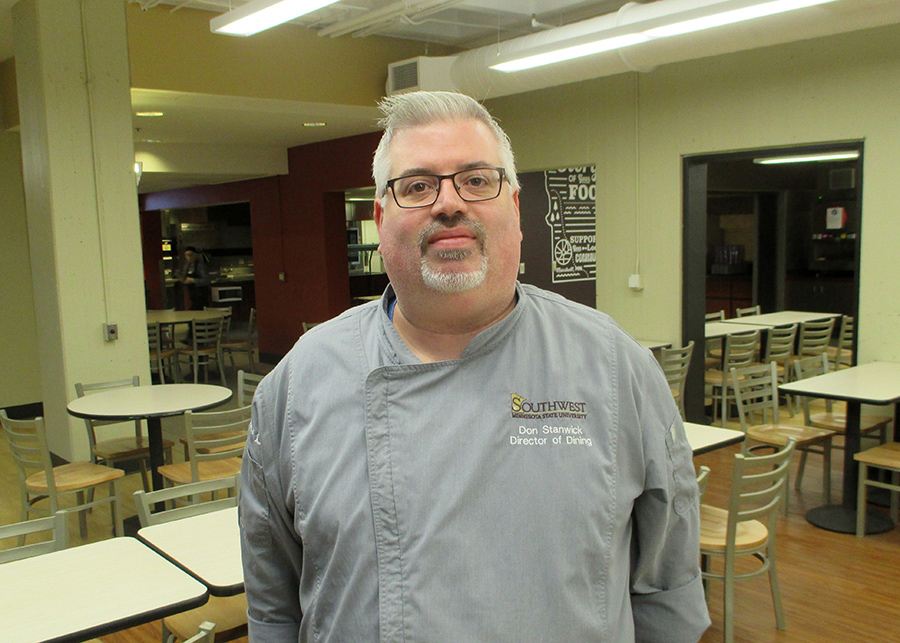 Don Stanwick
Little did Don Stanwick know then, but that first food service job busing tables at Tony's Pizza in Ft. Lauderdale, Florida, as a 15-year-old would be a springboard to a career in the industry.
His various positions have taken him to every state but Alaska, and to this day, the food industry still excites him.
Stanwick, Director of Dining Services at SMSU, has been through a couple of hurricanes during his career. What the SMSU community is going through today relating to COVID-19 is a much different challenge, however.
"I haven't seen anything like this," he said. "With a hurricane, you can see the damage. With something like this, you don't see it on a day-to-day basis. It makes it more challenging for people who don't see people who are affected by it, who struggle to understand it."
COVID-19 has changed SMSU food service hours, and service practices.
Starting Monday, March 30, all meals will be served to-go via online ordering. All dining locations will have the previously stated hours through Sunday, March 29. On Monday, March 30, the main dining hall, coffee shop, State Street Subs and the C Store will be closed until further notice. For further information, and a link where meals can be ordered, go to: https://bit.ly/2UlQWc4 
Stanwick has worked for Chartwells — SMSU's food service provider — for 11 years. His previous academic stops have been with Chicago public schools; Stetson University, Florida; Barry University, Florida; and Washington College, Maryland. He oversees a staff of 60 full- and part-time employees.
Stanwick earned a degree in business management from the University of Western Florida, Pensacola. His hobbies include novel editing for a couple of authors he knows, golf, and video games. The best restaurant he's ever been to is The Montgomery Inn in Cincinnati.
He appreciates the "Mustang Spirit" he's encountered on campus, and the patience and flexibility of the students, faculty and staff during this most unusual time in higher education.
Related Articles