SMSU Named Safest College Campus in Minnesota
Published Tuesday, April 21, 2020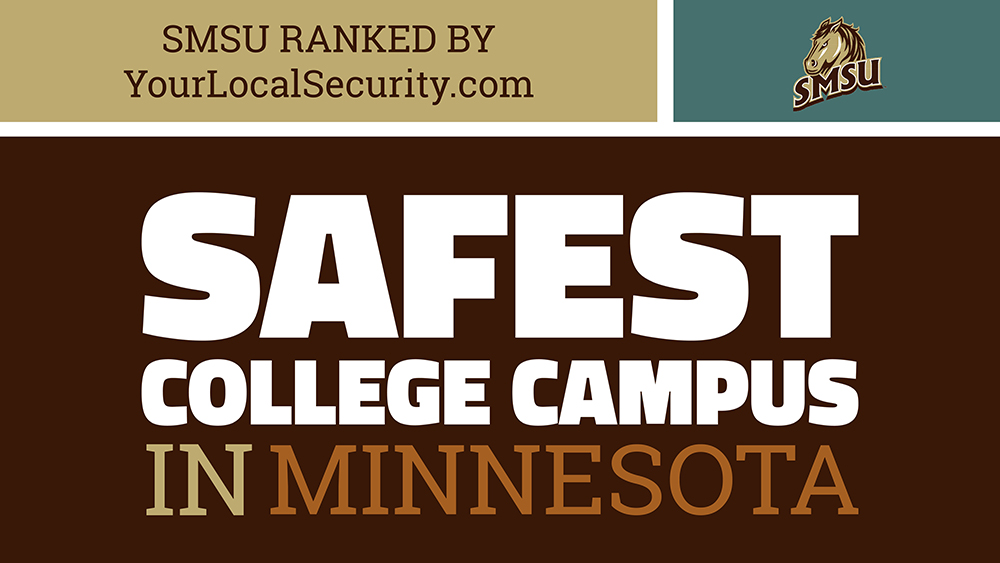 Safest College Campus in Minnesota
Southwest Minnesota State University has been named the 2020 "Safest College Campus in Minnesota" by YourLocalSecurity.com.
YourLocalSecurity.com bases its rankings on data from the U.S. Department of Education's Campus Safety and Security list and the FBI's 2018 Uniform Crime Report for campuses with a minimum of 5,000 students offering a two- or four-year degree that is a public, private or non-profit university. The safety of SMSU was evaluated based on a combination of factors: violent crimes, property crimes, hate crimes and number of Violence Against Women Act (VAWA) offenses per 10,000 people.
"Incoming freshmen and their parents can feel better entering college when they know their campus has crime prevention measures and crisis management systems in place to ensure lower crime rates," reads the YourLocalSecurity.com website.
"Recognizing SMSU as the safest campus in Minnesota affirms that we have a harmonious environment, one in which our Mustang Family is able to thrive," said Public Safety Director Mike Munford. "This honor is not for Public Safety, it's for the entire university community, who work shard to encourage a safe environment, year-round, for all of our students, faculty and staff."
To learn more about Public Safety, go to: tps://bit.ly/3bEbZNz. To learn more about the ranking, go to: https://bit.ly/3aspCOi.
Related Articles