Fine Arts Entrance Garden Planned; Fundraising Underway
Published Tuesday, July 07, 2020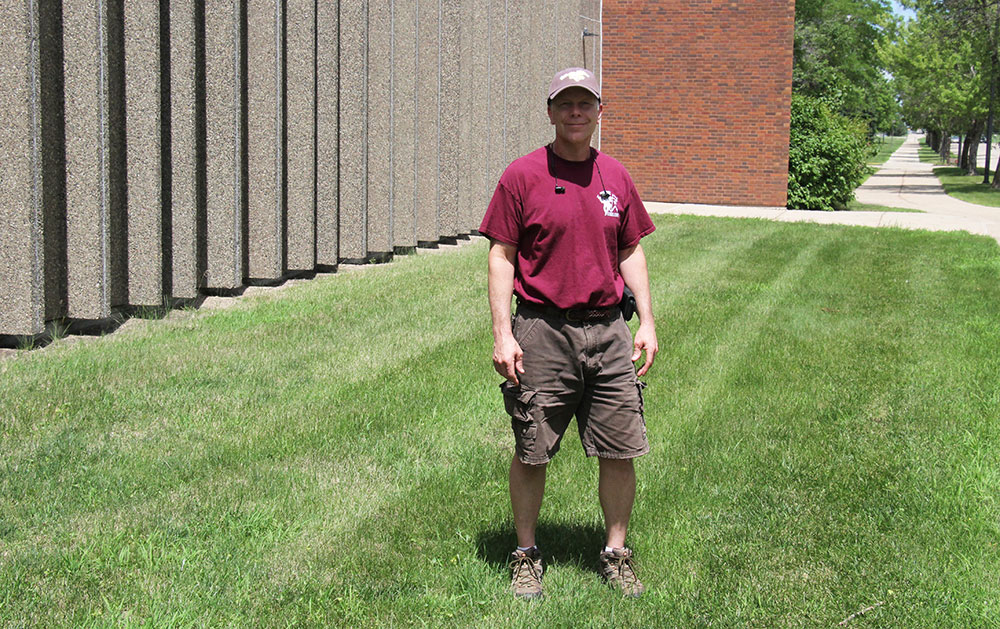 Jeff Jennings stands at the site of the new Fine Arts Entrance Garden
The creation of a new garden on the SMSU campus will better utilize a current empty space and add an exciting new element to the east entrances to the Fine Arts Building.
The garden will be called the Fine Arts Entrance Garden, said Theatre Professor Sheila Tabaka, who came up with the idea. With the help of SMSU Physical Plant personnel, a design has been drawn up and fundraising has begun, with a goal of $8,000.
The new garden will run along the east side of Fine Arts, in an area that is currently grass. It will feature crushed rock, plants, mulch, planters and an area that can feature student sculptures or be used as a small performance space.
Two trees have already been taken out, said Jeff Jennings, grounds supervisor. "I think it will be a nice addition to the campus," he said. "Fine Arts does have a traditional main entrance, but most people use the north and south doors on the east side of the building to enter."
Jennings and groundskeeper Julia Olson came up with the design, which features winding edges.
Tabaka said she was amazed by the knowledge and thought that went into the design. "Jeff knows so many things about the grounds of the university and the types of plants that would do well there," she said.
"So many artists are inspired by nature in their writing and paintings. Fine Arts has a main entrance, but so many people use that parking lot entrance to get into the building. It's super exciting that that area can be more than grass, that it can be a complement to the Fine Arts building."
Jennings said Tabaka's original vision was altered somewhat. "Many of the plants Sheila was thinking about were sun-loving," he said. "That's a tough spot. It doesn't get a lot of sun, but it's still hot. We are thinking more like a hydrangea garden, with some ground cover, maybe some phlox or chrysanthemums."
Four large planters like the ones near the entrance to the Student Center will also be featured.
"They really came up with a wonderful plan," said Tabaka. "That area is a blank canvas that really needs something. I'm excited about the possibilities."
The timeline of the project is dependent on fundraising efforts, said Jennings. Donations are being handled through the SMSU Foundation. To donate to the project, go here: https://bit.ly/3gyPBHh.
Related Articles