Race Chaser Tom Berg '99 Has a Growing Blog Following
Published Thursday, July 23, 2020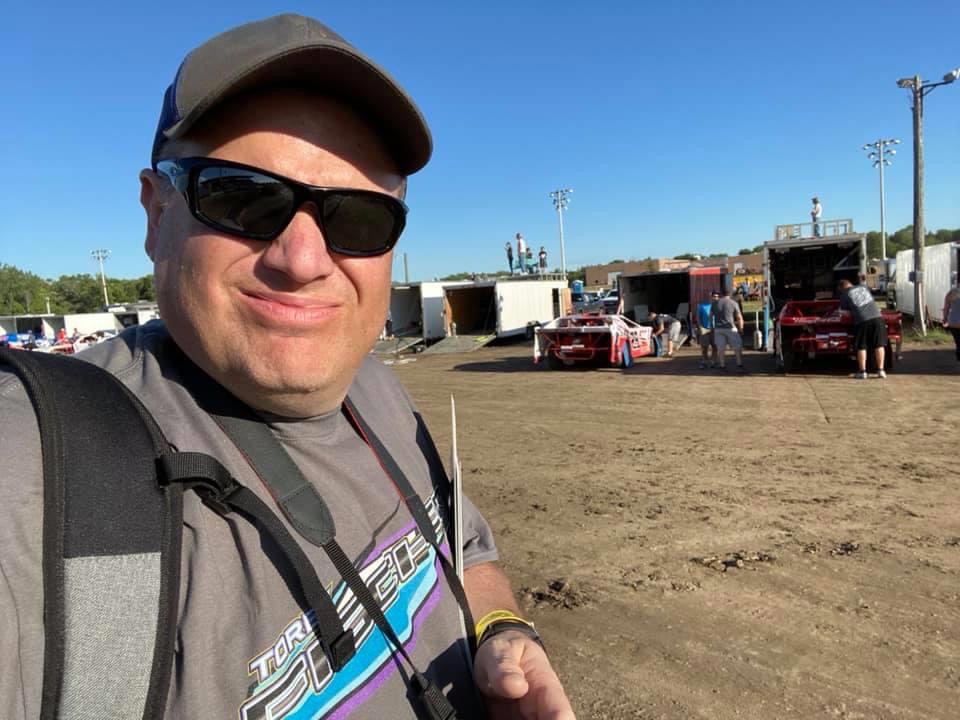 Tom Berg
SMSU alumnus Tom Berg is, literally, a race chaser.
That's the reason for the growing success of his Racechaser.net blog, which chronicles anything racing at seven tracks he frequents during the season from his home base in Fargo, N.D.
Berg, a Clarkfield native, is a 1999 alumnus with a degree in Speech Communication: Radio/TV. His was a familiar byline in the Marshall Independent for years, where he worked "part-time" during his college years — a part-time job with nearly full-time hours. He took a job at a weekly paper in Grantsburg, Wis., for a year, before a call came from then-editor Dana Yost, wondering if he'd like to return to Marshall and the Independent. He was sports editor at the Independent from 2000-2007.
For personal reasons, he moved to Vermillion, S.D. and was out of the writing business for a year before taking a position as Sports Information Coordinator at the University of South Dakota from 2008-12. From there it was up to Minnesota State Moorhead, where he has been Assistant Athletic Director for Media Relations ever since.
And while he enjoys keeping statistics and writing about Dragon athletics in his current position, he has, in recent years, created something of a cult following with his RaceChaser blog.
His interest in racing goes back to his youth. His late father Stan raced in the late '70s and early '80s and took him to tracks as he was growing up. "That's how I got hooked as a fan," said Berg.
It was his father who suggested he start his blog. "He had a lung condition and could not go to races due to dust and humidity. I would go to races and I was his reporter. I'd text him about what was going on."
Berg said he decided to "put my toe in the water" in the spring of 2017. "I wrote some editorials, and some driver features. It was trial-and-error, and traffic picked up. It has evolved from there."
Stock car racers and fans ate it up. Most newspapers will report results, but there's rarely additional overage. Berg takes it to a different level, with driver profiles, editorials, fun features and video.
When he arrives at a track,  he goes live on Facebook during his pre-race tour of the pit area. And on Tuesdays, he has a Facebook living room conversation with fans about the previous week's action, and what's coming up.
Because of the interest in his work, he recently solicited sponsorships of the RaceChaser blog, to cover some of the costs associated with his passion. He had a goal of $1,500, which was nearly doubled. Today, his sponsors include six tracks, four racing teams and 10 businesses. "That has helped me upgrade the website, make it mobile-friendly, and I bought a camera for action shots. It also helps with my travel costs."
He also made up some RaceChaser stickers, which are displayed on roughly 50 cars.
The tracks he covers include Grand Forks, N.D.; West Fargo, N.D.; Lisbon, N.D.; Devils Lake, N.D.; Fergus Fall, Minn.; Alexandria, Minn.; and Ada, Minn. His longest drive is to Devils Lake 150 miles one way.
Berg is married to Mari and they have two children: Addilyn, 4, and Camden, 1. He's a devoted father and knows that his children's growth will determine the future of the blog. "I have a very understanding wife" he said "She knows this is my outlet. Some guys hunt, some fish. This is my thing."
Berg came to SMSU because "it was affordable, close to home and the Radio/TV program had a good reputations. I got a lot of hands-on experience, I got to do news writing for TV and radio clips, and hosted a radio show. We had a lot of freedom and I had a lot of different experiences."
Berg has found that there's a lot of racing fans out there, like himself. "Each year it's grown a little bit," he said. "When I started this, I had no expectations. The response of the fans, drivers and tracks is beyond anything I expected. I am humbled by the people who support it."
Related Articles