Mustang Mask Makers Go Above and Beyond to Welcome New Students
Published Tuesday, July 28, 2020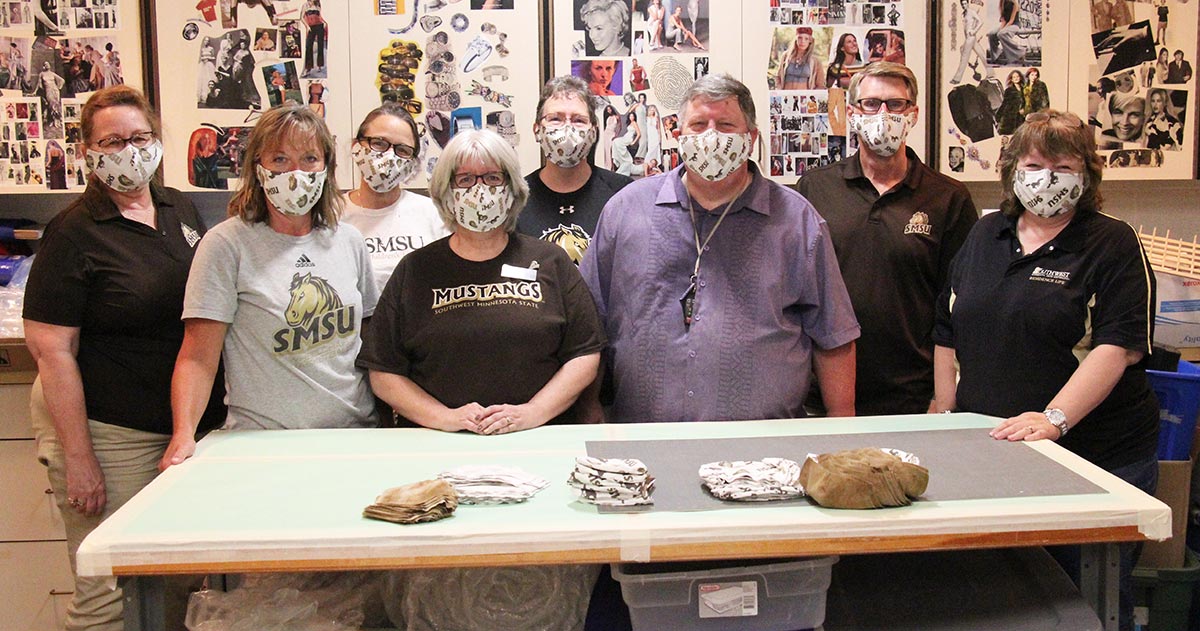 The Mustang Mask Makers
A group of Southwest Minnesota State University current and past employees have banded together in an ambitious project to sew masks for new students who will arrive on campus for Move-in Day on August 20.
The project is called "Mustang Masks" and grew out of an all-university Zoom meeting  with President Kumara Jayasuriya back in April. "The subject came up about recruitment and retention, and planning and preparing for COVID-19 came together at one point," said Associate Professor of Communication Studies Mark Fokken.
"The thought crossed my mind, what if we made masks for the incoming freshmen? I floated that in the chat and received a positive response. It took off from there," he said.
The group is comprised of individuals from many areas of campus and includes both current and retired faculty and staff, and a friend of the University. The goal is to make 400 masks. The sewing contingent includes Mark Fokken, Linda Nelson and her husband Jon, Liz Roy, LeAnne Syring, Sheila Tabaka, Wanda Paluch and Kris Cleveland.
Funding for the project was supplied through a grant from the SMSU Foundation.
Sisters LeAnne Syring and Wanda Paluch were manning sewing machines on this particular day. Both have been sewing since the age of 8, and come from a long line of seamstresses. "Our great grandmother is from Norway and she sewed her children's clothes. They didn't have a lot of money, and like the Dolly Parton song 'Coat of Many Colors,' that's what she did," said Syring.
The design for the custom fabric was created by Assistant Director of Communications and Marketing Marcy Olson. After that April Zoom meeting, Fokken approached her about the project. She was familiar with a vendor who works with custom fabrics, and Olson created a versatile design so that no matter how the fabric is cut, it is clearly identifiable as SMSU.
Fokken said that fact is important because he literally makes use of every square inch of the 25 yards of custom fabric. The white SMSU-branded front is backed by a brown fabric, and six pieces make one mask. There's also space for a small, narrow metal strip to be inserted near the top of the mask, for those who wear glasses and have problems with condensation.
The group has been making the masks individually from their respective homes since then, which takes time. When they get together to work as a team, they take an assembly line approach that is very efficient — cutting the material, sewing the pieces together, adding elastic ear hoops, and ironing the finished masks. The work is done in the Theatre costume shop, and several sewing stations in the Black Box Theatre.
"It's just a great sense of camaraderie and it feels like we are back again as a university, and the pandemic is not going to beat us," Fokken said of the group effort. "With all the bad news today, this is something positive."
Exercise Science Professor Kris Cleveland has made about 100 masks for Canby hospital employees and though she downplays her sewing abilities, was happy to lend her expertise. "I learned in high school, as a 4-H member," she said.
Jon Nelson was on fabric-cutting detail and has helped his retired wife, Linda, during her quilting projects at home. "I'm her sous chef," he said. "I cut, she sews."
Liz Roy considers herself "more of a fixer than a seamstress" and has helped make many masks already with her daughter, alumna Maggie Roy, for RN to BSN students, Avera Hospital employees, firefighters, family, and friends.
Theatre Professor Sheila Tabaka, an award-winning costumer, was at a sewing machine before, and right after,  her son's wedding on July 25. She said she's happy to contribute to the worthwhile effort of welcoming new students to the Mustang Family.
Related Articles