Health Self-assessment Required Starting August 10
Published Friday, August 07, 2020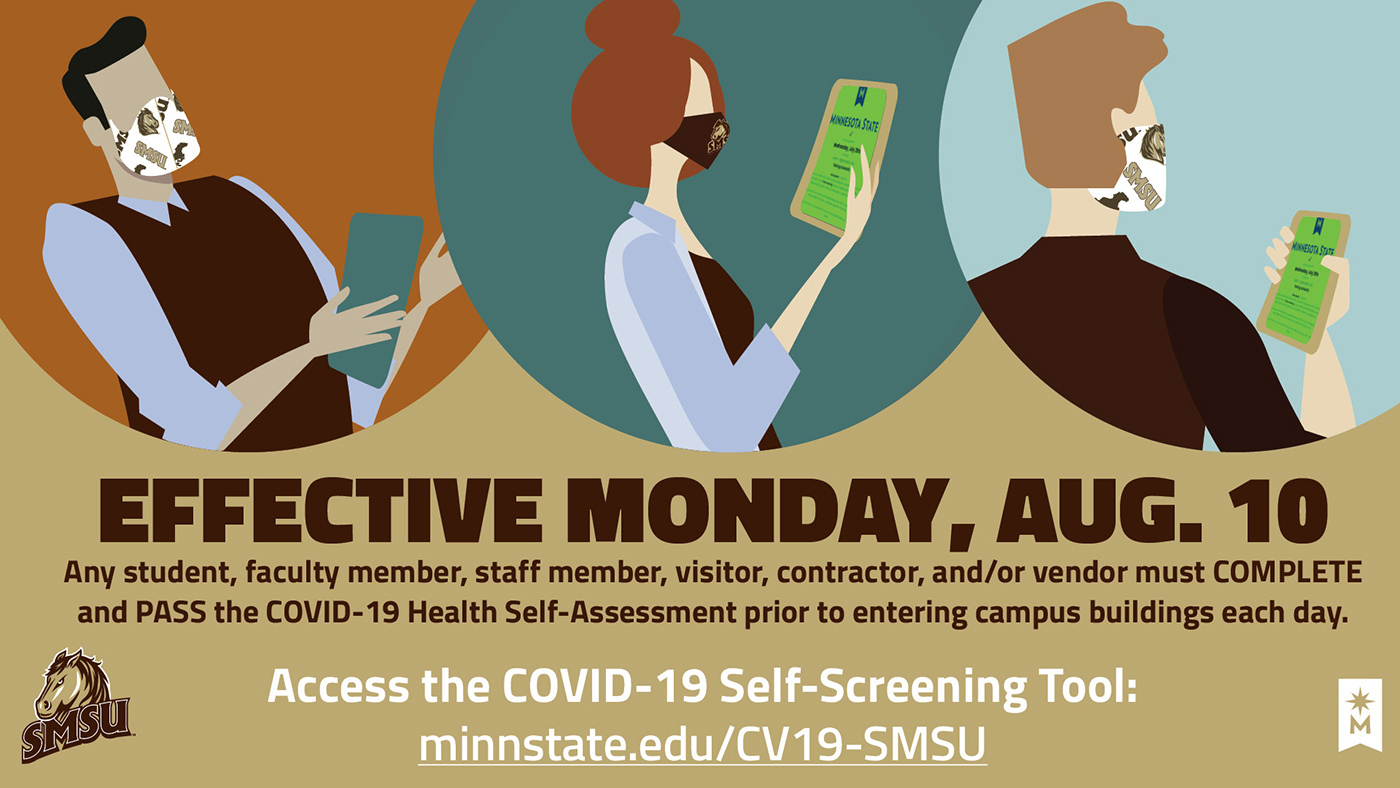 Health Self-assessment Required
To protect the health and safety of students and employees from the threat of COVID-19, Southwest Minnesota State is requiring a mandatory self-assessment of all employees, students, contractors/vendors and visitors prior to entering campus buildings starting on Monday, August 10.
The self-assessment must be taken every day a person plans to be on campus. It can be completed in one of three ways:
By logging onto www.minnstate.edu/CV19-SMSU, which will take you to the self-screening tool;
With the camera on your smart phone, scanning the QR Code, which will take you to the self-screening tool. The QR Code will be on signage at each building entrance on campus;
By filling out a paper form of the self-assessment, which will be available at the information desk at the east entrance to the Student Center, or in the Human Resources office, Bellows Academic 269.
SMSU is limiting access to campus buildings to SMSU students, faculty, staff and visitors with pre-arranged meetings.
Students living on campus must take the assessment each day before leaving their residence. Others should take the self-assessment before coming to campus.
The self-screening tool asks several health-related questions. Based on the answers, an email will be sent notifying the person whether they are approved to enter SMSU buildings, or not.
The self-assessment is mandatory at all Minnesota State campuses. Face coverings are required on all campuses.
The self-assessment is not intended to take the place of consultation with your health care provider. If you are experiencing symptoms, return home and contact your health care provider.
A self-assessment web page has further information, and a tutorial video: https://www.smsu.edu/selfassessment.
For further information, call 507-537-7678.
Related Articles