Center of Innovation and Entrepreneurship Created at SMSU
Published Friday, September 25, 2020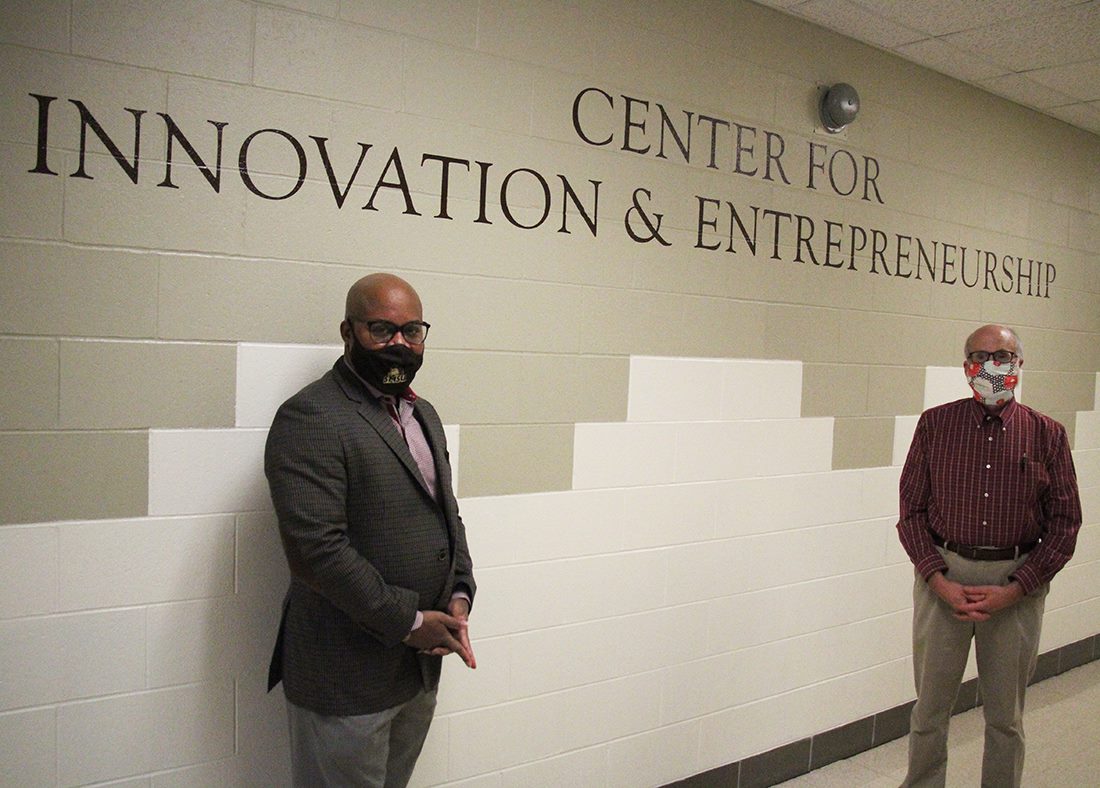 Dr. George Taylor, left, and Dr. Will Thomas
A new initiative — the Center of Innovation and Entrepreneurship — has been established at Southwest Minnesota State University.
The Center will be housed within the newly-formed Department of Business Innovation & Strategy and will give students real-world experiences that will complement their classroom work.
The Center for Innovation and Entrepreneurship will emphasize experiential learning and will collaborate with the campus-housed Small Business Development Center (SBDC) and the Southwest Marketing Advisory Center (SMAC).
"The Southwest Marketing Advisory Center is student run, where students do market research for real companies," said Professor of Accounting and Department Chair Dr. Will Thomas. "The SBDC works with clients to assist them in starting their own businesses."
Assistant Professor of Management Dr. George Taylor, a successful entrepreneur in his first year at SMSU, will coordinate the services offered at the Center. "Someone who wants to start their own business is going to have questions about regulations, registering with the state, licensing, etc. We will work with the SBDC and will be able to offer start-up advice and the tools to support those who wish to go out on their own," said Taylor.
"The aim is to promote entrepreneurship while also making contributions to the economic viability of Southwest Minnesota," said Taylor.
The Center will soon have a director, said Taylor. Part of that person's responsibilities will be to "go out and engage business owners, assess their needs and find out ways in which the Center can address their needs while also building student entrepreneurial skills."
SMSU now offers a minor, and a certificate, in entrepreneurship. "That is a focus area within the Center as well as other discipline degree areas," said Taylor. "The Center's short-term focus is experiential learning, outreach and the expansion of curricular and co-curricular entrepreneurship programming. In the long-term, its mission is to enhance the economic viability of the 18-county area."
Recently, the two business administration departments within SMSU were combined to form the Department of Business Innovation & Strategy. The two that were combined included Management and Marketing, and Accounting, Finance and Legal Studies. "By combining, we can streamline our strategy and planning for the entire department," said Thomas. "We really see this as a benefit for the students because this adds flexibility. The objective is to develop a more entrepreneurial and critical thinking mindset among our students."
Related Articles