Six to Receive 2020 Homecoming Alumni Awards
Published Wednesday, September 30, 2020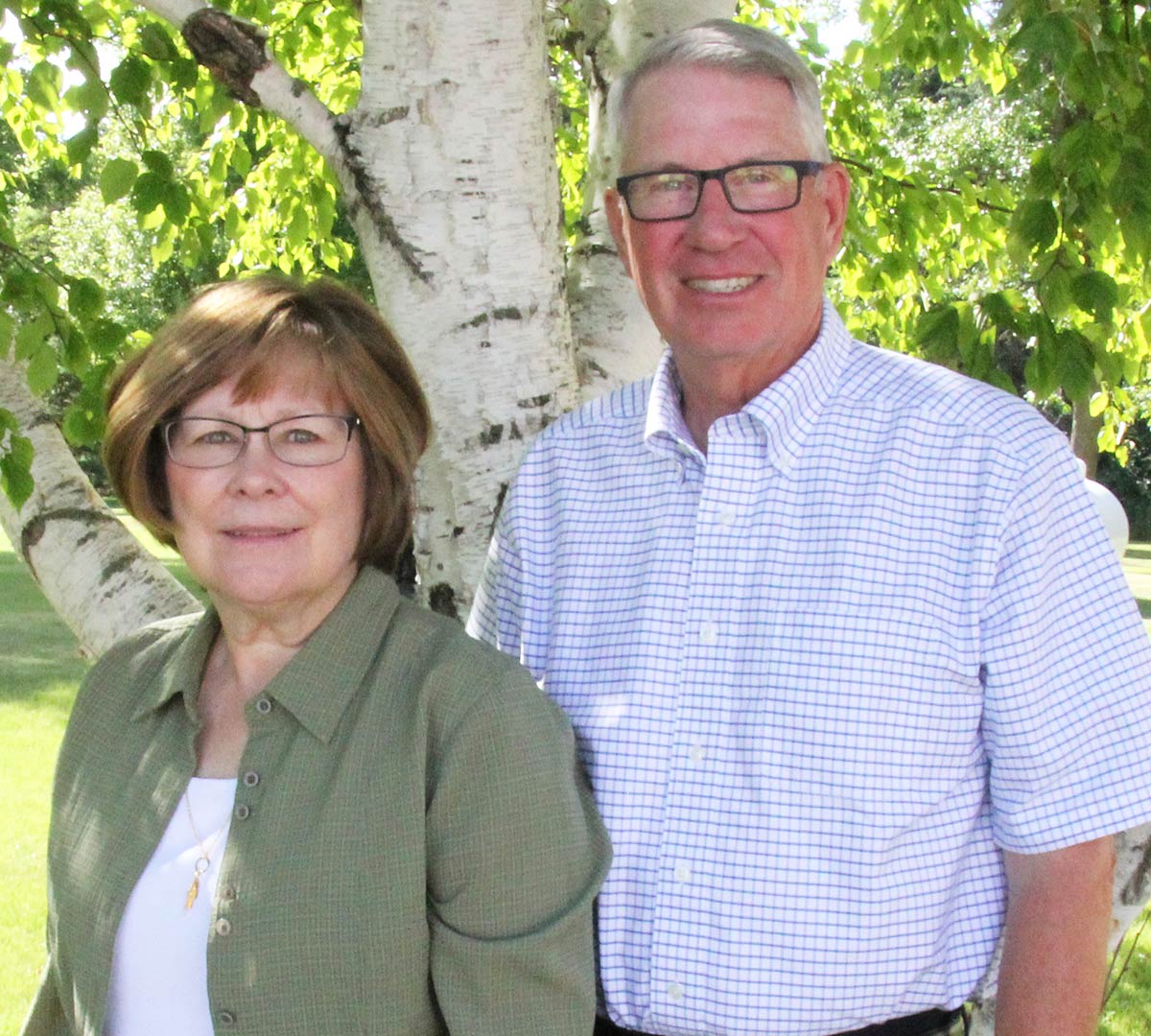 Lee and Pam Bush
Six individuals will receive Alumni Association awards as part of Homecoming 2020, with a theme of "Mustangs Come Together — Six Feet Apart."
Alumni Achievement Awards are presented to alumni in recognition of professional success and the positive reflection made on the university and fellow alumni. This year's winners include: Lee Bush, retired Minnesota District Court Judge, Class of 1973, and his wife Pam, retired teacher/administrator, Class of 1972; Tina (Walliser) Cartwright, Senior Vice President of US Bank, Class of 1997 and '98; and Jeff Mauland, President of North Star Mutual Insurance, Class of 1978.
The Graduate of the Last Decade (GOLD) Award goes to Dr. Peter Grahn, Assistant Professor in Neurosurgery and Physical Medicine and Rehabilitation at Mayo Clinic, Class of 2011.
The Honorary Lifetime Membership Award is presented to retired Theatre Professor Ray Oster.
Alumni Association award winners will be honored with videos during Homecoming week, October 4-10. Those will be posted on SMSU Today social media platforms.
Alumni Achievement Awards
Lee ('73) and Pam ('72) Bush
Lee and Pam Bush have known each another for a very long time. They finish one another's sentences.
Russell High School sweethearts, they grew up less than six miles from one another. They both graduated from SMSU — Pam in 1972, Lee in '73 —  and both are avid supporters of Southwest Minnesota State.
In June 2018 Lee retired as a District Court Judge for the state of Minnesota. He was assigned to the Fifth Judicial District and continues to serve as a Senior Judge, working limited hours where needed.
He graduated with a Biology degree, and the story of how he ended up a lawyer, then a judge, is an interesting one.
A driven student, Pam graduated in just three years with an English Education degree and spent her career at Chandler-Lake Wilson, Ivanhoe and Russell-Tyler-Ruthton High Schools. She taught middle school English, was a school librarian, and for six years, principal at RTR.
"I took summer school courses for two years, and overloads, to get done in three years," she said. "I was focused on getting through college. Later, Pam completed master's degree programs in Education and Administration.
As Lee was approaching graduation from SMSU, he decided he didn't want to spend his life in a laboratory, and began to consider other careers. While still in school at SMSU, he worked on the family farm during the summers, and one day his father asked, "You're so technical, have you ever thought about law school?"
He talked to Tyler attorney Ed McEvoy about the profession. Their conversation made an impression. He took the LSAT  and then applied to a trio of law schools, and was accepted by the University of Minnesota.
After receiving his law degree, he returned to Tyler, and worked with attorney Dave Watson for two-and-a-half years before starting his own practice. He would be in Tyler for 25 years before applying for an open judge position.
He was appointed by Gov. Jesse Venture in 2002 and was elected in 2004, 2010 and 2016.
Lee is a past SMSU Foundation Board member and both he and Pam are avid supporters of SMSU. They have created the Pam and Lee Bush Endowed Scholarship through the SMSU Foundation.
The two have seen their respective career fields change somewhat over the years. Pam feels that many students today "have developed a sense of entitlement and show less respect" to others.
As for law, Lee said "that is always an evolution, but it hasn't changed a great deal. You change statutes, precedents, but as a practical matter, the law is a thoughtful analysis of the facts and what the statutes or precedent tells us the person is entitled to. There are changes now in how you do things, and certainly this COVID-19 outbreak has brought about huge changes in the business process for courts. I expect that some of those changes will become permanent."
He mentions specifically court proceedings conducted using Zoom. "They may be what some folks want but they aren't necessarily things I think are all that great. It's one thing to say something to someone over the phone or Zoom and another to say when you are looking at them in the courtroom."
The Bushes are the parents of two daughters, Susan Tripp, and Janet Bush. They have a 7-year-old granddaughter, Mackenzie.
The two enjoyed their time as SMSU students, and have grown to appreciate what the university means to the region. "One of the things that impressed me was the physical plant, just wonderful, and the quality of the faculty and students," said Lee Bush.
"It was a good place to go," said Pam.
Tina Cartwright '97, '98
You know how people advise students not to settle too early on a major when entering college?
Meet Example A: Tina (Walliser) Cartwright, Senior Vice President of US Bank and an SMSU Foundation Board member now living in Portland, Oregon.
She had her sights set on a career in dance when she left her hometown of Rapid City, South Dakota to attend the University of Minnesota.
Things would change quickly.
"I started out as a dance major, that's what I thought I wanted to do — go to Broadway and be a ballerina. My first class was 'A Day in the Life of a Dancer.' I found I didn't know some of the realities of what that life would be — nights and weekends work, auditioning for each job, and not having a permanent home."
She went looking for a new college, a new major and a new beginning.
By the age of 23, she earned two degrees at SMSU — Business Administration  in 1997, and Accounting in 1998.
"I visited three colleges, but at SMSU, I was impressed when several Business faculty took me to lunch, and showed an interest in me. I thought that was impressive."
While in college, she worked for Lyon Financial, a leasing company then owned by the Schwan's Company. They would be purchased by US Bank, and she would stay in Marshall for 10 years.
Recognizing talent, she rose quickly within US Bank, where she has held several positions, including Special Project Manager, Credit Manager, Senior Business Systems Analyst, and, most recently, Senior Vice President, Information Technology and Aps, a position she's held since 2010.
She and her husband Chad — who attended SMSU for several years — moved to Portland in 2013, where US Bank has a strong presence.
The decision to move half way across the country was difficult. "Our family was in South Dakota, but after about 90 days, we said, 'Why didn't we do this sooner?' The climate is moderate, and there's no humidity, bugs, or snow. We have no children and it's nice being an hour from the ocean, snow and wine country."
She was immersed in her studies at SMSU and has seen the University in a different light since joining the Foundation board in 2016.
"In college I wasn't very social — I was focused on my studies. I moved away, and have recently been drawn back in. I have reconnected with faculty, classmates and community members over the last five years, and have done a lot of reflecting on how SMSU positioned me for success."
What does she remember most of her SMSU days? "The professors and staff are incredibly vested and interested in the success of the students. They do that in a number of ways. There's engagement on the educational front, but also engagement with clubs and extra-curricular activities. They know it's more than the classroom that prepares a student for success."
She's "humbled and honored" to receive the Alumni Association award, and is grateful for the opportunity to give back to SMSU. "The last several years have given me an opportunity to reflect on my days at SMSU, and how I can be more intentional in how I give back to the University, the community, and the students who are in the same position I was 20-some years ago."
Jeff Mauland '78
Jeff Mauland likes to joke that people think he's out in left field sometimes.
In reality, he is.
The office of the president of North Star Mutual Insurance in Cottonwood is located on the second floor of company headquarters, on the spot where, years earlier, he had roamed left field as a baseball player for Cottonwood High School, and the amateur town team.
He's been with the company just shy of 42 years. He took over as president in 2001, and will retire in January, 2021. He grew up on a farm six miles southwest of Cottonwood, and attended SMSU "because it was handy. My parents always expected me to go to college. Money was an issue, so I lived at home most of the time. I only lived on campus in the winter quarters."
He started out as a pre-forestry and wildlife management major but found that included "too much biology and chemistry." So he switched to Agribusiness Management, and graduated in 1978. "Having grown up on a farm I thought that may be a better fit for me," he said of his change in majors.
After graduation, "I decided to farm one more summer with my dad and after harvest, look for work."
At that time, said Mauland, "if you had a college degree, most ended up in cities or suburbs. If you weren't going to farm, a lot of kids left. There weren't a lot of opportunities."
How he got to North Star is humorous. "I wasn't thinking insurance at all," he said. "But my predecessor at North Star saw my name at the college placement office and gave me a call. I didn't apply here, but went for an interview, then a second, and was hired as an inspector field underwriter."
He would go on to become president of a company he never applied to, an irony not lost on Mauland.
He's proud of the consistent growth the company has enjoyed over the years. "When I first started at North Star we were in Minnesota, Oklahoma and South Dakota. We are in eight states now — we've added North Dakota, Nebraska, Iowa, Kansas and Wisconsin," he said.
"Insurance doesn't have the greatest reputation. It's not a fun purchase, you can't drive it or wear it, it's a piece of paper, it's expensive, and you may never use it. However, since starting, I learned how important insurance is to the world's economy. It's different than banking and other financial services. To me, we are the underpinnings of the economy, and it's still the best way for almost everyone to transfer the risks they face in life."
North Star Mutual is the largest writer of farm insurance policies in Minnesota. "We do property casualty — we don't do life or health or that type of thing. We perform a great service; we're a backstop, we protect businesses and individuals."
North Star has increased its corporate support of SMSU during Mauland's tenure. "We certainly rely on them for a good number of employees — I think there are 61 alumni that we employ now."
He enjoyed his SMSU days. "I think it was the ball games I remember most," he said. "I have two regrets about those years: not taking a speech class, which I think would have helped me, and not being able to live on campus more than a couple of quarters — that was a financial decision."
Mauland and his wife, Lynn, are the parents of two adult children: Sarah, who works at North Star, and Nathan.
The Alumni Association award caught Mauland off guard. "I'm very humbled," he said. "So many great people have gone before me, and to be considered is an honor."
Honorary Lifetime Members Award
Ray Oster
Ray Oster came to the Midwest, fell in love with it, and stayed.
Originally from Denville, N.J., he received his undergraduate degree in Fine Arts from Southampton College of Long Island, and began a five-year career as a dinner theatre stage manager in Florida and, later, Windsor, Ontario.
It was in Florida that he met his wife Jane. From there it was back to school in pursuit of a master's degree, which he earned from Wisconsin-Superior. He then returned to Southampton for three years as an administrator in theatre, where he was technical director and audio-visual director. "That was not a faculty job, though, which is what I wanted," he said. "So I went looking for work, and ended up at SMSU."
He would stay at SMSU for 32 years, retiring as an associate professor in 2013. He was in charge of technical direction, scenery design, and lighting.
"I arrived in 1981 and from the get-go, it was clear the school had fantastic facilities," he said. "I had come from a private school whose facilities were hurting. It was above and beyond where I had come from. I remember making note of the doorknobs, they were all the same — fancy, brushed aluminum."
He's seen talented theater students go through the SMSU program, and delights in following their individual careers. "They started out as students and then became friends," he said.
Advances in technology have come fast in theatre, he observed. "Years ago when I was stage manager for dinner theatre I ran the light and sound boards and during blackouts we'd do scene changes. It was a one-man show technically. I thought, 'When will they come up with a computerized light board.' They did, and SMSU got one in '83 or so. Then I thought, ' Why can't they do something like that with sound' and of course they did."
As far as sound goes, he's seen the move from live sound effects to reel-to-reel tapes, cassette tapes, CD's and finally, computers. "The computerized aspects have changed theater, and I didn't keep up," he said.
He was associated with many fun, memorable shows during his tenue. He lists Blithe Spirit, A Midsummer Night's Dream, The Pajama Game and Godspell as several of his favorites.
He said the SMSU Theatre program is unusual in that non-Theatre majors are routinely cast in productions. "That's not done at larger schools," he said. "I directed one show I remember and literally cast every person who showed up for an audition."
He said that Theatre majors at SMSU get a unique opportunity to participate in all aspects of theatre. "If you're a major, you are immersed in everything. When you graduate, many actors start out in technical until they work their way into acting positions."
He's always had a love of animals, and at one time had horses, goats, chickens, calves, sheep and dogs. His trail riding days are over, and today he reads a lot, "mostly mystery novels, detective mysteries and historical fiction." More recently, he's discovered the joys of YouTube.
Oster and his wife, Jane, are the parents of one daughter, Hayley, who lives in Denver.
He's "amazed" at the Alumni Association award. "Out of the blue seven years after I've retired. It's fantastic!" he said.
Graduate of the Last Decade (GOLD)
Peter Grahn '11
When you work in the premier medical facility in America, COVID-19 is front and center.
Such is the new reality for Dr. Peter Grahn, an Assistant Professor in Neurosurgery and Physical Medicine and Rehabilitation at Mayo Clinic in Rochester, Minn.
He graduated Magna Cum Laude from SMSU in 2011, with degrees in Biology and Chemistry. He earned his doctorate in biomedical research in 2016, with an emphasis in neuroscience, from Mayo Clinic Graduate School of Biomedical Sciences.
Since 2016 he has worked with a team of researchers at Mayo to study promising new therapies for individuals with paralysis due to spinal cord injury. His academic interests in this field of research are tied to his personal experience of living with paralysis since the summer of 2005.
Freshly graduated from Willmar High School and headed to Minnesota State Moorhead to play basketball, he dove off the end of a dock on Green Lake, near Spicer, Minn., on a hot summer day. The water was shallow, which resulted in a number of injuries, including a fracture of the fifth vertebrae in his neck and injury to the spinal cord. He was paralyzed from the chest down.
While completing a year of rehabilitation in order to learn how to perform activities of daily living from a powered wheelchair, he heard about SMSU's reputation as a highly accessible campus. "During a campus visit, I met Dan Snobl (retired Director off Physical Therapy) and learned of the many resources SMSU provides to people with disabilities."
Grahn's research team received world-wide attention for their work involving electrical stimulation of the spinal cord, combined with therapy, which helped a Wisconsin man, Jered Chinnock, who was paralyzed in a 2013 snowmobile accident, regain leg function such as standing and stepping in the presence of stimulation. The study sought to examine how the spinal cord responds to electrical stimulation, combined with intense rehabilitation, and the extent to which paralyzed functions can be recovered. The results surpassed Grahn's most optimistic expectations and Chinnock was eventually able to walk the distance of a football field with a walker and minimal assistance from the research team.
Since last March, much of that research has been put on hold due to COVID-19 and Grahn is currently working remotely from home. "We paused the majority of our active studies," he said. "Our team is mostly focused on clinical research and the patient populations we study are at higher risk of complications due to COVID-19. Our team is working to establish safe and efficient protocols in order to resume activities in the laboratory. Fortunately, virtual technologies such as Zoom have allowed us to be productive with respect to troubleshooting current projects and brainstorming to develop future projects during the coronavirus era."
During COVID-19, Grahn acknowledges he has received a different type of education. "Within May Clinic, there are experts working across the full spectrum of the pandemic, including virologists studying basic mechanisms of the virus in order to develop therapeutics and vaccines, to epidemiologists studying trends across local and global populations. I am grateful for the knowledge gained by having virtual access to lectures by these experts at Mayo."
Grahn met his wife Kelsey (Elbers), an SMSU alumna, while they were attending SMSU. They have two children: Zoey, 8, and Rykon, 4. Kelsey's father, Darwin Elbers, and mother, Kimberly Lehman, are also SMSU alumni.
When he was notified of the Alumni Association award, Grahn said, "I was and still am shocked and obviously very excited and grateful. Many of the students I graduated with have accomplished impressive, phenomenal achievements in life. Receiving this award is not only a personal honor, but also an opportunity to thank fellow alumni and SMSU faculty for creating an excellent environment that provided the academic knowledge and life skills I needed to pursue my career in biomedical research."

Related Articles