Nadine Schmidt Has Lead in Virtual Concert Play Reading; Play Deals With Minimum Wage Issues
Published Wednesday, January 27, 2021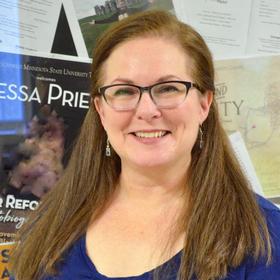 Nadine Schmidt
Southwest Minnesota State University Theatre Professor Nadine Schmidt will have the lead role in an upcoming virtual concert reading of a play entitled Nickel and Dimed, by Joan Holden, produced by the Des Moines, Iowa-based theatre company TheatreMidwest.
The readings are free and will be streamed at 7:30 p.m. on Saturday, Jan. 30 and at 2 p.m. on Sunday, Jan. 31. RSVP here: https://www.theatremidwest.org/online-rsvp.html, and an email will be sent on the day of the show with viewing instructions.
Schmidt said she and other actors will be available for discussion after the Sunday reading.
She became aware of the opportunity through the company's founder, Tom Woldt, who was a guest director at SMSU for two plays, in 1986 for As You Like It, and again in 2018 for One Man, Two Guvnors. "He started the company a couple of years ago and posted on our theatre alumni Facebook page about the play," said Schmidt. "Being an actor in a rural place and someone who teaches theatre, it's hard to find professional acting opportunities. I was excited to audition," she said. "It's my first experience with it — the first time I've had a live virtual audition."
The play is based on the book Nickel and Dimed: On (Not) Getting by in America and has a message that appeals to Schmidt. Her character, Barbara, is a middle aged, middle class woman who goes undercover to experience life as a low-wage service worker.
"The book's author, Barbara Ehrenreich, worked low-paying jobs in Florida, Minnesota and Maine, and wrote about her experiences trying to find an affordable place to live, pay bills based on what she makes, and other things low-wage workers are asked to do, like working for free before and after shifts. It combines my love of theatre with a love of issues surrounding economic justice," said Schmidt.
TheatreMidwest's web page describes its mission as "professionals creating works of relevance to the people of the Midwest, with particular attention to the voices of women and other under-represented groups."
The show has a cast of eight from three states, and will be streamed through a program called StreamYard. "It's a broadcast app specifically for productions," said Schmidt. "It has a lot of features to enhance the production."
Over a three-day taping period, each cast member will read their parts from home, said Schmidt. Those will then be edited to create the final product. "If I came to a live concert reading, there would be actors, typically standing behind music stands and reading the script and acting out some portions. There's no full-blown costumes or sets. The focus is on the text of the play, and the characters. That's what we're doing here, in a virtual setting."
Schmidt said it's been a very rewarding learning experience. "They're very organized, professional, and patient," she said.
During a recent Theatre History class, Schmidt said she was talking to the students about theatre during these COVID times. "We are living in a moment of theatre history now, responding in unique ways to the pandemic. I'm so excited to be a part of one of those projects."
Related Articles