SMSU Receives $1.8 Million Commitment from Alumna Deeann J. Griebel
Published Tuesday, February 23, 2021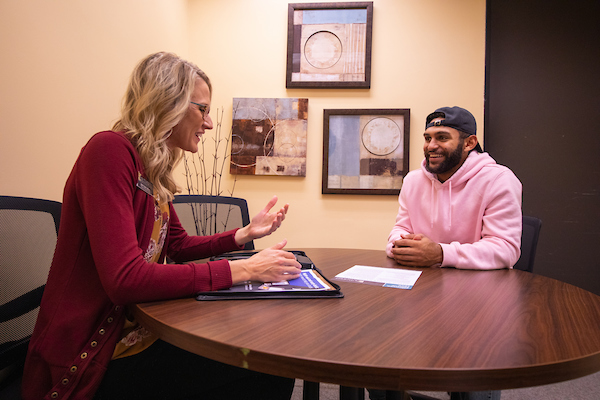 Brittany Krull, left, talks with a student in the newly-named Deeann Griebel Student Success Center
Southwest Minnesota State University alumna Deeann J. Griebel has made a commitment that will provide $1.8 million for the Student Success and Advising Center and scholarships. Deeann's investment will allow for the creation of new tutoring and mentoring programs to ensure all students have the support they need to become successful graduates.
Deeann has been a tremendous supporter of SMSU over the years and has made significant contributions to scholarships and capital projects. In recognition of her ongoing commitment to SMSU, the Student Success and Advising Center will be renamed the Deeann Griebel Student Success Center.
"We are grateful for Deeann's investment in our students and the trust she has placed in our faculty and staff with this gift. We know that it will have a significant and meaningful impact on their academic success," said SMSU President Kumara Jayasuriya. "Deeann's gift will have an immediate impact on student success programs and provide long-term support through a planned estate gift."
"Over the last 40 years I've come to realize that teaching actually helps the teacher understand a subject at a deeper level. Having students teach other students will help both students so this seems like a wonderful 'two for one' project for me to support! Much of my career success is due to what I learned at SMSU so to help the next generation of students from this university seemed logical to me and it is an honor to support this initiative," said Griebel.
The Deeann Griebel Student Success Center is in the Individualized Learning Center and strives to engage all SMSU students. The Center provides an atmosphere of inclusion and support while helping students achieve academic success and professional growth.
Griebel, a Pipestone native, earned an Accounting degree from SMSU in 1980. She has had a decorated career as a financial advisor, having been a six-time selection to the Barron's Top 100 Women Financial Advisor list since 2007.  She is currently the Managing Director of Investments for Moors & Cabot, Inc. ,in Mesa, Ariz.
Related Articles