Enactus Collaborating with Tracy Area Animal Rescue on Fundraising Project
Published Monday, March 01, 2021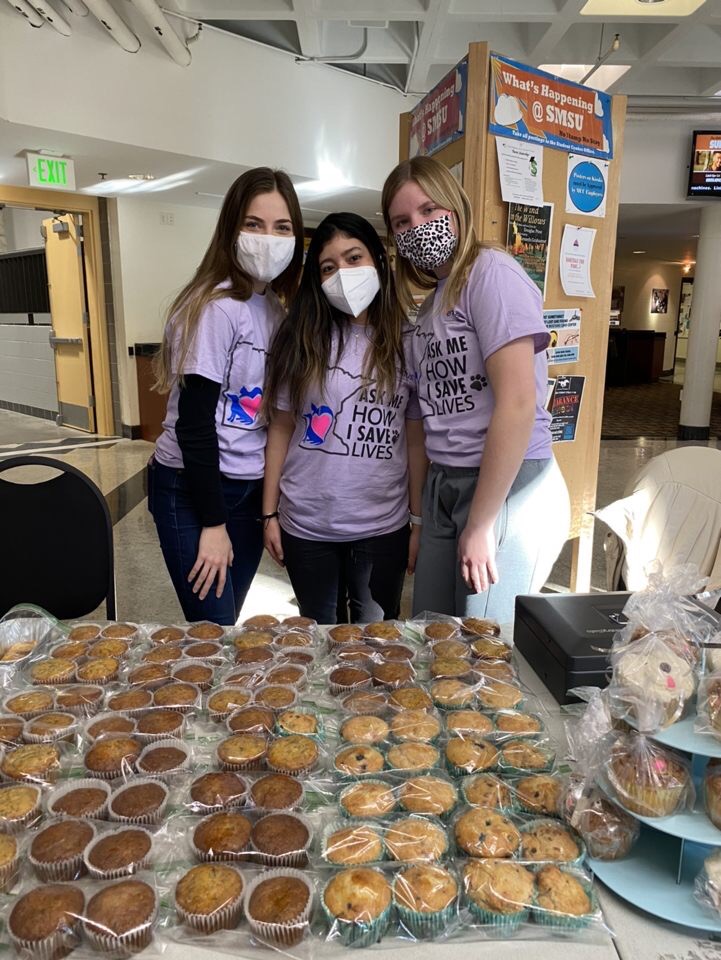 From Left: Students Sarah Strandemo, Dalano, Minn.; Ana Rugama, Nicaragua; and Hannah Penske, Wood Lake, Minn., working the recent bake sale that raised $650 for Enactus
The Southwest Minnesota State University Enactus group is partnering with the Tracy Area Animal Rescue (TAAR) to raise $20,000. That $20,000 will then be matched by a husband and wife with strong ties to TAAR.
Enactus is a group that advocates for financial literacy, economic development, entrepreneurship and recycling, to name a few. Formerly called Students in Free Enterprise, it is an active campus group that has undertaken many local, regional and international projects in its 20-year history. It has a decorated past, having qualified for the national Enactus competition for many years.
Professor of Political Science Dr. Doug Simon and Assistant Professor of Management Dr. George Taylor are the co-Sam Walton Fellows for Enactus, and are coordinating the TAAR project.
"Last year, due to COVID, Enactus was not that active of a group," said Simon. He was on sabbatical last year. With the arrival of Taylor on campus this year to spearhead the Center of Innovation and Entrepreneurship, there's been an uptick in interest in the group. "We had two students come back from last year's Enactus group, and we have 25 right now. It's grown like gangbusters," said Simon.
A bake sale by Enactus recently earned $650 for TAAR, and there's several other initiatives to help raise the initial $20,000. One is the sale of t-shirts, with a large QR code imprinted on the back which goes directly to the TAAR website, where a donation can be made. Also, door hangers will be distributed to residences in Marshall and across the SMSU campus, with a QR code that will lead to information about TAAR,.
In addition, a 30-second public service radio ad has been created and will air on Marshall radio stations, and perhaps others within the region, said Simon.
Simon got involved with the project through personal experience. His wife, Molly, and he have adopted one dog and five cats from TAAR. "They are always looking to fund-raise," said Simon. "They get animals and take them to a vet and have high vet bills as a result. I thought it would be a great project for our students. Especially now, during this pandemic, people are reconnecting with their pets because they've been isolated."
Enactus will be undertaking a number of projects in the future, said Simon, including a food distribution initiative which will supply fresh meals on the weekends to families. Enactus is working with Humanity Alliance from Chanhassen, Minn., on the project, and using their success as a model which can be made operational in Marshall.
Another project is a campaign aimed at educating females in developing countries about STEM-related careers, said Taylor. "They lack awareness of the possibilities that exist for them," he said. "This project, undertaken by one of our student leaders, will increase awareness and provide roadmaps that lead to education and careers in STEM areas," said Taylor.
For more information about Enactus or the TAAR project, contact: Doug.Simon@smsu.edu, or George.Taylor@smsu.edu.
Related Articles